Martinez Has Strong Support System
From his family and his friends, to his college coach & Kings teammates, Alec Martinez feels the love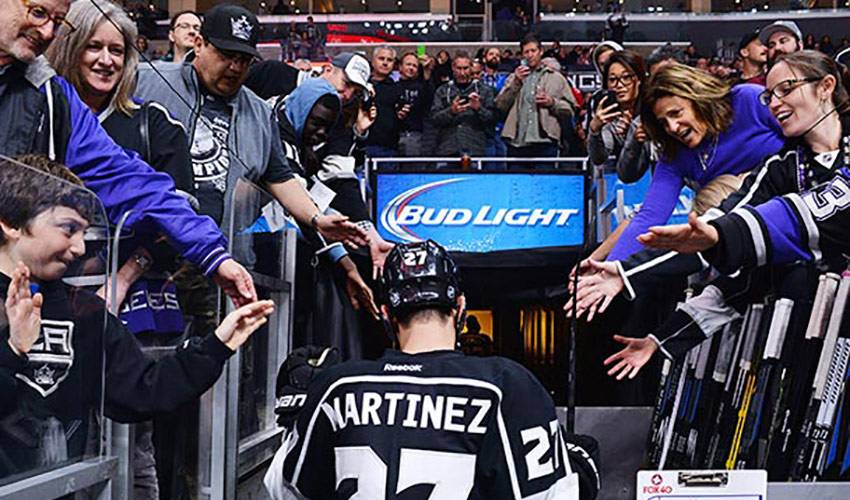 His collegiate career yielded much individual and team success, while also paving the way for an NHL career. But, for Alec Martinez, it wasn't only what he learned on the ice that got him to where he is.
There was plenty of recognition for what he accomplished as a member of the Miami University (Ohio) hockey team over three seasons, from 2005-08, including All-CCHA First Team honours in 2007-08.
It was Martinez's goal that bested hockey power Michigan in October of 2006, a win that snapped the RedHawks 20-game losing streak to the Wolverines in Ann Arbor.
There were rookie of the week accolades, selection to the CCHA All-Tournament Team in 2008, and one year earlier, Martinez was taken by the Los Angeles Kings in the fourth round (95th overall) of the NHL Entry Draft.
"Miami was an integral part of my development and definitely helped me transition into my professional career," Martinez told NHLPA.com. "I learned how to carry myself off the ice - whether it was community events or managing my responsibilities of hockey as well as schoolwork. The coaching staff did a great job of helping me better understand the game and providing me with the guidance and resources to become a better player."
After 147 games, spread over three seasons with the Kings American Hockey League affiliate in Manchester, Martinez, who skated in four games with Los Angeles in 2009-10, was recalled by the NHL club on November 23, 2010.
It's where he's been ever since.
"I think our style of play in L.A. is suitable for my game in the fact that we stress defence first, but also encourage the defenceman to join the rush and get up into the play."
It's been a winning formula, literally, for Martinez and the Kings.
In the 2014 Stanley Cup Playoffs, he played overtime hero in Game 7 of the Western Conference final, netting the series-winning tally and putting Los Angeles in the final against the New York Rangers.
Martinez managed to outdo himself in Game 5.
His goal, in double overtime, won the Cup for the Kings, the team and Martinez's second (the other coming in 2012) championship.
"You had to find that little extra in your tank," said Los Angeles forward Justin Williams, after the 2014 triumph. "There's always such reserve in there we had to dig down and find tonight. Alec Martinez scoring that goal…what huge goals he scored for us. That's just what our team was all about: everybody pitching in. But what a special player Marty is."
Special, yes. But, also humble.
"I'm very fortunate to have always had a strong support system with my family," noted Martinez. "Of the many things my parents taught me, they always stressed hard work, perseverance and humility."