CRAIG ADAMS RETIRES FROM NHL AFTER 14 SEASONS
The two-time Stanley Cup champion played in 951 career games with Carolina, Chicago and Pittsburgh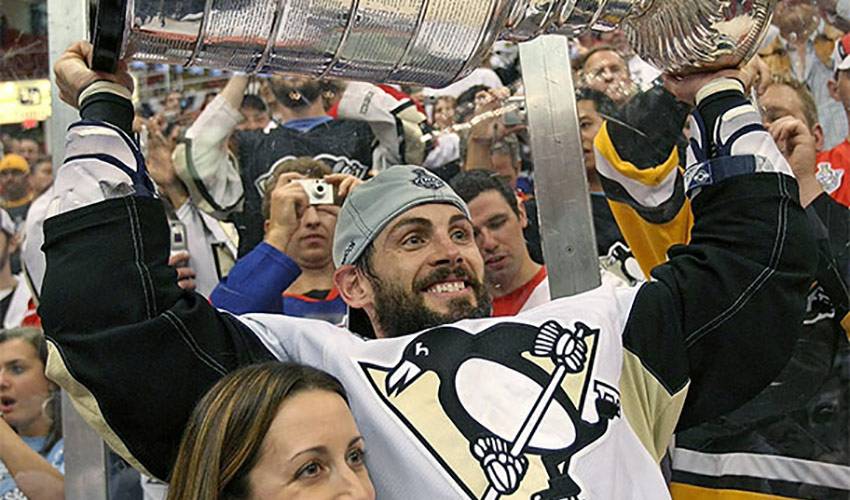 TORONTO (Jan. 26, 2016) – Craig Adams has announced his retirement today from the National Hockey League (NHL) after 14 seasons.
Adams played in a total of 951 career NHL games with three teams: the Carolina Hurricanes, Chicago Blackhawks and the Pittsburgh Penguins. The 6-foot, 200-pound forward scored 55 goals and 105 assists for 160 points in his NHL career. Adams played in 106 playoff games and his career was highlighted by two Stanley Cup championships (Carolina – 2006; Pittsburgh – 2009).
"I consider myself very lucky to have been able to live out my dream of playing in the NHL. I would like to thank all the management and coaches who took a chance on me and gave me an opportunity to play a role for their teams. Thank you to the trainers and equipment staff who I had the pleasure of working with along the way, they were always too good to me," said Craig Adams. "The opportunity to compete with and against the best players in the world every day was an honour that I never took for granted. I am grateful for my teammates and the friendships I have made over the years. Thanks for the good times, the laughs and the memories. I would also like to express my gratitude to the fans across the NHL. Without the fans the winning, and losing, would not mean nearly as much.
"To my parents and my brother, I appreciate your advice, your sacrifice and your unending support. Finally, I want to thank my wonderful family—my wife, Anne, and our three kids. You have helped me to live my dream and have been there through all the ups and downs. I am so thankful for everything you have given me and that we have been able to share this journey together. I could not have done it without you."
The first and only NHL player born in Seria, Brunei – his father was working on the island of Borneo – Adams was raised in Calgary, Alta. He was drafted in the ninth round of the 1996 NHL Entry Draft by the Hartford Whalers. A history major at Harvard, Adams enjoyed a four-year college hockey career in Cambridge where he scored 62 points in 109 games. He played his first year of professional hockey in 1999-00 with the Cincinnati Cyclones of the International Hockey League (IHL) where he scored 12 goals and 12 assists in 73 games. In 2000-01, Adams made his NHL debut with the Carolina Hurricanes on Oct. 24, and he scored the first goal of his career on Nov. 10.
He played the next five-plus seasons with the Hurricanes, appearing in over 80 games in each of the 2002-03, 2003-04 and 2006-07 seasons. During the 2004-05 owners' lockout, Adams played for HC Milano in Italy where his team won the Serie A Scudetto – the league championship. He signed as a free agent with the Anaheim Ducks in the summer of 2005, but he was later traded back to Carolina in October of that year. In the 2005-06 regular season, Adams played 67 games with the Hurricanes and set career highs in goals (10) and points (21). During the spring of 2006, he played in all 25 of the Hurricanes' playoff games en route to winning the Stanley Cup.
On Jan. 17, 2008, Adams was traded from Carolina to the Chicago Blackhawks. He played in 71 games for the Blackhawks over parts of two seasons before being claimed on waivers by the Pittsburgh Penguins on March 4, 2009.
After playing in nine regular season games, Adams played in all 24 playoff games of the Penguins' Stanley Cup championship run, during which he scored three goals – including his first postseason goal in Game 7 of the conference semifinals against Washington – and added two assists.
Over the next five seasons with the Penguins he played in all but two of the team's regular season games, and in 2014 he established the franchise mark for consecutive regular season games played (319). Adams played in 70 games with the Penguins in 2014-15 – his final NHL season.
Throughout his career, Adams was a respected teammate, leader and a hard-working defensive forward. He was widely recognized as one of the NHL's top penalty-killers, averaging the most shorthanded ice time per game among Penguins forwards for five straight seasons (from 2010-11 to 2014-15). His remarkable durability and reliability were best displayed by the consecutive regular season games record he set in Pittsburgh, and the two Stanley Cup runs that he was a part of during which he played in all 49 games combined to help both the Hurricanes and Penguins win championships. Adams also helped his teams reach the playoffs in 10 of his 14 NHL seasons.
Adams played an important role for the NHLPA as part of the CBA Negotiating Committee in 2012-13. He is also a trustee of the National Hockey League Players' Retirement Benefit Plan and he was a member of the NHLPA's Audit Committee. Additionally, he served as a Player Representative while in Pittsburgh and in Carolina.
Adams recently began his post-playing career as a financial advisor with Merrill Lynch's Pennbrook Group. He resides in Needham, Mass., with his wife Anne and their three children.
-30-