Garrison Holding The Fort in Tampa
With 400 games & counting in his NHL career, Jason Garrison is a veteran presence for the Lightning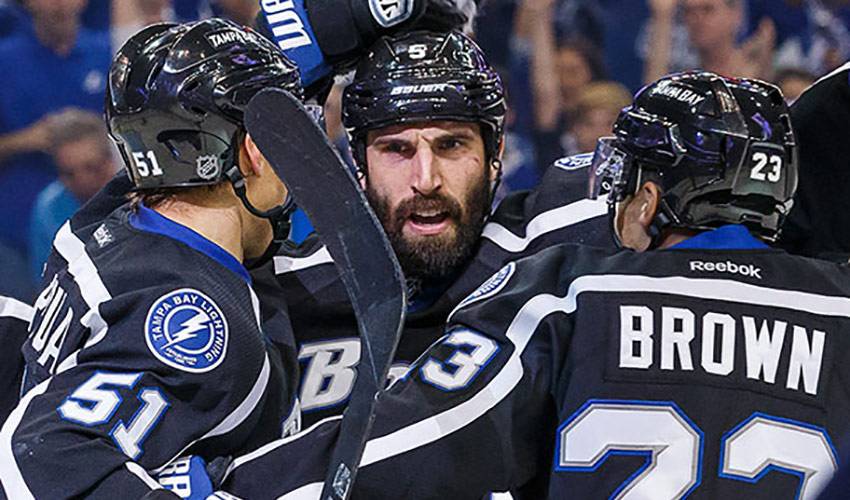 He doesn't mind vacuuming. He hates spiders. He played rugby, volleyball and basketball in high school. He went undrafted in the NHL. You can learn a lot about Jason Garrison in just a 10-minute phone interview.
"It's kind of an inside joke, but I really don't mind vacuuming," said Garrison with a laugh. "My billets, they used to love me because I'd do it all the time."
Rattle off a few interesting biographical facts that are found on his University of Minnesota-Duluth website page and the 31-year-old defenceman is happy to acknowledge their authenticity.
Garrison is even more thrilled, however, to have hit the 400-mark in NHL games played, a number he never anticipated reaching.
"I would have to say no to that," said the British Columbia native, when asked if he thought he'd ever skate in that many big-league contests. "It really is something I've looked at in day-to-day terms and when you step back and look at it, it's something you appreciate, to be able to play the game you love, and to have accumulated that number of games."
His first NHL game came back in the 2008-09 season with Florida. Playing with the Rochester Americans of the American Hockey League, Garrison was called up by the Panthers on October 25, 2008.
"We were playing in St. Louis, which is one of the toughest places to play in the league," recalled Garrison. "I remember that I didn't want to look at their lineup, just so it wouldn't heighten the nerves. So, I made sure not to see it.
"I knew it was going to be just a one-game thing and I was going back to the minors," he continued. "But, I enjoyed it all and soaked up everything I could. Once you get that taste of it, you want to get back as soon as you can."
Full-time NHL duty came in 2010-11 with Florida. On March 23, 2012, Garrison set a Panthers franchise record for most goals by a blueliner in a season when he tallied his 16th goal. His nine power-play tallies tied a team record.
He spent two seasons with Vancouver (Garrison signed as a free agent with the Canucks on July 1, 2012), before being dealt to Tampa Bay on June 27, 2014.
"In Vancouver, I was in the middle, more towards being one of the older guys, but here in Tampa, I'm one of the oldest," offered Garrison. "I think being in more of a leadership/mentorship role just comes naturally to me. That comes from my family and an older cousin (Elias Godoy), who laid down that foundation for me. He helped me in that way and I've never forgotten that."
Garrison, who holds the distinction of being the first player to score a regular season 3-on-3 overtime goal – it came on October 8, 2015 – also hasn't forgotten to showcase some of the skills he picked up in other sports he played during his high school days.
"I played some volleyball, rugby and basketball," he recalled. "With the position I play, I supposed I have leaned on some of what I learned from those sports. When the puck is ricocheting around the d-zone, there are times when I've had to jump up and bat it down. When three or four guys are in tight, digging for the puck, it's just like rugby."
But, as was the case back in his later high school years, it was all about hockey.
"I think playing different sports really helped me in a lot of ways, but it ended up being, hockey, hockey, hockey, 24/7," said Garrison, who played in his 400th NHL game on October 31, 2015. "Things have worked out well."
An added bonus? He hasn't vacuumed up any spiders yet.