Hedman Has All The Tools
The big, versatile & dynamic defenceman continues to impress his teammates with his play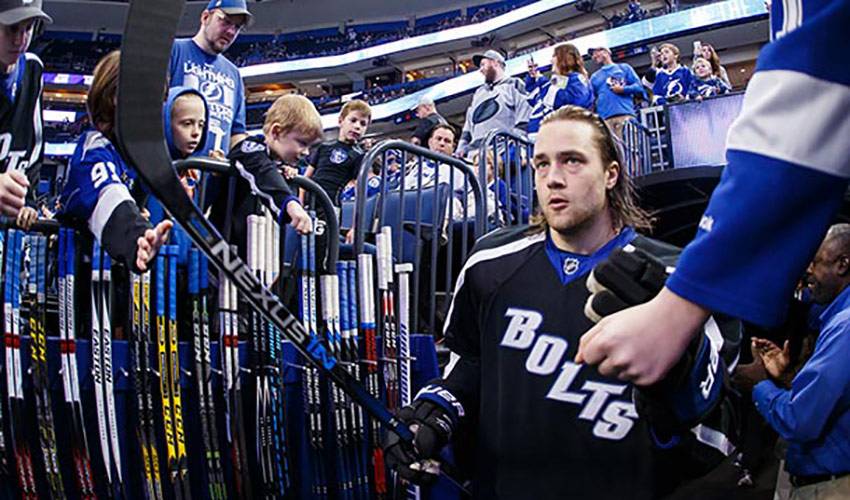 He's amped up the offence in his past five games – five points during the stretch – but Victor Hedman is capable of doing a little bit of everything. His teammates are only too happy to tell you that.
While Tampa Bay's high-octane offence hasn't fired on all cylinders for a large potion of the 2015-16 campaign, there's ample proof last year's Stanley Cup runners-up have the ability to put the puck in the net.
Last year, the Lightning ruled the roost in goals scored with 259, two more than the Dallas Stars. This year, Tampa is residing just outside the top 10.
Towering defenceman Hedman, who finished in the top five offensively for blueliners in 2013-14, has been a sparkplug of late for the 'Bolts, netting one goal and four assists for the Atlantic Division squad.
One night after Hedman chipped in with one assist and a plus-2 rating in a 6-3 Tampa Bay win (their ninth in their last 10 games), teammates Alex Killorn and Brian Boyle texted to talk about the Swede's impact on the Lightning's fortunes.
"He's elite because he's so hard to get off the puck," offered Killorn. "He pushes the pace when he skates the puck up the ice. It makes our team play faster."
Said Boyle: "His skating is what really separates him. He has all the tools and it showed in the playoffs last year. He keeps getting better for us and he's a horse."
The 25-year-old Hedman hit the double-digit mark in goals in his prior two NHL campaigns, including a 13-goal, 55-point 2013-14 season.
While he's never going to don goalie equipment, the 6'5", 223-pound defenceman did flash some serious backstopping skills earlier in the season, diving through the crease to takeaway a sure goal against Edmonton.
Just another day at the office for the No. 2 pick in the 2009 NHL Draft.
"It feels like stepping on to the ice, I feel confident in my game," said Hedman. "I feel confident on both ends of the ice, and that's kind of the way I want to play. I feel like I want to take responsibility. I want to be a leader. I want to be a difference maker on the ice."
That's precisely how his teammates see Hedman.
"He is a great guy to be around," praised Killorn. "Even though he is somewhat young, he's been in the league a long time and has a ton of experience."
Boyle is equally impressed.
"He cares about his teammates and wants to win. He's a great guy outside the rink as well."
A teammate and guy that Bolts' players prefer to have on their side.
"He's the kind of defenceman that every team needs and wants," said Tampa forward Ondrej Palat. "He's just an overall great player, and it's good to have him on the team. He's a true leader."