NHLPA GOALS & DREAMS DONATES HOCKEY EQUIPMENT TO KIDSPORT BC
Daniel Sedin and Alex Burrows surprise youth hockey players at local arena.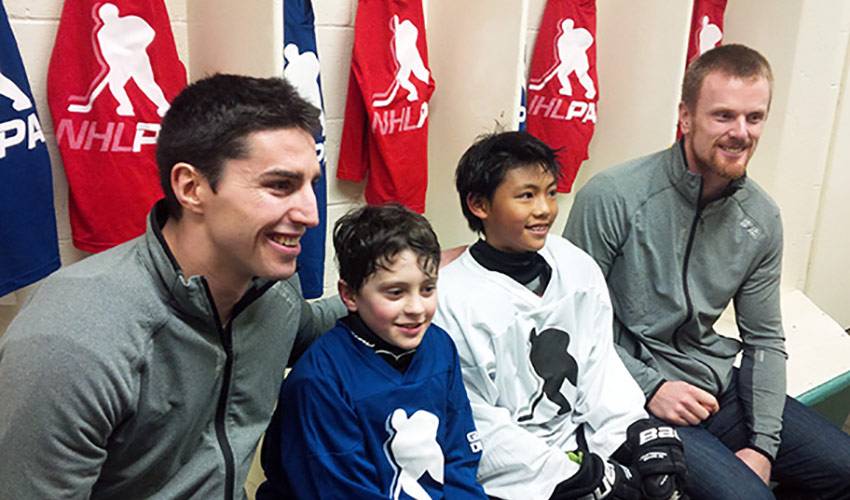 TORONTO/VANCOUVER (Feb. 18, 2016) – The National Hockey League Players' Association (NHLPA) is pleased to make a donation of 25 complete sets of new hockey equipment to KidSport BC through the players' NHLPA Goals & Dreams (G&D) fund. This G&D donation was announced yesterday afternoon by Devin Smith (G&D Chairman) and Pete Quevillon (KidSport BC Director) at the Kerrisdale Arena in Vancouver, B.C.
Prior to the formal announcement of the G&D donation, NHLPA members and Vancouver Canucks players Daniel Sedin and Alex Burrows surprised 30 youth hockey players – who are associated with KidSport BC – in their dressing room after practice.
"It was a fun day to be a part of with Daniel and NHLPA Goals & Dreams. We got as much out of seeing the excitement on the kids' faces as I'm sure they did with us surprising them," said Alex Burrows. "Daniel and I have been actively involved with NHLPA Goals & Dreams for many years now and we are pleased to help make this latest donation to KidSport BC so that more youth hockey players in the province can play our game."
"We are exceedingly grateful for the long term support that the NHLPA Goals & Dreams fund has provided to KidSport here in British Columbia. Equipment is a significant barrier to participation for many children and this donation helps us to remove that barrier and get 25 more kids off the sidelines and into the game," said Pete Quevillon, KidSport BC Director. "Last year KidSport assisted over 1,100 kids with hockey registration in BC and the generosity of the Goals & Dreams fund will ensure that we can continue to meet that ever increasing demand."
Over the past 10 years, G&D has made an annual equipment donation to KidSport BC, which gets distributed to its community chapters across the province. Over 500 children in KidSport BC have received equipment through G&D donations since 2006. Many players have participated in these G&D events with KidSport BC, such as Kevin Bieksa, Alex Burrows, Dan Hamhuis, Jyrki Lumme, Kirk McLean, Markus Naslund, Mason Raymond, Daniel Sedin and Henrik Sedin.
The equipment donation made yesterday by G&D is valued at approximately $12,500 and it will help KidSport BC give more youth the opportunity to play hockey.
-30-