World Cup Of Hockey Roster Announcements
Selections by eight participating teams include 126 NHL Players.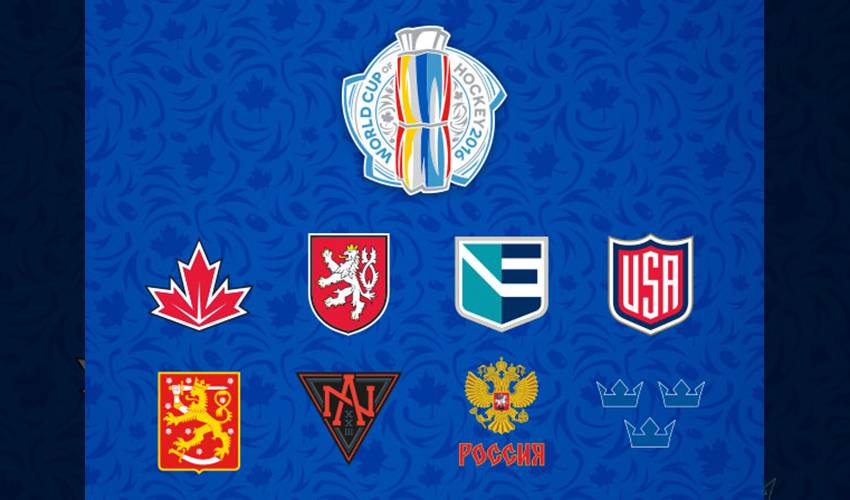 TORONTO (March 2, 2016) – All eight teams announced today their initial rosters of at least 16 players for the World Cup of Hockey 2016, the best-on-best international hockey championship that will be held Sept. 17 – Oct. 1 at Air Canada Centre in Toronto.
Each of the eight teams – Team Canada, Team Czech Republic, Team Europe, Team Finland, Team North America, Team Russia, Team Sweden and Team USA – named 16 players for a total of 128 selections. Of those 128 players, 126 are under contract by NHL clubs.
The Tampa Bay Lightning and Chicago Blackhawks lead all NHL teams with 10 and nine selections, respectively. The Boston Bruins, Detroit Red Wings and Washington Capitals follow with seven apiece.
The balance of each team's roster – a total of 20 skaters and three goaltenders – must be announced no later than June 1.
The World Cup of Hockey 2016 is a joint effort of the National Hockey League and National Hockey League Players' Association, in cooperation with the International Ice Hockey Federation. Live coverage of all tournament games will be provided by Sportsnet and TVA Sports in Canada and ESPN in the United States. A complete broadcast schedule will be announced at a later date.
The official World Cup of Hockey 2016 logo and other team logos are available for editorial use at mediaassets.wch2016.com. For more information on the World Cup of Hockey 2016, visit www.wch2016.com.
### (3/2/16)
TEAM USA
G Ben Bishop, Tampa Bay Lightning
G Jonathan Quick, Los Angeles Kings
G Cory Schneider, New Jersey Devils
D Dustin Byfuglien, Winnipeg Jets
D John Carlson, Washington Capitals
D Ryan McDonagh, New York Rangers
D Ryan Suter, Minnesota Wild
F Justin Abdelkader, Detroit Red Wings
F Patrick Kane, Chicago Blackhawks
F Ryan Kesler, Anaheim Ducks
F T.J. Oshie, Washington Capitals
F Max Pacioretty, Montreal Canadiens
F Zach Parise, Minnesota Wild
F Joe Pavelski, San Jose Sharks
F Derek Stepan, New York Rangers
F Blake Wheeler, Winnipeg Jets
TEAM CANADA
G Corey Crawford, Chicago Blackhawks
G Braden Holtby, Washington Capitals
G Carey Price, Montreal Canadiens
D Drew Doughty, Los Angeles Kings
D Duncan Keith, Chicago Blackhawks
D Marc-Edouard Vlasic, San Jose Sharks
D Shea Weber, Nashville Predators
F Jamie Benn, Dallas Stars
F Patrice Bergeron, Boston Bruins
F Jeff Carter, Los Angeles Kings
F Sidney Crosby, Pittsburgh Penguins
F Ryan Getzlaf, Anaheim Ducks
F Tyler Seguin, Dallas Stars
F Steven Stamkos, Tampa Bay Lightning
F John Tavares, New York Islanders
F Jonathan Toews, Chicago Blackhawks
TEAM NORTH AMERICA
G John Gibson, Anaheim Ducks
G Connor Hellebuyck, Manitoba Moose – Winnipeg Jets hold NHL rights
G Matt Murray, Pittsburgh Penguins
D Aaron Ekblad, Florida Panthers
D Seth Jones, Columbus Blue Jackets
D Ryan Murray, Columbus Blue Jackets
D Morgan Rielly, Toronto Maple Leafs
F Sean Couturier, Philadelphia Flyers
F Jack Eichel, Buffalo Sabres
F Johnny Gaudreau, Calgary Flames
F Dylan Larkin, Detroit Red Wings
F Nathan MacKinnon, Colorado Avalanche
F Connor McDavid, Edmonton Oilers
F J.T. Miller, New York Rangers
F Sean Monahan, Calgary Flames
F Brandon Saad, Columbus Blue Jackets
TEAM EUROPE
G Frederik Andersen, Anaheim Ducks
G Jaroslav Halak, New York Islanders
D Zdeno Chara, Boston Bruins
D Roman Josi, Nashville Predators
D Dennis Seidenberg, Boston Bruins
D Andrej Sekera, Edmonton Oilers
D Mark Streit, Philadelphia Flyers
F Mikkel Boedker, Colorado Avalanche
F Leon Draisaitl, Edmonton Oilers
F Jannik Hansen, Vancouver Canucks
F Marian Hossa, Chicago Blackhawks
F Anze Kopitar, Los Angeles Kings
F Frans Nielsen, New York Islanders
F Tomas Tatar, Detroit Red Wings
F Thomas Vanek, Minnesota Wild
F Mats Zuccarello, New York Rangers
TEAM SWEDEN
G Henrik Lundqvist, New York Rangers
G Jacob Markstrom, Vancouver Canucks
D Oliver Ekman-Larsson, Arizona Coyotes
D Victor Hedman, Tampa Bay Lightning
D Niklas Hjalmarsson, Chicago Blackhawks
D Erik Karlsson, Ottawa Senators
D Niklas Kronwall, Detroit Red Wings
D Anton Stralman, Tampa Bay Lightning
F Nicklas Backstrom, Washington Capitals
F Loui Eriksson, Boston Bruins
F Filip Forsberg, Nashville Predators
F Gabriel Landeskog, Colorado Avalanche
F Daniel Sedin, Vancouver Canucks
F Henrik Sedin, Vancouver Canucks
F Alexander Steen, St. Louis Blues
F Henrik Zetterberg, Detroit Red Wings
TEAM CZECH REPUBLIC
G Petr Mrazek, Detroit Red Wings
G Michal Neuvirth, Philadelphia Flyers
G Ondrej Pavelec, Winnipeg Jets
D Radko Gudas, Philadelphia Flyers
D Michal Kempny, Avangard Omsk (KHL)
D Roman Polak, San Jose Sharks
D Andrej Sustr, Tampa Bay Lightning
F Michael Frolik, Calgary Flames
F Martin Hanzal, Arizona Coyotes
F Tomas Hertl, San Jose Sharks
F David Krejci, Boston Bruins
F Ondrej Palat, Tampa Bay Lightning
F David Pastrnak, Boston Bruins
F Tomas Plekanec, Montreal Canadiens
F Vladimir Sobotka, Avangard Omsk (KHL)
F Jakub Voracek, Philadelphia Flyers
TEAM FINLAND
G Tuukka Rask, Boston Bruins
G Pekka Rinne, Nashville Predators
D Esa Lindell, Texas Stars – Dallas Stars hold NHL Rights
D Olli Maatta, Pittsburgh Penguins
D Rasmus Ristolainen, Buffalo Sabres
D Sami Vatanen, Anaheim Ducks
F Aleksander Barkov, Florida Panthers
F Joonas Donskoi, San Jose Sharks
F Valtteri Filppula, Tampa Bay Lightning
F Mikael Granlund, Minnesota Wild
F Jussi Jokinen, Florida Panthers
F Mikko Koivu, Minnesota Wild
F Leo Komarov, Toronto Maple Leafs
F Lauri Korpikoski, Edmonton Oilers
F Jori Lehtera, St. Louis Blues
F Teuvo Teravainen, Chicago Blackhawks
TEAM RUSSIA
G Sergei Bobrovsky, Columbus Blue Jackets
G Semyon Varlamov, Colorado Avalanche
G Andrei Vasilevskiy, Tampa Bay Lightning
D Dmitry Kulikov, Florida Panthers
D Andrei Markov, Montreal Canadiens
D Dmitry Orlov, Washington Capitals
F Artem Anisimov, Chicago Blackhawks
F Pavel Datsyuk, Detroit Red Wings
F Nikita Kucherov, Tampa Bay Lightning
F Nikolay Kulemin, New York Islanders
F Evgeny Kuznetsov, Washington Capitals
F Evgeni Malkin, Pittsburgh Penguins
F Vladislav Namestnikov, Tampa Bay Lightning
F Alex Ovechkin, Washington Capitals
F Artemi Panarin, Chicago Blackhawks
F Vladimir Tarasenko, St. Louis Blues
| | CAN | CZE | EUR | FIN | NA | RUS | SWE | USA | TOTAL |
| --- | --- | --- | --- | --- | --- | --- | --- | --- | --- |
| Anaheim | 1 | 0 | 1 | 1 | 1 | 0 | 0 | 1 | 5 |
| Arizona | 0 | 1 | 0 | 0 | 0 | 0 | 1 | 0 | 2 |
| Boston | 1 | 2 | 2 | 1 | 0 | 0 | 1 | 0 | 7 |
| Buffalo | 0 | 0 | 0 | 1 | 1 | 0 | 0 | 0 | 2 |
| Calgary | 0 | 1 | 0 | 0 | 2 | 0 | 0 | 0 | 3 |
| Carolina | 0 | 0 | 0 | 0 | 0 | 0 | 0 | 0 | 0 |
| Chicago | 3 | 0 | 1 | 1 | 0 | 2 | 1 | 1 | 9 |
| Colorado | 0 | 0 | 1 | 0 | 1 | 1 | 1 | 0 | 4 |
| Columbus | 0 | 0 | 0 | 0 | 3 | 1 | 0 | 0 | 4 |
| Dallas | 2 | 0 | 0 | 1 | 0 | 0 | 0 | 0 | 3 |
| Detroit | 0 | 1 | 1 | 0 | 1 | 1 | 2 | 1 | 7 |
| Edmonton | 0 | 0 | 2 | 1 | 1 | 0 | 0 | 0 | 4 |
| Florida | 0 | 0 | 0 | 2 | 1 | 1 | 0 | 0 | 4 |
| Los Angeles | 2 | 0 | 1 | 0 | 0 | 0 | 0 | 1 | 4 |
| Minnesota | 0 | 0 | 1 | 2 | 0 | 0 | 0 | 2 | 5 |
| Montreal | 1 | 1 | 0 | 0 | 0 | 1 | 0 | 1 | 4 |
| Nashville | 1 | 0 | 1 | 1 | 0 | 0 | 1 | 0 | 4 |
| New Jersey | 0 | 0 | 0 | 0 | 0 | 0 | 0 | 1 | 1 |
| NY Islanders | 1 | 0 | 2 | 0 | 0 | 1 | 0 | 0 | 4 |
| NY Rangers | 0 | 0 | 1 | 0 | 1 | 0 | 1 | 2 | 5 |
| Ottawa | 0 | 0 | 0 | 0 | 0 | 0 | 1 | 0 | 1 |
| Philadelphia | 0 | 3 | 1 | 0 | 1 | 0 | 0 | 0 | 5 |
| Pittsburgh | 1 | 0 | 0 | 1 | 1 | 1 | 0 | 0 | 4 |
| San Jose | 1 | 2 | 0 | 1 | 0 | 0 | 0 | 1 | 5 |
| St. Louis | 0 | 0 | 0 | 1 | 0 | 1 | 1 | 0 | 3 |
| Tampa Bay | 1 | 2 | 0 | 1 | 0 | 3 | 2 | 1 | 10 |
| Toronto | 0 | 0 | 0 | 1 | 1 | 0 | 0 | 0 | 2 |
| Vancouver | 0 | 0 | 1 | 0 | 0 | 0 | 3 | 0 | 4 |
| Washington | 1 | 0 | 0 | 0 | 0 | 3 | 1 | 2 | 7 |
| Winnipeg | 0 | 1 | 0 | 0 | 1 | 0 | 0 | 2 | 4 |
| TOTAL | 16 | 14 | 16 | 16 | 16 | 16 | 16 | 16 | 126 |