A Milestone Achievement For Fisher
Mike Fisher looks back on his career to date after eclipsing the 1,000 games plateau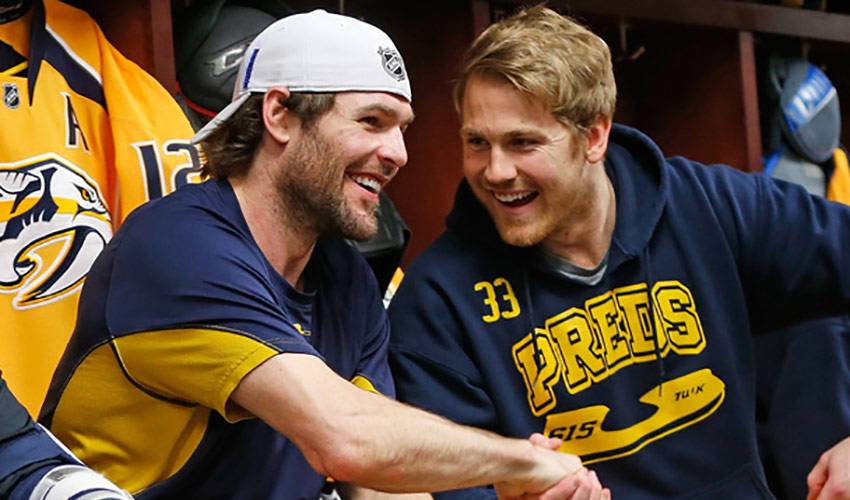 The beginning of his NHL career wasn't the dream start Mike Fisher had envisioned. But, the veteran forward refused to hang his head, making his recent milestone moment that much sweeter.
Just 32 games into his big-league life, one that produced nine points and ample reason to believe the kid from Peterborough, Ontario could be an impact player, a knee injury on December 30, 1999, felled Fisher, sidelining the rookie for the rest of the season.
"You always hope to establish yourself in your first year, but unfortunately, it didn't work out that way for me," Fisher told NHLPA.com in 2003. "You worry about how it will affect your performance, but it also pushes you to work that much harder."
And that's just what Fisher did.
That unwavering commitment to the game, through good times and bad, went a long way in enabling Fisher to reach the 1,000-games plateau on March 3, a home game that saw Nashville host New Jersey.
While it's a coveted individual honour, the 35-year-old views it as a shared success.
"I've been very blessed over my career to have so many people help me along the way," said Fisher, who started his NHL career with Ottawa before a trade to the Predators on February 10, 2011. "My family, friends, teammates, trainers, team staff - they have all had a huge part in my career and the memories I've been able to share with these people are to me the best part of it all."
Before he'd ever played a game in the NHL ranks, the line on the 6'1", 215-pounder read something like this: great skater, solid contributor in both zones, great attitude, solid second- or third-line centre prospect.
His three-year tenure in the Ontario Hockey League, one season with his hometown Peterborough Petes and two campaigns with the Sudbury Wolves, was impressive. He produced seasons of 26, 24 and 41 goals, respectively, and was revered for his checking skills.
Fisher, one of the Nashville's alternate captains, recorded his first NHL point on October 21, 1999.
"I guess I'm most proud and grateful for being able to play this long and play the game I love," he said. "I can't believe how fast the time has gone. It seems like just yesterday I was the young kid playing in my first game. I've tried my best to enjoy the ride and the experiences along the way."
He's also grateful for the widespread backing he's received throughout it all.
"I would like to thank the fans for the amazing support I've had over my career and I'm very grateful for them," said Fisher, whose extensive charitable work includes Room In the Inn, a full-service homeless facility located a few blocks from Bridgestone Arena and Cottage Cove Urban Ministries, a Nashville-based non-profit organization that serves inner city youth and Rocketown, a local youth outreach facility.
"I really believe we have some of the best and most passionate fans in sports and that's what makes it so much fun to play."