Ben Hutton Takes Centre Stage
Whether it's lip-synching to pop-music or manning the blueline in Vancouver the young defenceman is right at home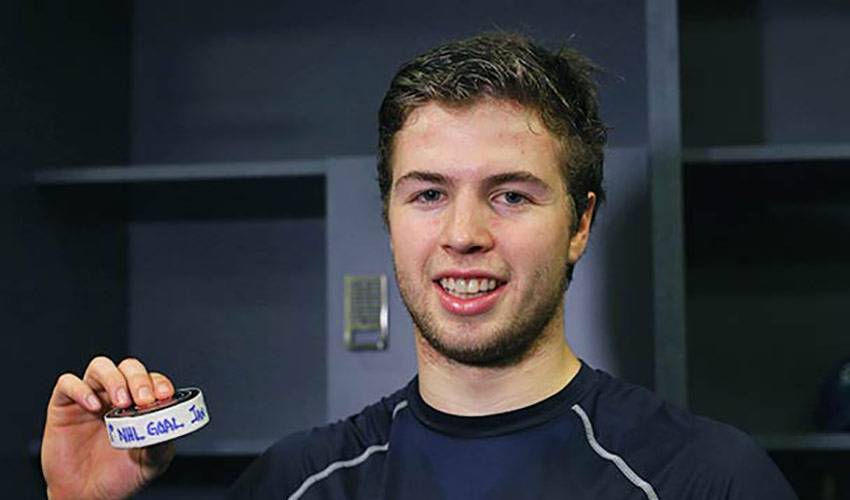 Ben Hutton's fellow players sing his praises for having a strong work ethic and a team-first attitude. But that doesn't mean the rookie shies away from taking centre stage once in a while.
On the ice, the 22-year-old defenceman is in-sync with his fellow blueliners. Off the ice, No. 27 is equally in-tune with his teammates, so to speak.
A team lip sync battle in late February brought out the performer in Hutton and brought those in attendance at the benefit to their feet after his rousing rendition of 90's pop group Aqua's worldwide hit, "Barbie Girl."
A commanding stage presence, coupled with wicked lip-syncing skills and an unbuttoned shirt, added up to an unforgettable crowd-pleasing moment and top marks from a panel of judges comprised of his Canucks teammates.
If he had to do it all again – which he definitely would – what Hollywood celebrity would he choose as his on-stage music partner?
"If I got a chance to do a lip sync with any celebrity, it would be Will Ferrell because he's my favorite actor and I also think he's hilarious," Hutton told NHLPA.com.
When he's not busy earning a standing ovation for his music act, the first-year NHLer is busy at work honing his craft as part of Vancouver's defensive corps.
Hutton, who scored his first big-league goal on January 17 against the New York Islanders, has felt right at home playing for the Western Conference club.
"Since day one, my teammates have made me feel like I have been one of the guys for years," said the Ontario native. "I'm so comfortable around them and in the dressing room. It's impacted my game because the more comfortable I feel in the locker room and around the guys, the more comfortable I feel on the ice and trying to make plays. Confidence is a big part of my game and they helped me gain that at this level really early."
Hutton, who recorded his first NHL point on October 7, 2015 against Calgary, also points to his time in the collegiate ranks as a major contributor to his NHL success.
"At Maine, I feel like the biggest thing I got out of it was I went into college a kid and came out a man," he offered. "I was tall, but skinny, and needed to put on some weight which I did at school and it helped me win more battles and be ready for the next level in hockey. I also learned a lot of good off-ice habits at school like eating habits and learning how to live on my own."
He didn't mention if he developed his penchant for people-pleasing entertainment during his days with the Black Bears.
Hutton, did however, divulge which song he'd love to belt out with Ferrell given the opportunity.
"I would probably let him pick the song, but if he gave me the choice to pick, I'd choose, "I Like Big Butts."
And he cannot lie.