NHLPA AND NHL ANNOUNCE WORLD CUP OF HOCKEY 2016 CORPORATE PARTNERS
Impressive lineup of blue-chip brands join global event, plan expansive activations to engage hockey fans worldwide.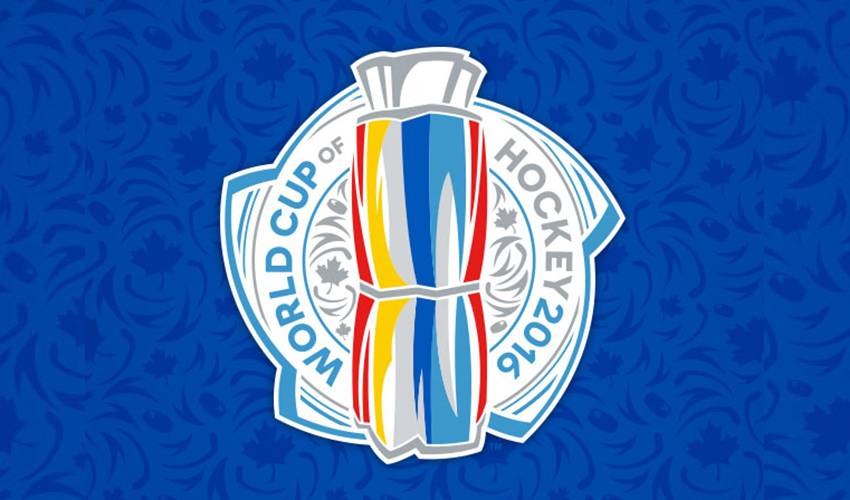 TORONTO (March 22, 2016) – The National Hockey League (NHL) and National Hockey League Players' Association (NHLPA) today announced the first roster of Official Partners for the World Cup of Hockey 2016, the best-on-best international hockey tournament that will be held Sept. 17 – Oct. 1 at Air Canada Centre in Toronto. Top brands Air Canada, Canadian Tire, Honda, Molson Coors, PepsiCo, Scotiabank, Tim Hortons and Visa will engage hockey fans worldwide through World Cup-themed promotions and campaigns, once-in-a-lifetime ticket opportunities, in-venue signage in game broadcasts, NHL media and national broadcast integrations, and on-site activations at official World Cup of Hockey 2016 fan events.
Also announced today by the NHL and NHLPA is the Scotiabank World Cup of Hockey Fan Village, a primary activation point for all World Cup of Hockey partners to connect with hockey fans from around the world in Toronto for the tournament. The festival area will celebrate not only the sport but the food, music and culture of all participating hockey nations. The Scotiabank World Cup of Hockey Fan Village will serve as the epicenter of the World Cup of Hockey for partners and fans and will be free of charge and open to the public. Specifics on fan activations will be announced at a later date.
This new line-up of corporate partners joins previously announced partners adidas, the exclusive outfitter of authentic and replica jerseys for the tournament, and Rogers Communications, which becomes a corporate partner in addition to its role as the exclusive English-language television, online and mobile rights-holder in Canada for the World Cup of Hockey.
"These iconic brands, and the magnitude of their commitment, further illustrate the anticipation that is building for what we believe will be the best international hockey tournament ever staged," NHL Commissioner Gary Bettman said. "Activation by these corporate partners will elevate energy and enthusiasm across the full range of World Cup fan experiences – including in-arena and at the Scotiabank World Cup of Hockey Fan Village. We thank our partners, who time and again create new and exciting ways to connect our fans with our game." "The World Cup of Hockey 2016 will be played by the world's best hockey players, so it is a great opportunity for collaboration with these leading consumer brands," said NHLPA Executive Director Don Fehr. "We are looking forward to working with these brands on sponsorship activations surrounding our upcoming tournament and related events."
The initial list of World Cup of Hockey partners and a collection of quotes are listed below.
adidas, the exclusive jersey, headwear and apparel partner of the World Cup of Hockey, and authentic outfitter of the National Hockey League (NHL®) beginning with the 2017-18 season, will launch the new adidas adizero hockey jersey, the newest evolution of the hockey uniform. Jerseys and full apparel collections will be available at shop.nhl.com, adidas store locations in participating countries globally, sporting goods retailers, fan shops and many NHL team shops beginning this summer.
Air Canada, the largest airline in Canada and naming partner of the host venue for the tournament, extends its longtime commitment to all seven Canadian NHL teams with a World Cup of Hockey partnership. The international airline will transport all eight World Cup teams throughout Europe and North America for pre-tournament games and to Toronto for the two-week tournament.
Canadian Tire Corporation, one of Canada's largest retailers, will showcase its ongoing commitment to sport throughout the World Cup of Hockey festivities. Whether a first pair of skates or set of pads, Canadian Tire Corporation has helped many hockey players get their start. The retailer plans to help bring the tournament experience to life through the Canadian Tire and Sport Chek banners with on-site fan activations, consumer promotions and strategic brand integration.
Honda, the official vehicle of the NHL® in Canada and the U.S., will power the World Cup of Hockey with a fleet of its vehicles for use by event officials and team personnel throughout the tournament in Toronto.
Molson Coors will extend its NHL® partnership with a World Cup of Hockey sponsorship. Molson Canadian and Coors Light will welcome hockey fans to Toronto with its iconic Molson Canadian Hockey House and with fan-focused events throughout Toronto and across North America. In addition Molson Canadian, Coors Light and NHL fans will look forward to celebrating #anythingforhockey in September.
PepsiCo and its brands, Gatorade, Lay's, Pepsi, Doritos and Aquafina, will have exclusive rights in the beverage, sports beverage, salty snacks and bottled water categories; marketing and promotional rights in Canada, U.S., European Union, Norway, Switzerland, Russia and China, including in-venue signage in North American and international broadcasts of the entire tournament; and on-site activations at official World Cup fan events.
Expanding on its 12-year NHL and NHLPA partnership, Rogers Communications serves as the official telecommunications partner of the World Cup of Hockey. Fans and customers will be immersed in a unique World Cup experience across mobile, Internet, and television that delivers premium access and innovation to all the action. Rogers will unveil its complete fan and customer offering in the coming months.
Scotiabank, Canada's most international bank and a leading financial services provider in North America, Latin American, the Caribbean and Central America, and Asia-Pacific, will showcase its commitment to hockey with title sponsorship of the Scotiabank World Cup of Hockey Fan Village, a free fan festival in Toronto. The Scotiabank World Cup of Hockey Fan Village will attract not only hockey fans from around the world in Toronto for the tournament but also thousands of youth hockey players from its sponsored teams across Canada, some of which will get the chance to serve as official flag bearers for each game in the tournament.
Tim Hortons® is one of North America's largest quick service restaurant chains and a tremendous supporter of hockey for over 50 years. Proudly, the official coffee of all seven Canadian NHL teams, Tim Hortons has also been growing the sport in communities across North America for more than 30 years through its Timbits Minor Hockey program. Throughout the World Cup of Hockey, many of these young Timbits athletes will have the exciting opportunity to take part in intermission scrimmages during select World Cup of Hockey games.
Visa, a leading global payment technology company is a longtime supporter of the NHL, and the official payment network for the World Cup of Hockey. Throughout the tournament Visa will provide cardholders across Canada with hockey-themed opportunities online and in venue at the Air Canada Centre.
Additional corporate partners, including sponsor support outside North America, will be announced in the coming weeks.
WHAT WORLD CUP OF HOCKEY 2016 CORPORATE PARTNERS ARE SAYING
"adidas has a storied history of developing and delivering best-in-class performance and training products for the world's best athletes. We continue that mission this fall, when players in this best-on-best international competition don the adidas adizero hockey jersey and hit the ice in three stripes for the first time." - Dan Near, Head of adidas Hockey
"Air Canada is proud to be the airline sponsor for the World Cup of Hockey, carrying the teams on our Premium charter service Air Canada Jetz. As a leading global carrier, Air Canada offers the best of Canada across the globe very much as the game of hockey itself does." - Benjamin Smith, President, Passenger Airlines at Air Canada
"As a leading supporter of sport in Canada, the Canadian Tire Family of Companies is proud to partner with the World Cup of Hockey, a marquee event that promises to unite the nation and inspire future generations of hockey greats. We look forward to bringing our brand to life throughout the international hockey championship and to witness first-hand the power that sport has to ignite a shared passion across communities." - Susan O'Brien, Head of Corporate Affairs, Canadian Tire Corporation
"Similar to the beloved game of hockey, the Honda Civic, Canada's best-selling passenger car the past 18 years, is a strong thread of our country's fabric and culture. Honda is excited to expand our involvement with the NHL & NHLPA to support the World Cup of Hockey by providing quality and reliable transportation on the ground. Like all members of Civic Nation, we can't wait for the games to begin!" - Dave Gardner, Sr. Vice President, Operations, Honda Canada
"For us, hockey is more than a sport, it's an obsession. We're fanatical about every part of the game, from the puck drop to the locker-room celebration. We would do anything for hockey, and we're proud to partner with the World Cup of Hockey 2016 to bring the best to Canada." – Scott Cooper, Chief Commercial Officer, Molson Coors Canada
"At PepsiCo, a global leader across numerous categories and brands, we see the World Cup of Hockey as a perfect fit to reach a broad audience across the world. With more than 200 million fans worldwide, the World Cup of Hockey will provide PepsiCo with significant branding and activation opportunities to target the avid hockey fan, casual sports fan and those who love to celebrate country pride." - Richard Glover, President of PepsiCo Beverages Canada
"Our tremendous partnership with the NHL and NHLPA continues to deliver innovative ways to connect hockey fans and communities across Canada to the game we all love. Fuelled by Canadians' passion for the game, Rogers is dedicated to delivering a shared World Cup experience that unites the country." - Dale Hooper, Chief Brand Officer, Rogers
"Scotiabank is delighted to be the Official Bank of the World Cup of Hockey 2016 and to have the opportunity to both engage hockey fans from around the world, and celebrate the important role that hockey has on our lives in Canada. Hockey matters to Scotiabank because it matters to Canadians; and that is why we're proud to support hockey at all levels – from grassroots hockey through to the NHL. We look forward to welcoming all eight teams and fans from around the world at this much-anticipated tournament this fall." - Clinton Braganza, Senior Vice President, Canadian Marketing at Scotiabank
"For more than 50 years, hockey has been at the heart of the Tim Hortons brand. We are very proud to continue our commitment to the game through sponsorship of the World Cup of Hockey and look forward to joining hockey fans from around the world in Toronto this fall, just a short drive from where our first restaurant opened back in 1964." - Elias Diaz Sese, President, Tim Hortons Brand
"As a long term NHL partner, Visa is thrilled to be a part of the World Cup of Hockey, which will undoubtedly be one of the most exciting events in Canada this year." - Brenda Woods, Head of Marketing, Visa Canada
### (3/22/16)