Bjugstad A Humble & Grateful Star
Nick Bjugstad has transformed from a university sensation to a bona fide NHL star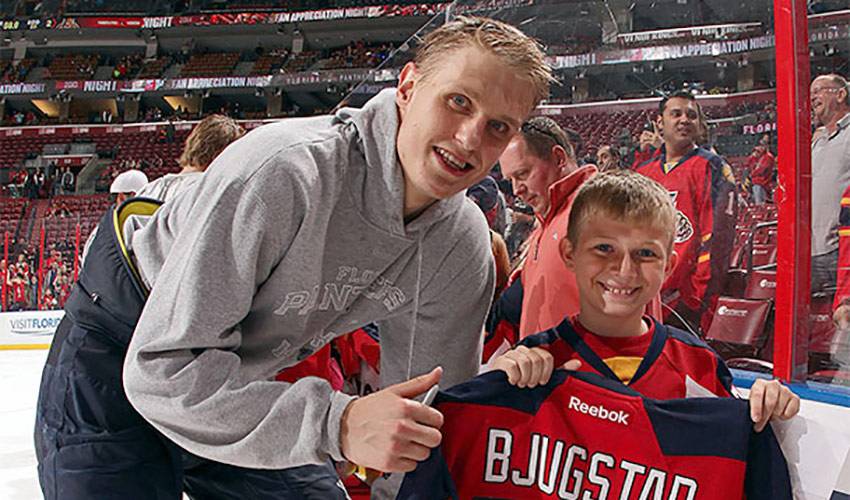 His contributions over three hockey campaigns at the University of Minnesota were far from modest, but as head coach Don Lucia remembers it, the young man behind the big numbers most certainly was.
There was plenty to rave about throughout Nick Bjugstad's impressive collegiate hockey career. In 109 career regular season games in the colours of the Golden Gophers, the Minnesota native scored 54 goals and recorded 98 points, helping the team to a pair of Western Collegiate Hockey Association (WCHA) titles.
Individual accolades were plentiful, including selection to the 2011-12 All-WCHA First Team.
None of it, however, resulted in an inflated ego for the forward who was named the 2010 Mr. Hockey recipient, the award that goes to the most outstanding senior high school player in Minnesota.
"Nick always put the team first," said Lucia, who became Minnesota's all-time winningest coach during the 2014-15 season. "If you walked into our locker room, you would never know he was an elite player. He was just one of the guys.
"The guys would always be on Nick, but he could always take a joke," continued Lucia. "He worked extremely hard in the weight room, on the ice and in the classroom, to graduate on time with his class even though he left after three years."
Bjugstad, the 19th overall selection of the Florida Panthers in 2010, would make the jump to the NHL stage in 2012-13, appearing in 11 games, and scoring his first big-league goal against state rival Tampa Bay.
After 16 goals in 2013-14, the 6'6", 210-pounder, who has a degree in Business Marketing, lit the lamp 24 times in 2014-15. This year, he's contributed to a Panthers team seeking a top-tier Eastern Conference playoff berth.
"Now that Nick is in the NHL, I'm most proud of the fact he hasn't changed," noted Lucia. "I see him training in the summer and he is still the humble and grateful young man I met when he was in 9th grade. I am happy to see the plan we laid out for him has come to fruition. Nick graduated from high school in three years, played three years at Minnesota and went right to the NHL."
But, Bjugstad, in his third NHL season, hasn't forgotten his collegiate roots or the people who helped him reach hockey's top level.
"I am sure Florida appreciates what a great young man he is," praised Lucia. "You win with team-first players like Nick."
Which is just how Lucia felt during their time together at the U of M.
"Nick had a smile on his face every day and never had a bad day," he remembered. "His glass was half full."