He Never Saw It Coming
Brian Campbell battled to become an everyday NHL player & now has eclipsed the 1,000 games played milestone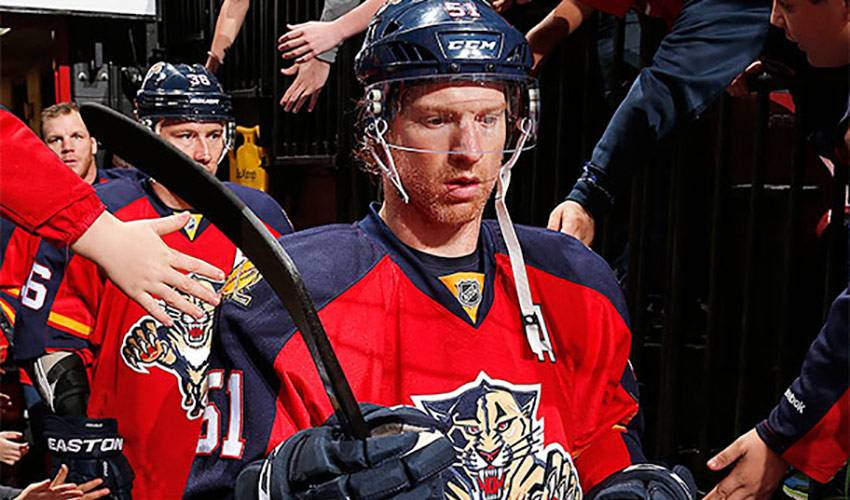 As far as big career milestones go, Brian Campbell couldn't have planned it any better: an outstanding road win, a plus-2 rating in 23:17 of total ice time, a franchise record, and plenty of love from his teammates.
The 1,000th game in Campbell's NHL life was indeed perfect. Aside from an authoritative 4-1 victory by his Florida Panthers against Montreal, the blueliner was his usual steady self, seeing three-plus minutes on both the power play and penalty kill, and over 16 minutes at even strength.
Wow 1000 games. Would like to thank @BuffaloSabres @SanJoseSharks @NHLBlackhawks and especially @FlaPanthers. Lucky to play this great game.

— Brian Campbell (@bcampbell_51) April 6, 2016
If that wasn't impressive enough, he also put his name in the Panthers record books by playing in his 374th consecutive game with the club.
Soon after the final horn sounded, the 36-year-old and his teammates celebrated his big night, posing for a series of pictures that soon made their way onto social media sites.
What a great pic and great night. Lucky to have such great teammates. pic.twitter.com/gaNp3KAjMs

— Brian Campbell (@bcampbell_51) April 6, 2016
Here is my younger big brother. Great kid and crazy great player. Luv my boy @Ekblad5FLA. Playoffs will b fun. pic.twitter.com/qVVbyBD7Nh

— Brian Campbell (@bcampbell_51) April 6, 2016
Less than 24 hours later, Campbell was still smiling.
"Waking up this morning, I feel proud of what I accomplished," said the Ontario native, who was selected 156th overall by the Buffalo Sabres in 1997. "Late-round draft pick and undersized. A lot of hard work gets you to your goals and that's what I have done my whole career. It's so nice to get text messages from other players and former coaches that played a huge part in getting me to where I am today."
And as he pointed out, where he is was where Campbell hadn't anticipated he'd be.
The early part of his career certainly didn't suggest that 1,000 games was in his future. Two and a half seasons in the minors before making it to the NHL ranks, healthy scratches – a long big-league life seemed to be a longshot.
Even so, Campbell wasn't going to give up without a fight.
"When I first started, I was hoping just to establish myself as an NHL player," he recalled. "Making it to the NHL was great, but then came a lot of healthy scratches until I finally broke through as an everyday player. I thought playing 100 games was a huge deal and now this. Never saw it coming. I'm proud to be playing at a high level when I'm 36."
Campbell, who has also played for the Sabres, Sharks and Blackhawks over his NHL career, is also proud to be part of this Florida team.
"We have a great group of guys in our locker room," he said. "We have a lot of young guys that work hard every day to try and get better. So for me, I try to be a good example and keep up to these kids. They make me feel young."
There is still plenty for the veteran Campbell - the 305th player to reach the 1,000-game plateau - to look forward to.
He's back in the playoffs for the first time since 2011-12 and will look to add a second Stanley Cup after winning it all with Chicago in 2010.
Not bad for a player who once thought hitting the century mark in games would be a pretty big thing.
"Nobody thought this would happen to me and I was one of those people."