Oduya Invaluable To The Stars
Johnny Oduya's veteran presence both on and off the ice has made him a crucial piece of the puzzle in Dallas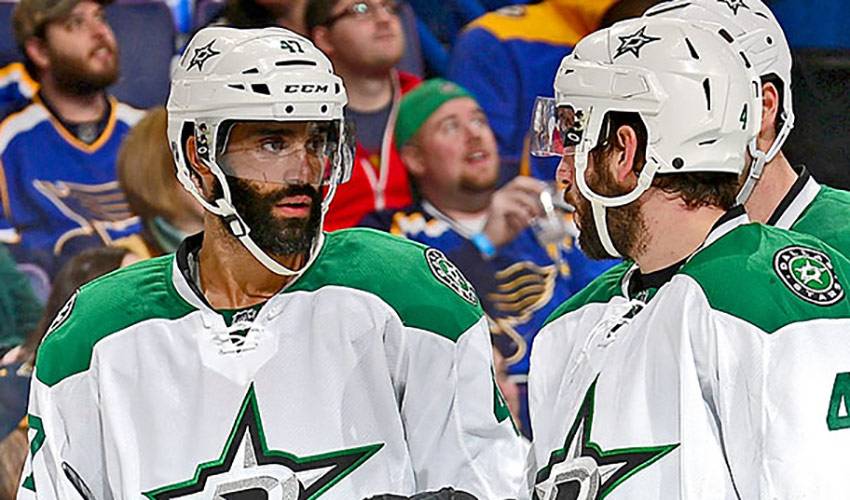 It was a signing that prompted Dallas GM Jim Nill to remark, "What I love about Johnny Oduya is the way he lives his life." As it turns out, life – and hockey – is indeed good with Johnny in it.
Stanley Cup champion. Check. Proven winner. Check. Veteran leadership. Check. Consistent effort. Check.
The Dallas Stars knew just what they were getting when they landed the coveted defenceman last summer.
But there was much more to rave about in the deal that was inked on July 15, 2015, the one that brought two-time Cup winner Oduya to the Central Division team.
"Johnny is a steady, veteran presence on the blueline and he'll complement our group nicely," Nill said at the time. "He has achieved a great deal of success, winning the Stanley Cup twice, and his championship-mentality will be valuable in our room."
Nill also made of point of heralding the blueliner's steadfast commitment to fitness and his mentorship qualities.
As for those words, 'What I love about Johnny Oduya…,' the 34-year-old rearguard remains humbled by the lofty praise.
"I take that as a compliment," Oduya told NHLPA.com. "During my career, I moved through different phases like everybody else. I think I have always been a pretty serious guy about hockey, which can be both good and bad. As you get older, you get to know yourself better and what works for you both on and off the ice. That's where I'm at now I think. I try to improve myself as much I can, but mostly on a personal level, I think that might be what Jim is referring to."
Three-plus seasons with the New Jersey Devils, 109 games with the Atlanta Thrashers, 63 games with the Winnipeg Jets, three-plus campaigns with the Chicago Blackhawks – Oduya racked up 664 regular season games before the 2015-16 campaign, his first with the Stars.
He also brought two Stanley Cups – both with Chicago, in 2013 and 2015 – to the Lone Star State, and a first-rate reputation as a team-first player.
Oduya points to a long list of influential people who helped shape him into a professional, both on and off the ice.
"Starting out in New Jersey, we had a lot of fantastic defensive coaches my first couple of years, in Jacques Laperriere, Larry Robinson, Tommy Albelin and Scott Stevens. You can count their games, Cups and Norris Trophies, if you have time, but it might take a while. They were not just great players, but teachers as well. I learned a lot about defending from those guys."
Now, it's Oduya taking on that role. It's one he cherishes.
"I try to talk about plays and situations during games or after with younger players," said the Swedish-born defenceman. "Actually, I feel it helps me a lot, too. We all need to find our own way, but if someone wants to talk or have questions, I'm all ears."
It's another fine example of how Johnny Oduya lives his life. And that makes everyone with the Dallas Stars feel very fortunate.