Elliott Stellar For St. Louis
Brian Elliott was solid on Sunday night with a 44-save performance to lead the Blues to a Game 3 victory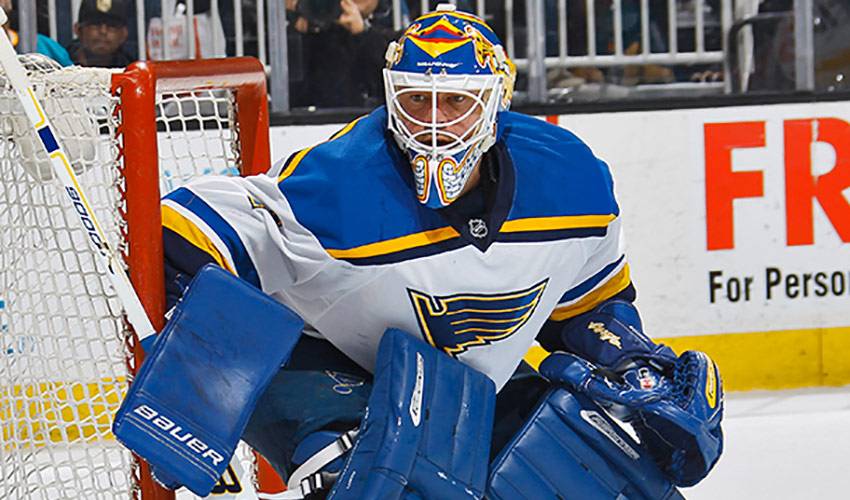 Brian Elliott snags PPOTN honours after a stellar 44-save outing against the Chicago Blackhawks on Sunday afternoon, helping St. Louis notch a 3-2 win and 2-1 series lead in the Western Conference matchup.
Through three playoff games, the 31-year-old has a .963 save percentage and 1.28 GAA.
STAT PACK: Elliott saw plenty of rubber in the second period, facing 24 shots, allowing just one goal. He stopped all 12 shots in the third to earn the victory.
HEADLINING (PRE-GAME) ACT: "I like to do some juggling before we go out on the ice," said Elliott. "It takes my thoughts off the game and gets me relaxed."
VARIETY IS KEY: When it comes to staying in shape, Elliott doesn't mind trying something new. "I like to keep things fresh," admitted the 6'2", 200-pounder. "It can get a little repetitive just going to the gym to workout. I've done yoga and Pilates, which has really helped me, especially with balance. The main thing for me is to find ways to improve every aspect of my game. And that's why you need to keep an open mind."
A LITTLE R&R GOES A LONG WAY: When the season's over, Elliott takes a few weeks to rest before he gets back into workout mode. "You need some time to unwind, to get away from the game and relax. For me, that's spending time with family and friends, along with some fishing. If you rush into it and do too much work too early, I think that's a hindrance. Rest can be a very big weapon."
CALL OF THE WILD: Elliott, who was born in Newmarket, Ontario, learned the art of 'moose calling' from a family friend.
WORTH THE WAIT: Taken in the ninth round, 291st overall, by the Ottawa Senators in the 2003 NHL Entry Draft, Elliott has 165 career regular season wins, along with 34 shutouts.
IT'S AN HONOUR: Elliott shared the William M. Jennings Trophy (lowest GAA) with Jaroslav Halak in 2011-12, and was selected to play in the 2012 and 2015 All-Star Games.
NEED TO KNOW: Elliott is the fourth Blues goaltender to make at least 44 saves in a regulation playoff game, and the first since April 20, 1994, when Curtis Joseph made 47 saves in a 4-2 loss to Dallas.
HONOURABLE MENTIONS FROM APRIL 15 AND 16: Braden Holtby stopped 41 of 42 shots in Washington's Game 2 win over Philadelphia on April 16. J.T. Miller had three helpers in the New York Rangers 4-2 win against Pittsburgh in Game 2 of their Eastern Conference series. Tyler Johnson had two goals and two assists in Tampa Bay's 5-2 victory over Detroit in Game 2. Pekke Rinne made 27 saves as Nashville bested Anaheim 3-2 on Sunday night. Thomas Hickey netted the OT winner in the New York Islanders 4-3 home win over Florida, also on Sunday.