Pominville Powers Wild To Victory
Jason Pominville had three-points in leading the Wild to a comeback win at home in Game 3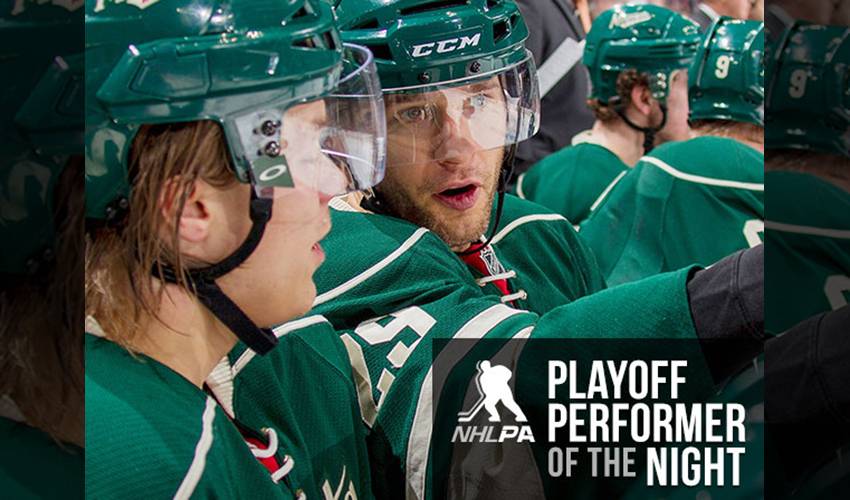 Jason Pominville earns PPOTN honours after a three-point night in a 5-3 Minnesota win over Dallas in Game 3 of their Western Conference series.
The 33-year-old had a pair of goals and one assist as the Wild notched the home ice victory after dropping the first two games against the Stars.
STAT PACK: Pominville had a team-high five shots on goal, blocked one shot, registered one hit, had two takeaways, and went 3-4 in the face-off circle, in 15:34 of ice time.
NET GAINS: ""That was a nice way to respond," said Pominville, who scored in the second frame to give Minnesota their first playoff lead in seven games. He also added an empty-netter in the closing minutes."
A HOCKEY PLAYER AND A GENTLEMAN: In 2002, during his Quebec Major Junior Hockey League days, Pominville finished seventh in scoring and was selected as the Frank J. Selke Memorial Trophy recipient as the league's most sportsmanlike player.
AN EARLY BIRTHDAY PRESENT: Pominville scored his first NHL goal on November 27, 2005, three days before he turned 23.
LEADING THE WAY: On October 6, 2011, Pominville was named captain of the Buffalo Sabres. "It's an honour to represent the team," he said to his teammates in a video released by the team. "I think we're going to have to hold each other accountable. ... Regardless of whether you have a letter on your jersey or not, if you see something that can help the team and make us better, just let anyone know about it."
A GOOD FIRST IMPRESSION: Pominviille, who was acquired by Minnesota on Trade Deadline Day from Buffalo in 2013, recorded nine points (4-5=9) in 10 games after coming to the Wild.
NEED TO KNOW: Pominville scored the series-clinching OT goal for Buffalo in the second round against Ottawa in 2006, a highlight reel shorthanded marker. In that same post-season, he had a hat trick and an assist versus Philadelphia, while leading all rookies in playoff scoring.
HONOURABLE MENTIONS: Three-time (2008-10) Ted Lindsay Award winner Alex Ovechkin had two goals and one assist in Washington's 6-1 win over Philadelphia. He's now the franchise leader in playoff points (74). Tanner Pearson scored the OT winner as Los Angeles beat San Jose 2-1 in Game 3 of their Western Conference match-up.