Malkin The Man In Game 4 Win
'Geno' tallied four points in leading the Penguins to a huge 5-0 win on Thursday night in New York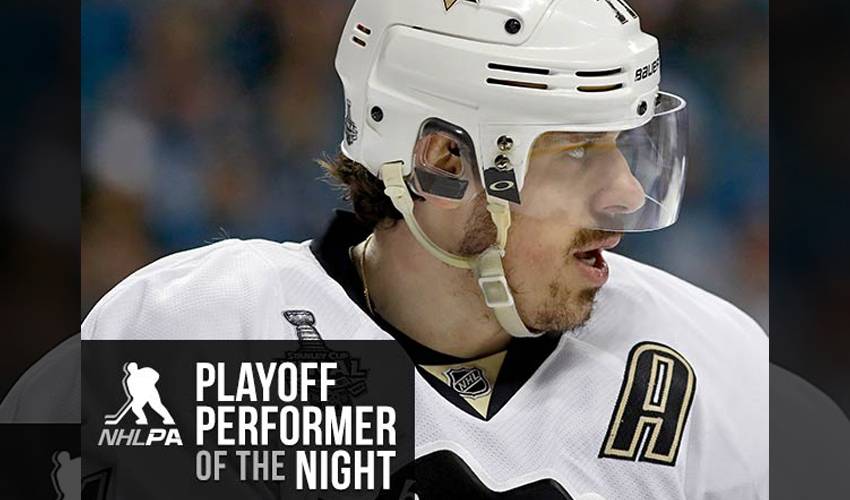 There's more than one reason (try four) that Evgeni Malkin nabbed PPOTN honours after Pittsburgh beat the New York Rangers 5-0 in Game 4 of their Eastern Conference series.
Malkin had two goals and two helpers as the Penguins moved within one game of winning their opening-round matchup.
STAT PACK: Malkin, who earned First Star honours, registered six shots on goal, blocked a pair of shots, recorded one hit, and took 21 shifts in 12:56 of ice time.
HE'S BACK AND BETTER THAN EVER: "I think he took another big step tonight," praised Penguins coach Mike Sullivan. "I thought his timing was better. He's getting stronger. His conditioning is getting better with each game he's played. That is, quite honestly, what we expected to go through with Geno."
MORE LOVE FOR MALKIN: "Geno wants to win," said Sullivan. "He's a competitive guy. He cares about this team. And he knows he's a big part of this team having success. He's a self-driven guy. He wants to be on the ice. He wants the puck in the crucial situations."
A HELPING HAND: "Of course, I thought about it when I'm not playing and the team is winning," offered Malkin, who had been sidelined with an arm injury. "I know I can help the team. I can help the power play. This feels so much better. I know I can help this team win."
FIT TO BE TIED: Malkin tied his playoff career-high best with his four points. He assisted on two of Pittsburgh's three first-period tallies. The forward had three goals and an assist in Game 2 of the 2009 Eastern Conference Final against Carolina.
GET THE POINT?: The 29-year-old has 117 points in 104 post-season contests, including 36 points in 2009, when the Penguins won the Stanley Cup and Malkin was named Conn Smythe Trophy winner as the playoff MVP.
MAKING HIS PRESENCE KNOWN: Malkin scored a goal in each of his first six NHL games becoming the first player to do so in 89 years. The only other players to achieve the mark are Hall of Fame inductees Joe Malone, Newsy Lalonde and Cy Denneny.
TROPHY CASE: Malkin's impressive collection of hockey hardware includes the 2012 Ted Lindsay Award, the 2012 Hart Memorial Trophy, two Art Ross Trophies, the 2007 Calder Memorial Trophy, and two World Championship gold medals with Russia.
TAKING A CUE: When he's not putting up four-point nights, Malkin is an avid billiards and soccer player.
HONOURABLE MENTIONS: Alex Killorn scored late in the third to give Tampa Bay a 1-0 win over Detroit and a spot in the second round of the Eastern Conference Playoffs. Ben Bishop saved all 34 shots he faced for the Lightning. Patrick Kane's sensational solo effort in double overtime gave Chicago a 4-3 win in St. Louis. Matt Murray stopped 31 shots in the Penguins blanking of the Rangers.