COLTON ORR RETIRES FROM NHL AFTER 9 SEASONS
The native of Winnipeg played in 477 career NHL games with the Bruins, Rangers and Maple Leafs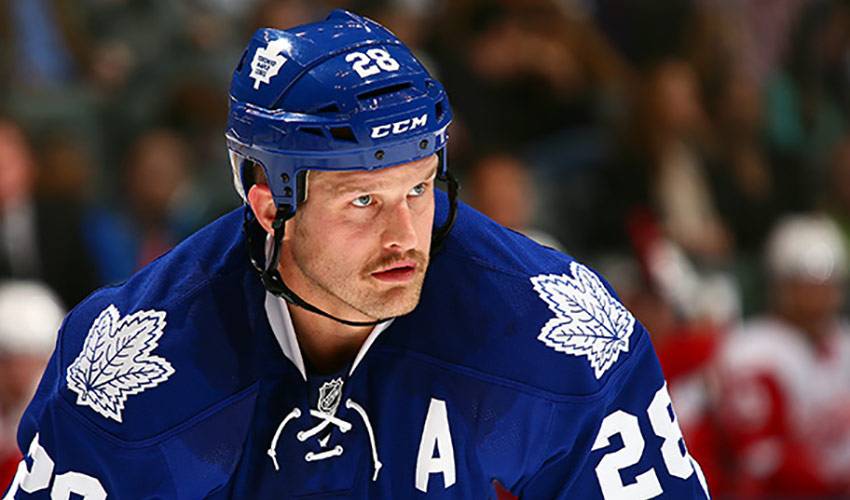 TORONTO (April 28, 2016) – Colton Orr has announced his retirement today from the National Hockey League (NHL), following nine NHL seasons and a 13-year professional hockey playing career.
"I feel privileged to have played for a decade in the NHL and to have had the support of four great organizations in Boston, New York, Toronto and Calgary. I am grateful to have had the opportunity to play with great teammates and against great players, many of whom have become great friends. It has been an amazing journey that would not have been anywhere near as fulfilling as it was without the love and support of fans, friends, agents, GMs, coaches and family," said Colton Orr.
Orr played in a total of 477 career NHL games with three teams: the Boston Bruins, New York Rangers and Toronto Maple Leafs. The six-foot-three, 225-pound forward scored 24 points and recorded 1,186 penalty minutes in his NHL career. Orr also played in 19 NHL playoff games with the Rangers and Maple Leafs.
"I look forward now to the next chapter of my life which I could not be happier to share with the two loves of my life - my wife Sabrina and daughter, Charlotte," he added. "They are the two consistently bright lights in my life who have made the darker parts of my journey a very bright part of a very fulfilling career."
Born in Winnipeg, Man., Orr began his junior career in 1998-99 with the Swift Current Broncos of the Western Hockey League (WHL), followed by the Kamloops Blazers, before he finished his junior career with the Regina Pats in 2002-03. On Sept. 19, 2001, Orr signed with the Boston Bruins as a free agent. He played in his first professional hockey game in 2002-03 for the Providence Bruins of the American Hockey League (AHL).
Orr played in 64 regular season games (his AHL career-high) and two playoff games for Providence in 2003-04. On Jan. 8, 2004, he played in his first NHL game for the Boston Bruins versus the Pittsburgh Penguins. In 2004-05, he played in 61 regular season AHL games and 17 playoff games for Providence. Orr spent the entire 2005-06 season in the NHL, starting the season in Boston where he played in 20 games. After he was claimed on waivers by the New York Rangers in November 2005, he played in 15 regular season games and recorded his first NHL point (assist) on March 29, 2006 at the New York Islanders. In 2006-07, Orr played in 53 regular season games and four playoff games for the Rangers. He scored his first career NHL goal, a game-winner, on Feb. 9, 2007 versus the Tampa Bay Lightning. Orr was voted by his Rangers teammates as a co-recipient of the Players' Player Award in 2007-08, together with Jason Strudwick. He played in all 82 regular season games in 2008-09 for the first of two consecutive seasons, and he also played in five playoff games — the fourth straight season he appeared in the playoffs.
Following three-plus seasons playing for the Rangers, Orr signed with the Toronto Maple Leafs on July 1, 2009. He played in all 82 regular season games for the Maple Leafs in 2009-10 and scored four goals. Orr played in 46 regular season games for the Maple Leafs in 2010-11 before he suffered an injury that caused him to miss the rest of the season. He spent the majority of the first half of the 2011-12 season with the Maple Leafs, but only saw action in five regular season games in the NHL before he played in 26 regular season AHL games and eight playoff games for the Toronto Marlies. In 2012-13, Orr played in all but four games for the Maple Leafs out of the 48-game, owners' lockout-shortened regular season. He also played in the Leafs' entire seven-game series in the first round of the playoffs. Orr played in 54 regular season games for the Maple Leafs in 2013-14 — his last full season in the NHL. On April 11, 2015, he played in his final NHL game for the Maple Leafs versus the Montreal Canadiens, after spending most of the season in the AHL with the Marlies. Orr finished his professional hockey career by playing in 10 AHL games in 2015-16 for the Calgary Flames' affiliate in Stockton.
Throughout his career, Orr was a respected teammate and a leader in the dressing room. He was always viewed as a hardworking forward who played a tough, physical game.
Orr, 34, resides in Brewster, N.Y., with his wife Sabrina and their daughter, Charlotte.
-30-