Killorn Crucial To The Lightning
Alex Killorn quietly provides the Bolts with consistency and quality on a nightly basis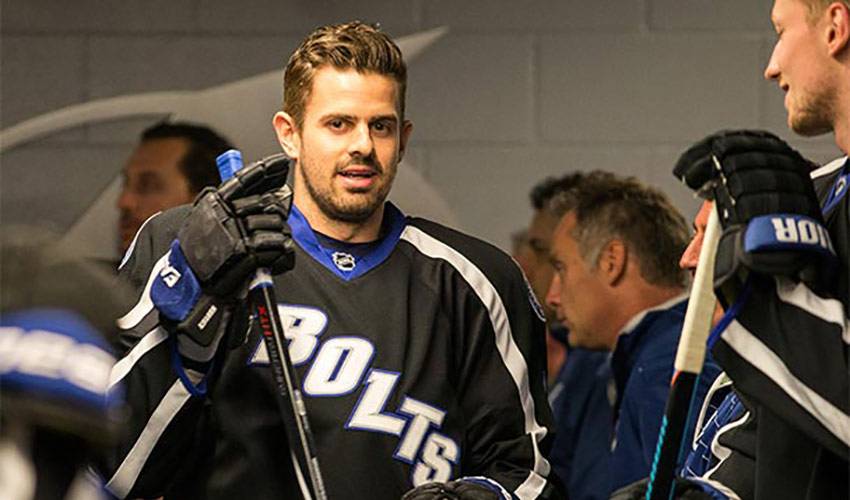 He might not have been consciously channeling two of his childhood idols when he scored the series-winning goal, but just like the pair of NHL greats, Alex Killorn was clutch when it mattered most.
With the clock ticking down in the third period in Game 5 of the Tampa Bay-Detroit Eastern Conference quarterfinal, the score tied and overtime looming, Ryan Callahan spied Killorn in front of the Red Wings net.
The Lightning alternate captain passed the puck to Killorn, who promptly deposited a backhand shot into the back of the cage at 18:17 of the final frame. It was Killorn's second game-winning tally in the series after netting the winner in Game 1.
"I was trying to gain position and go to the net knowing that if Callahan could get it to me I could probably put it in," he said. "It's a great feeling. We battled so hard for those two periods and there were periods where (goalie, Ben) Bishop kept us in it. To get the winning goal with under two minutes left was huge because I think they did outplay us at instances in that game."
Killorn has been at the top of his game, just like he was in last year's post-season when he had 18 points in 26 games. He recorded five points, including three goals, against the Wings.
Not that it's part of his game plan, but the 26-year-old is doing a fine job emulating the efforts of two Hall of Fame legends, stars Killorn used to imagine himself as when he was a kid.
"When I was younger, my favourite players were Joe Sakic and Pavel Bure," Killorn told NHLPA.com after the opening-round victory. "They were amazing."
While has a ways to go to catch Sakic and Bure in postseason appearances – 172 and 64, respectively – Killorn, who has 36 playoff games to his name, has shown he can make an impact during the Stanley Cup chase.
His primary focus, however, remains on the big picture.
"I think our consistency was very important," said the Nova Scotia-born forward, who starred at the U.S. collegiate level with Harvard. "Even when we're down in games, we found a way to come back and found a way to win. That's so important in the playoffs."
So, too, was taking a break, albeit a short one, from watching postseason action every night.
"There were a couple days (after Tampa's opening-round win) when I didn't watch any hockey," offered Killorn. "But I've watched almost every game other than that."
Killorn and the 'Bolts are now seeking to square things in their Eastern semifinal against the New York Islanders after a 5-3 home loss in Game 1.
And while he doesn't wear Sakic's No. 19 or Bure's No. 10, Tampa Bay's No. 17 is being counted on to provide some more game-winning exploits in round two.
"In our short term here, three playoff (seasons), we've had guys who on a number of occasions who've risen above everybody," Tampa Bay coach Jon Cooper told reporters after the 1-0 win over Detroit."(Tyler) Johnson has gotten a lot of accolades, and (Victor) Hedman and (Nikita) Kucherov. You could go down the list. Killorn isn't talked about as much. But you look at another big third-period goal and Killorn scores it. He seems to rise to the occasion when the playoffs come around."
His childhood idols would no doubt agree.