Backes Lifts Blues In Game 2
David Backes celebrated his birthday in style by scoring the OT winner to send the series back to St. Louis tied at a game a piece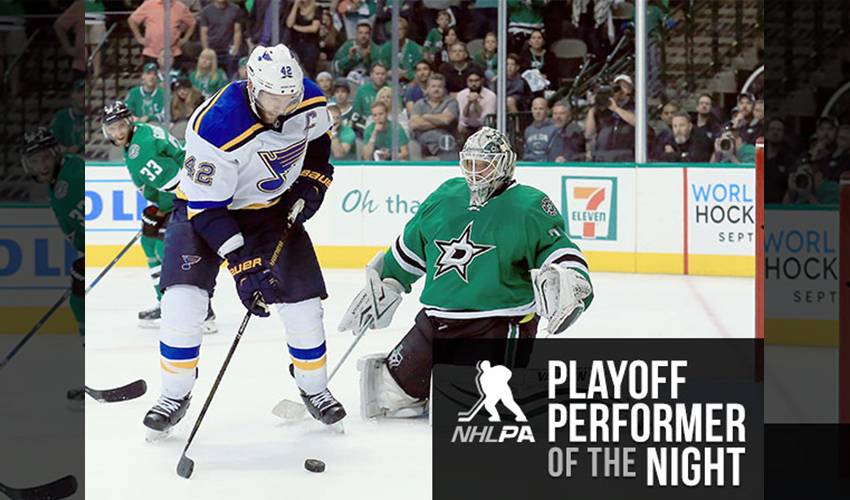 David Backes takes PPOTN honours after the St. Louis captain scored the OT winner against Dallas in Game 2 of their Western Conference semifinals.
After the Blues let a 3-1 lead slip away, Backes banged home a rebound on the power play for a 4-3 win, knotting the series at one game apiece.
STAT PACK: Backes made the most of his only shot on net, blocking one shot, dishing out seven hits, and taking 37 shifts in 21:12 of ice time.
HAPPY NO. 32 TO NO. 42: Backes' teammates offered up their rendition of 'Happy Birthday' after he scored the extra-frame winner. "I want to know what they did with the money their parents gave them for voice lessons," said Backes, who turned 32 on Sunday.
POUNCE ON IT: "I could see the one-timer coming over," recalled Backes. "I figured if I could get his eyes and Steener (Alex Steen) got it up that it's a good chance to get in, and if he didn't get it up, I could turn around and find a rebound," Backes said. "One of those fortuitous bounces right on my tape and slammed it home before anyone could realize where it is."
GOING THE EXTRA MILE: Backes recorded his second overtime goal of the 2016 Stanley Cup Playoffs (also Game 1 of the first round vs. Chicago). He became just the second player in Blues history to score multiple overtime goals in one postseason, joining Pierre Turgeon (2 in 1999).
ANIMAL KINGDOM: In November of 2013, Backes and his wife, Kelly, launched Athletes for Animals, "a united team of professional athletes with a shared passion for rescuing and protecting the welfare of homeless pets nationwide." Said Kelly: "It's something we both have a great passion for. This has been a dream of ours for years."
COME FLY WITH ME: Backes earned his pilot's license in 2012.
WEARING THE RED, WHITE AND BLUE: He's played for the United States in several international competitions, including the 2010 Winter Olympics, where he won a silver medal.
IF HE WAS STRANDED ON AN ISLAND…: "If I could bring three things, they would be my wife, my tackle box and an ELT (emergency locator transmitter) so when I had enough sun and suffering I could be rescued."
TAKE A SWING AT IT: "I first got into hockey as I was playing baseball in the small town and the season was over. I asked my buddies what they were all doing. They said playing hockey, so I joined them and away I went."
FOOD FOR THOUGHT: "My pregame meal is chicken marsala and angel hair pasta, at home, and on the road, it's salmon with penne and meat sauce with a salad."
HONOURABLE MENTIONS: On Friday, Radek Faksa scored the game-winning goal and added an assist in Dallas' 2-1 win over St. Louis in Game 1 of their Western Conference semifinal. Kari Lehtonen made 31 stops for the Stars, while Brian Elliott turned aside 40 of 42 shots for St. Louis. Joel Ward had one goal and one helper as San Jose bested Nashville 5-2 in their West semi. Logan Couture had a pair of goals and Brent Burns chipped in with two assists. On Saturday, Eric Fehr scored the winner as Pittsburgh beat Washington 2-1 in Game 2 of their Eastern semifinal. Tyler Johnson scored twice and had an assist, while Victor Hedman and Jonathan Drouin each had a goal and a helper in Tampa Bay's 4-1 win over the New York Islanders in Game 2 of their East semi. On Sunday, Martin Jones made 37 saves in San Jose's 3-2 win over Nashville in Game 2 of their Western semi series. Joe Pavelski had one tally and three points in the victory.