Boyle Brings The Bolts A Win
Brian Boyle was the standout on Tuesday after scoring the OT winning goal in the Lightning's Game 3 victory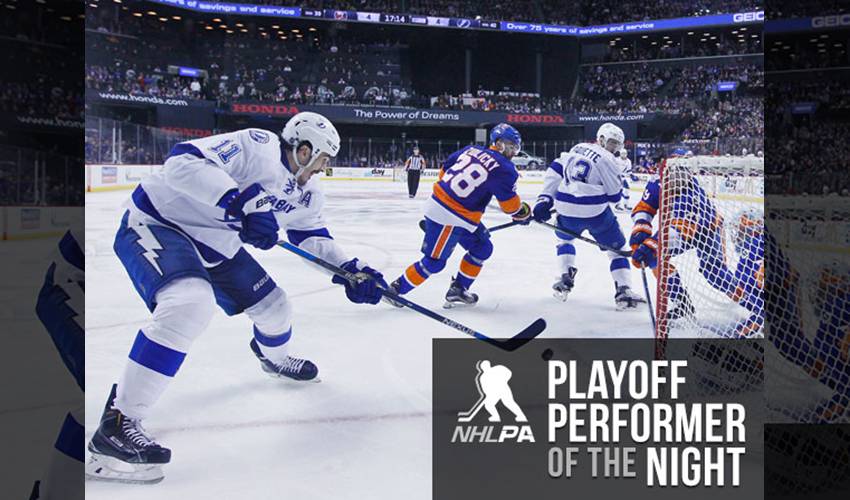 Brian Boyle bags PPOTN honours for his OT winner that gave Tampa Bay a 5-4 victory in Game 3 and a 2-1 series lead against the New York Islanders.
The-31 year-old has now skated in 91 playoff games, including 58 over the past three campaigns.
STAT PACK: Boyle took three shots on net, had one blocked shot, recorded two hits, and took 23 shifts in 18:51 of ice time.
WHEN PUSH COMES TO SHOVE: Boyle and Islanders defenceman Travis Hamonic exchanged pleasantries in pre-game warm-up when the two players bumped at centre ice and then exchanged words.
TAKE YOUR BEST SHOT: "I thought I had it, but I just missed it," noted Lightning defenceman Victor Hedman. "And Boyle was there and prepared for the rebound and stuck it in." Said Boyle: "It was a fortunate bounce."
SAVE THE BEST FOR LAST (MINUTE): The Lightning scored a game-tying goal in the final minute of regulation in an eventual playoff win for the second time in franchise history. They also achieved the feat in Game 3 of 2004 Conference Semifinals at Montreal, when Vincent Lecavalier tied the game at 19:43 of the third period and Brad Richards notched the winner 65 seconds into the extra frame.
IT'S A FIRST: Boyle notched his first career overtime goal (regular-season and playoffs, 640 GP). His only other playoff game-winning goals came with the Rangers in the 2012 Stanley Cup Playoffs.
STAYING THE COURSE: "There have been times where you can see your career going one way or the other," said Boyle, who played four seasons with Boston College, earning Hockey East Tournament MVP honours in 2005. "The big thing is to believe in yourself and to stay positive. Of course, there are moments where you get down, but you just remind yourself to keep staying strong."
LITTLE BIT OF EVERYTHING: "You always want to bring some offence to the team," offered Boyle, who followed the Boston Bruins as a kid. "But, when you get to this level of the game, you understand there are other positive contributions you can make. Whether it's being physical, putting your body in front of a shot, or turning the other team back when they are on the power play, you can always do something to help swing the game in your team's favour."
SHARING A DAY: Boyle has the same birthday (December 18) as actor Brad Pitt, singers Sia and Christina Aguilera and director Steven Spielberg.
NO. 26: Boyle was selected 26th overall (Los Angeles) in the 2003 Entry Draft. Other players of note taken in the same spot include Claude Lemieux (1983, 1,215 games), Brent Ashton (1979, 998 games) and Martin Havlat (1999, 788 games).
HONOURABLE MENTIONS: Shea Weber had one goal and one assist in Nashville's 4-1 win over San Jose in Game Three of their Western semifinal. The tally was his 13th career postseason marker, tying Weber for the most in franchise history. Pekka Rinne made 26 saves for the Predators. Alex Steen and David Backes each had two goals, while Vladimir Tarasenko registered one goal and two assists as the Blues beat the Stars 6-1 in Game 3 of their West semi. Victor Hedman recorded one goal and three points for Tampa Bay. Josh Bailey netted two goals for the Islanders.