Fisher Finishes A Marathon Night
Mike Fisher's triple-OT goal lifted Nashville to a 4-3 win & knotted the second-round series at two games a piece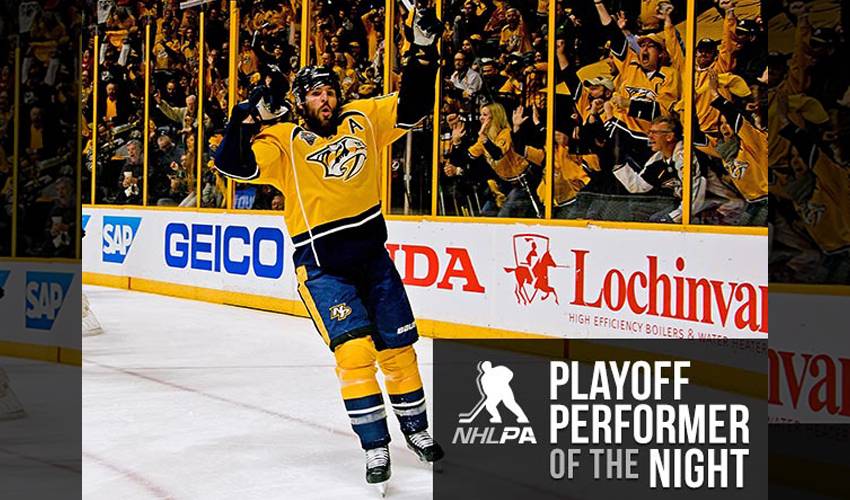 Mike Fisher is the PPOTN after his triple OT goal gave Nashville a 4-3 win over San Jose and knotted the series after four games.
The veteran forward, who recently reached a major career milestone, had a pair of tallies in the marathon contest.
STAT PACK: Fisher scored twice, was a plus-3, took five shots, blocked four, recorded five hits, and took a whopping 55 shifts in 37:33 of ice time.
GRATEFUL HE'S ON OUR SIDE: "It took a long time, but thanks we have Fish," said Nashville goaltender Pekka Rinne.
MAN OF THE MOMENT: "That was a good play to get (Mattias) Ekholm free in the middle there," offered Fisher. "He got a shot through, and I just kind of go in there and got the rebound and (got) it home."
A (HOME) FIRST FOR MIKE AND CO.: The Predators, who tied the game with 4:21 remaining in regulation, improved to 3-7 in all-time playoff overtime games and earned their first such victory on home ice (1-3). Half of their postseason overtimes games have required multiple extra frames, including each of their past three (0-2 vs. Chicago in 2015 first round).
EXTRA EFFORT: Fisher, who has one other multi-goal game in the postseason (Game 1 of 2011 Conference Quarterfinals at Anaheim), registered his second career playoff overtime goal (also Game 6 of 2004 Conference Quarterfinals vs. Toronto, with Ottawa).
TOUGH START: Just 32 games into Fisher's NHL career, a knee injury on December 30, 1999, sidelined him for the rest of the season. "You always hope to establish yourself in your first year, but unfortunately, it didn't work out that for me," Fisher told NHLPA.com in 2003. "You worry about how it will affect your performance, but it also pushes you to work that much harder."
A GRAND CAREER: Fisher reached the 1,000-games plateau on March 3, 2016, in a home game that saw Nashville host New Jersey.
FLYING BY: "I guess I'm most proud and grateful for being able to play this long and play the game I love," said Fisher. "I can't believe how fast the time has gone. It seems like just yesterday I was the young kid playing in my first game. I've tried my best to enjoy the ride and the experiences along the way."
HELPING HAND: "I've been very blessed over my career to have so many people help me along the way," said Fisher, who started his NHL career with Ottawa before a trade to the Predators on February 10, 2011. "My family, friends, teammates, trainers, team staff - they have all had a huge part in my career and the memories I've been able to share with these people are to me the best part of it all."
HONOURABLE MENTIONS: Cody Eakin netted the OT winner as Dallas evened their Western Conference series against St. Louis. Jamie Benn had two assists for the Stars, while Patrick Sharp contributed a goal and an assist. Vladimir Tarsenko had one goal and a helper for the Blues. Pekka Rinne made 44 stops for the Predators. Colin Wilson had a tally and two assists in the victory.