TO THE VICTOR GOES THE SPOILS
Victor Hedman continued his strong post-season play in leading the Bolts to a series-clinching win in Game 5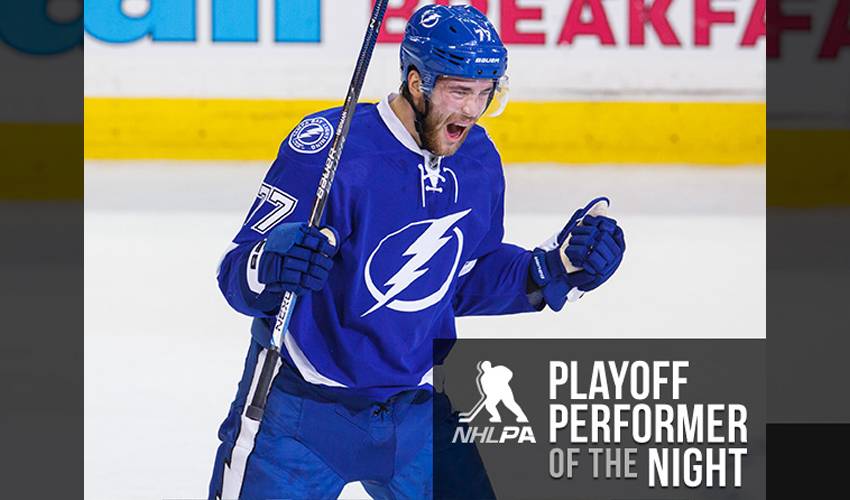 Victor Hedman is the PPOTN after scoring twice in Tampa Bay's Game 5 win over the New York Islanders.
The defenceman helped lead the offensive charge as the Lightning defeated the Isles 4-0 and with the victory, moved on to the Eastern Conference Finals.
STAT PACK: Hedman had two goals, three shots on goal, was a plus-3, recorded three hits, registered one hit and took a team-high 31 shifts for 27:43 (also a team-best mark) minutes of ice time.
TO THE VICTOR GOES THE SPOILS: "Last year was a good experience for me and the team. You know what to expect," said Hedman "You want to be at your best when you come to the playoffs. We battle for each other, and that's paying off right now. We've got to keep that going."
INTO THE BOLTS RECORD BOOKS: Hedman became just the third defenceman in franchise history to score twice in a playoff game and first to do so in a series-clinching victory.
IMPRESSIVE COMPANY: Hedman also became the first defenceman on any team to score twice in a series-clinching win since Nicklas Lidstrom (Detroit) in Game 7 of the 2010 Western Conference Quarterfinals at Phoenix.
MAKING HIS POINT: Hedman collected eight points through five games in the Second Round versus the New York Islanders (4-4-8). Hedman's four goals and eight points were the most in franchise history by a defenceman in one playoff series.
HOCKEY TOWN: He was born in Ornskoldsvik, Sweden; a town of less than 55,000 people known for producing star NHL players, including: Peter Forsberg, Markus Naslund, Daniel and Henrik Sedin and Niklas Sundstrom.
STARTING OUT: At the age of five Hedman began skating, trying to follow in his older brothers footsteps. "My brothers and my parents have always supported me and have been a big part of my career."
TAKING OFF: Outside of hockey, Hedman has a love for flying (his grandfather was a pilot in the military) and he hopes to get his pilot's license in the near future.
HONOURABLE MENTIONS: On Friday, Jason Garrison scored the OT winner as Tampa Bay bested the New York Islanders 2-1 in Game 4 of their East semifinal. On Saturday, Brian Elliott made 27 saves, while Robby Fabbri and Paul Stastny each had one goal and an assist as St. Louis beat Dallas 4-1 in Game 5 of their West semifinal. Ted Lindsay Award finalist Braden Holtby made 30 saves, and Alexander Ovechkin and T.J. Oshie each had a tally and a helper in Washington's 3-1 victory against Pittsburgh in Game 5 of their East semi. Joe Pavelski scored a pair of goals, while Justin Braun, Joonas Donskoi and Joe Thornton each had two assists in San Jose's 5-1 win over Nashville in Game 5 of their West semi.