Backes Leads Blues in Game 1 Win
David Backes is a perfect playoff performer and he showed his worth again in Game 1 of the Western Conference Final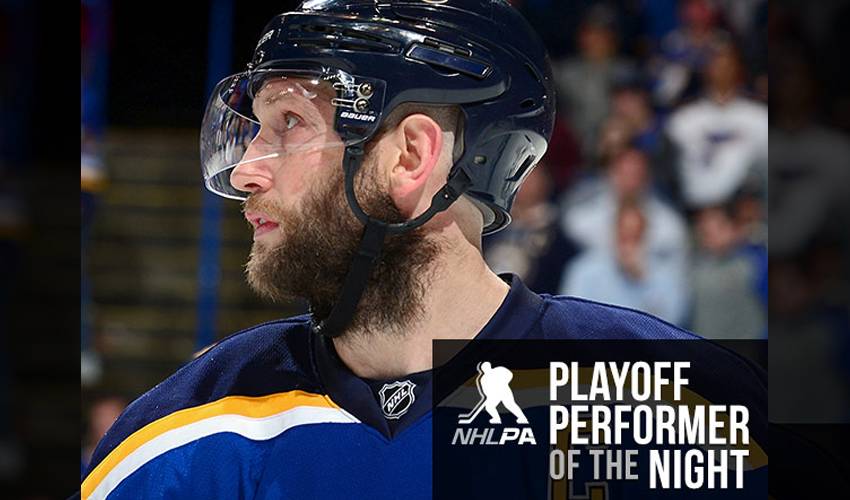 David Backes is back on the PPOTN podium after the St. Louis captain helped lead the Blues to a win in Game 1 of the Western Conference Final.
The 32-year-old scored one goal and was a hit machine in the 2-1 home ice victory.
STAT PACK: Backes had five shots on goal, blocked one shot, recorded 11 hits (seven more than the closest player), and took 33 shifts for 18:33 of ice time.
NET GAINS: "When your goalie is your best player, it gives you a great chance of winning, and that was the case," praised Backes, speaking about Brian Elliott. "It was that way for the first two rounds and nothing's changed in Game 1 of the third round."
STAND AND DELIVER: "One thing I never have to worry about is him being in front of the net when I shoot it," said Kevin Shattenkirk. "That's where he's so valuable."
THE HITS JUST KEEP ON COMING: Backes scored the opening goal and paced all players with 11 hits – three shy of San Jose's team total (STL: 28, SJS: 14) and the most by a player in one game in the 2016 Stanley Cup Playoffs. He ranks second in the League with 68 hits this postseason (15 GP).
HE GETS THE POINT: Backes shares the team lead with 7-6-13, matching his point total from his first 29 career playoff contests (5-8-13).
FRIENDS TO THE ANIMALS: In November of 2013, Backes and his wife, Kelly, launched Athletes for Animals, "a united team of professional athletes with a shared passion for rescuing and protecting the welfare of homeless pets nationwide." Said Kelly: "It's something we both have a great passion for. This has been a dream of ours for years."
AIR DAVID: Backes received his pilot's license in 2012.
INTERNATIONAL FLAIR: He's played for the United States in several international competitions, including the 2010 Winter Olympics, where he won a silver medal.
IF HE WAS STRANDED ON AN ISLAND…: "If I could bring three things, they would be my wife, my tackle box and an ELT (emergency locator transmitter) so when I had enough sun and suffering I could be rescued."
DIAMONDS AND ICE: "I first got into hockey as I was playing baseball in the small town and the season was over. I asked my buddies what they were all doing. They said playing hockey, so I joined them and away I went."
WHAT'S ON THE MENU?: "My pregame meal is chicken marsala and angel hair pasta, at home, and on the road, it's salmon with penne and meat sauce with a salad."
WATCH OUT FOR #42: "I sometimes play pranks on my teammates, but they always find out who it was and get you back. It makes the locker room fun and keeps guys on their toes."
NUMBERS GAME: "The number 42 is the one that was given to me during my first training camp and I was just happy to have any number. I was asked if I wanted to change at one point but by then my mother would have killed me as most of the family had jerseys already. Since then I have come up with some good, although not true, reasons for having 42. My initials, for example, are DB, D is the 4th letter of the alphabet and B is the 2nd. There are a few others, but I won't bore you with them."
HONOURABLE MENTIONS: On Friday, Ondrej Palat had one goal and one assist, Jonathan Drouin contributed one tally, and Andrei Vasilevskiy made 25 saves in relief of Ben Bishop, as Tampa Bay beat Pittsburgh 3-1 in Game 1 of the Eastern Conference Final. Brian Elliott made 31 saves for the Blues, while Jori Lehtera scored in the victory.