Jones Shuts The Door In Game 2
Martin Jones posted a shutout to help the Sharks tie up the Western Conference Final at a game a piece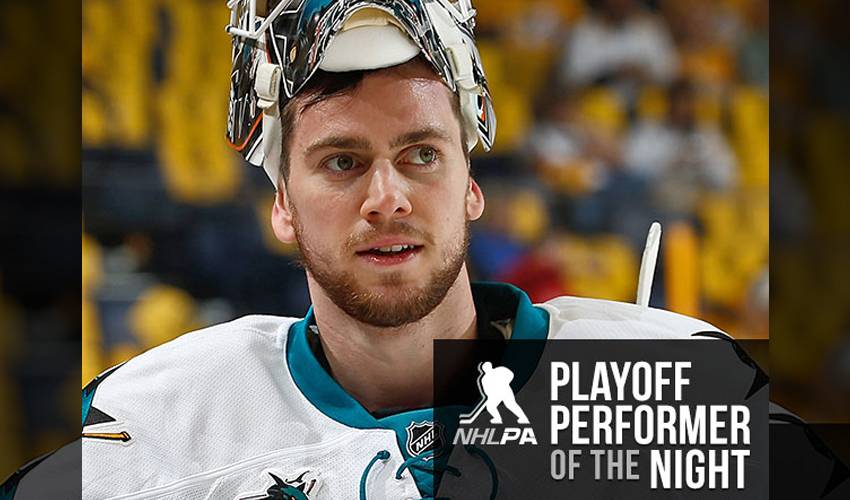 The PPOTN puck stops as here as San Jose's Martin Jones blanked St. Louis in Game 2 of the Western Conference Final.
Jones turned aside 26 shots en route to the shutout in a 4-0 Sharks road victory.
STAT PACK: Jones stopped nine shots in the first period, six in the second and 11 in the third.
HAPPY PLACE: Jones registered his second career postseason shutout to help the Sharks earn their third win in four visits to Scottrade Center overall in 2015-16, including victories in both regular-season matchups (Feb. 4: 3-1 W and Feb. 22: 6-3 W).
I'LL SECOND THAT: Jones, who recorded his first playoff shutout in Game 7 of the Second Round vs. NSH (20 SV), became the second goaltender in Sharks history to post multiple clean sheets in a single playoff year (also Evgeni Nabokov: 3 in 2004).
ROCK-STEADY ROOKIE: "I think because of the way he handles himself, the composure he shows up at the rink with every day, I don't think of him like that," said head coach Peter DeBoer. "I don't think any of our guys do. I think everybody's confidence level in both our goalies is very high. They've earned that."
CALM IN THE CAGE: "Anyone who has followed his career knows he's won at every level," said Tommy Wingels. "He was successful in junior. Playing against him in the American League, you certainly could never beat him. You can see the poise in his game. Seems like he never has an elevated heart rate. In the practice and games, he's always there making big saves. Yeah, maybe his experience shows he hasn't played too many games. As teammates and players, we certainly cannot tell that."
STAY THE COURSE: "I'm trying to stop the puck every night regardless," said Jones. "But obviously Game 1, you don't like to lose on a goal like that. But I thought I played well other than that. I wasn't about to change anything. Yeah, really didn't change too much going into tonight. We just played well. We got the bounces tonight."
HOCKEY DAD: Jones' father, Harvey, is the VP of Construction for the Vancouver Canucks.
BLOW OUT THE CANDLES: Jones shares a birthday (January 10) with singer Rod Stewart and boxing legend George Foreman.
HONOURABLE MENTIONS: Brent Burns had a pair of goals for the Sharks. Logan Couture had two assists, and Dainius Zubrus chipped in with a goal and an assist.