Phil Brings The Thrill For Pens
Phil Kessel was once again all-over the scoresheet as the Penguins captured Game 3 in Tampa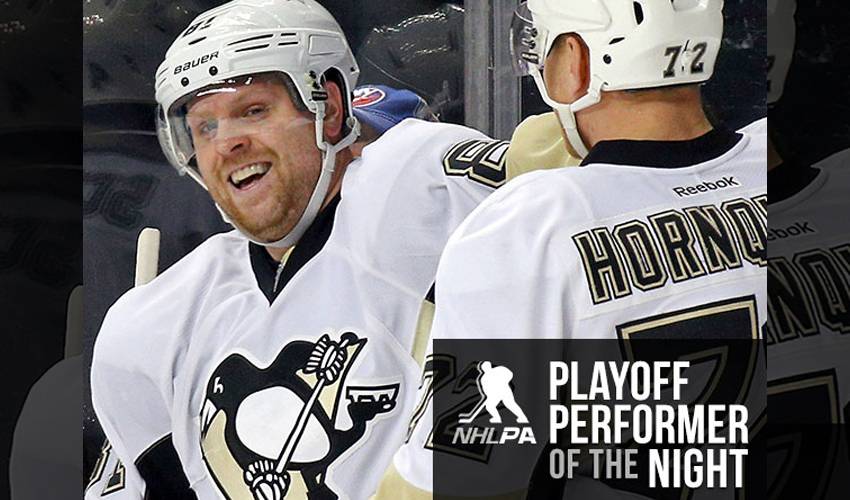 Phil Kessel takes PPOTN honours after contributing two points in Pittsburgh's win over Tampa Bay in Game 3 of the Eastern Conference Final.
The right-winger scored his seventh goal of the playoffs in the Penguins 4-2 road triumph over the Lightning.
STAT PACK: Kessel had one goal and one assist, recorded a game-high eight shots, blocked one shot and took 27 shifts in 19:09 of ice time.
PHIL THE THRILL: "You look at the way that Phil's playing tonight and the way he used his speed, his shot, he creates so much," said Sidney Crosby.
THREE'S COMPANY: Kessel now has 20-17-37 in 36 career playoff games (1.03 P/GP). Only two other active players, with a minimum of 20 appearances, have averaged more than one point per game during their postseason careers: teammates Crosby (1.15) and Malkin (1.06).
LETHAL LINE: "The HBK Line" – the trio of Carl Hagelin (1-1-2), Nick Bonino (0-1-1) and Phil Kessel (1-1-2) – combined for 2-3-5 in Game 3. They have totaled 14-25-39 in 14 total games this postseason (Hagelin: 5-6-11, Bonino: 2-10-12, Kessel: 7-9-16).
FINE LINE: "They've been so good for us for a long time now," said head coach Mike Sullivan. "They've established a nice chemistry. I think, when we have the balance throughout our lineup like we do, I think it really presents some matchup difficulties for our opponents. I've said that on a number of occasions throughout the course of the playoffs. I think Bones' line, there's a lot of threats on that line, his speed. Phil obviously has a great shot. Bones is a real good playmaker, and Haggy brings so much to that – to the other two guys. They seem to complement each other very well. But there's no question they've got some huge goals for us throughout the course of this playoffs."
TROPHY TIME: In 2007, Kessel won the NHL's Bill Masterton Trophy for 'perseverance, sportsmanship and dedication to hockey.'
HIGH FIVE: Drafted fifth by Boston in 2006, other famous fifth overall picks include Jaromir Jagr, Scott Stevens, Bill Guerin and Carey Price.
SISTER ACT: Kessel's younger sister Amanda is a star with the U.S. women's national ice hockey team.
ARE YOU READY FOR SOME FOOTBALL?: Kessel's father, Phil Sr., was a standout quarterback at Northern Michigan University.
SHARING A DAY: Kessel shares a birthday with Mahatma Gandhi, singer Sting, TV show host Kelly Ripa and NBA player Tyson Chandler.
HONOURABLE MENTIONS: Carl Hagelin had one goal and one assist. Sidney Crosby contributed one goal. Ondrej Palat recorded one tally and one assist for the Lightning, while teammate Nikita Kucherov had a pair of helpers.