Crosby Comes Through in the Clutch
With Sidney Crosby leading the way, the Penguins booked a Game 7 date after a crucial road win in Tampa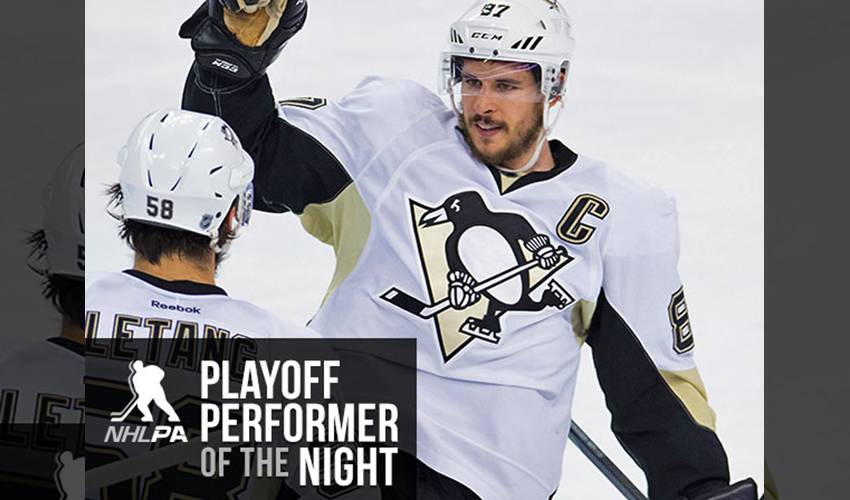 Sidney Crosby is the PPOTN after another strong performance, including one goal and one assist in Game 6 of the Eastern Conference Final.
The captain led Pittsburgh to a decisive 5-2 road win over Tampa Bay, as the series shifts back to Pennsylvania with a trip to the Stanley Cup Final on the line.
STAT PACK: Crosby took four shots on goal, was a plus-2, recorded two hits, and took 29 shifts for 18:09 of ice time.
NO MAGIC FORMULA: "We know the circumstances," said Crosby. "I think you go out there with the mindset of playing desperate, and I think it's pretty natural when you're in this situation. I think we have confidence in the whole group, no matter who it needs to be to step up. I think everyone played great tonight. Everyone contributes in their own way in a big game like this. You don't have to do anything special. You've just got to do your job. I think that got us this far going into tonight."
ONE MORE: "I think that you go through different experiences, and you realize how hard it is to get these kind of opportunities," offered Crosby. "So if anything, just having an appreciation for how hard it is to get to this point, and as a group, we've been through a lot and want to make the most of this opportunity."
GROUP EFFORT: " I just told them to embrace the moment," said head coach Mike Sullivan. "It's a great opportunity for us. These are the types of circumstances where you have an opportunity to write your own story, and that's what we wanted to do. We wanted to -- you know, you can't control -- there's certain things that go on out there that you can't control, but what you can control is your attitude, your determination, your work ethic, your never-say-die mindset. I think this group has it. I think they believe in one another. I think they sincerely care about each other, and they play hard for one another."
NINE IS JUST FINE: Crosby scored his third game-winning goal of the 2016 Stanley Cup Playoffs, all of which have come in the Conference Finals. His nine career playoff game-winning goals are tied for the third-most in franchise history, behind Jaromir Jagr (14) and Mario Lemieux (11).
GOOD THINGS COME IN THREES: Crosby became the second Penguins player to score three game-winning goals in one playoff series, joining Kevin Stevens (3 GWG in 1991 DF vs. WSH: 4-1 W). Only one player in NHL history has scored four such goals in a single series: Mike Bossy of the Islanders in the 1983 Conference Finals vs. Boston (4-2 W).
CAPTAIN CRUNCH TIME: Crosby, who shares second on the Penguins with 6-9-15 this postseason (17 GP), scored his 49th career playoff goal to move into a tie for fifth place among active players (with Patrick Kane). He now has 4-8-12 in 14 career games with the team facing elimination.
YOUTH MOVEMENT: Crosby became the youngest captain in NHL history (19 years, 9 months) and youngest captain in NHL history to lead his team to a Stanley Cup title (21 years old).
TROPHY HAUL: In 2007, Crosby became the youngest scoring champion (120 points), youngest Ted Lindsay recipient and second-youngest league MVP (Wayne Gretzky).
THIS ONE'S SPECIAL: On winning the Ted Lindsay: "It means a lot. It's a huge honour to win this, one where you're recognized by the guys you compete against every night. I have a great appreciation for that."
MY DAD, THE GOALIE: His father Troy was a goaltender for Verdun of QMJHL and was drafted by Montreal in 1984.
HAPPY BIRTHDAY: Crosby shares the same birthday (August 7) as MLB star Mike Trout, Toronto Raptors standout DeMar DeRozan, actress Charlize Theron and actor David Duchovny.
HONOURABLE MENTIONS: Nick Bonino had a goal and an assist for the Penguins. Kris Letang had a goal and was a plus-2 in the win. Brian Boyle had both goals for the Lightning.