Rust Never Sleeps For Penguins
Bryan Rust was the catalyst for Pittsburgh as they punched their Stanley Cup ticket with a Game 7 win on Thursday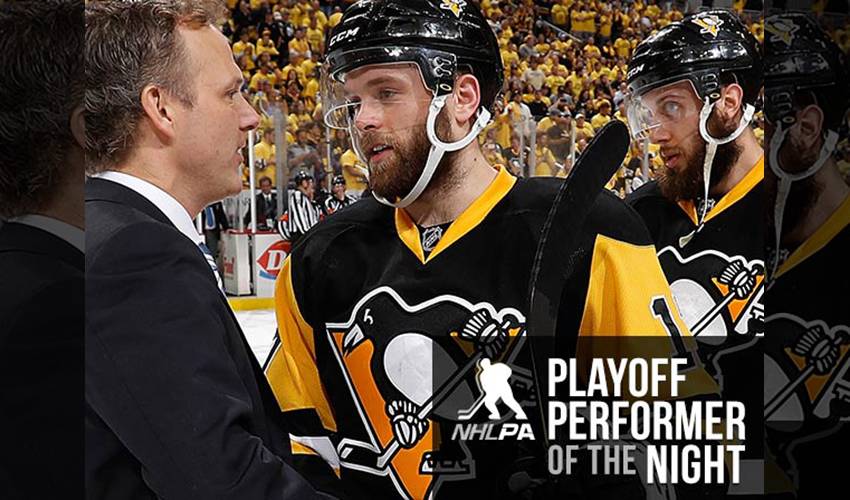 Thursday night was twice as nice for PPOTN recipient Bryan Rust, who led Pittsburgh to a Game 7 win over Tampa Bay in the Eastern Conference Final. The forward and his teammates will now face the San Jose Sharks in the Stanley Cup Final.
The right-winger had both goals for the Penguins in the 2-1 home victory, played in front of 18,638 people.
STAT PACK: Rust took five shots on goal, was a plus-2, recorded two hits, and took 21 shifts in 11:12 of ice time.
IN RUST, WE TRUST: "I'm not sure Rusty would have been the guy I would have picked, but certainly I love what he brings to this team and couldn't be happier for him for his effort and his contribution as far as how he's helped this team win for four or five months now," said head coach Mike Sullivan. "To see him get rewarded with a couple of goals is a thrill for all of us because he's such a great kid and he plays so hard."
NO BIG SURPRISE: "He's a focused guy," said goaltender Matt Murray. "He's always working pretty hard in practice to get better. I think with every young player you see development if they put in the time, and he definitely does that. He had a real breakout night tonight. It doesn't really surprise me. We all know he's a really good player."
SID'S TAKE: "With Rusty's speed, he's really able to push the pace, and he's shown he's able to finish too," said Sidney Crosby.
JOIN THE CLUB: Rust registered his second career multi-goal game in the postseason, both of which have come in series-clinching wins (also Game 5 of FR vs. NYR: 2-1-3). He became the second rookie in NHL history to record multiple goals in two series-clinching wins within a single postseason. The other: Chicago's Jeremy Roenick in 1990.
JOIN THE CLUB, PART 2: Rust became the fourth player in Penguins history – and first rookie – to post multiple goals in a Game 7. The others: Jiri Hrdina (1991 DSF vs. NJD: 2-0-2), Sidney Crosby (2009 CSF at WSH: 2-1-3) and Max Talbot (2009 F at DET: 2-0-2).
SEVENTH HEAVEN: Rust also became the eighth different rookie in Stanley Cup Playoffs history to score twice in a Game 7 and the first to do so since New Jersey's Adam Henrique in the 2012 Eastern Conference Quarterfinals at FLA (2-0-2).
REVVING IT UP: Rust has scored five goals through 17 games in the 2016 Stanley Cup Playoffs (5-3-8), equaling a Penguins record for a rookie in a single postseason (Michel Briere: 10 GP in 1970). Rust's five playoff goals also match his career total from his 55 regular-season appearances (5-8-13).
HAPPY BIRTHDAY: Rust shares the same birthday (May 11) with NFL quarterback Cam Newton, NFL receiver Jeremy Maclin, painter Salvador Dali and fellow NHL player Brad Marchand.
HONOURABLE MENTIONS: Evgeni Malkin had two assists and Matt Murray made 16 saves for the Penguins. Andreai Vasilevskiy made 37 saves for the Lightning.