Malkin The Man In Game 4
Evgeni Malkin elevated his play as the Penguins are now within one win of the Stanley Cup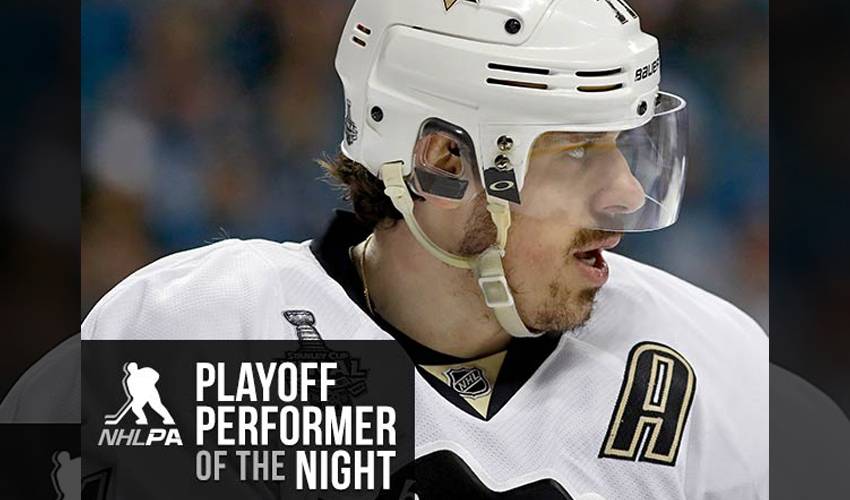 Evgeni Malkin took home PPOTN honours after Pittsburgh beat San Jose 3-1 in Game 4 of the Stanley Cup Final.
Malkin had one goal and one assist as the Penguins moved within one game of winning the championship.
STAT PACK: Malkin, named the game's Third Star, registered two shots on goal, recorded one hit, and took 22 shifts in 14:23 of ice time.
STAR POWER: Malkin picked up his 10th career game-winning goal in the postseason, which ranks third in Penguins history behind Jaromir Jagr (14) and Mario Lemieux (11).
MALKIN'S MAGIC: "I'm not change my game lot," said Malkin. "I mean, I want little bit more play with puck. My goal is like Phil (Kessel) give me empty net. It's not like great goal, but it's just go to net, you know, and stay close to net and try play around net. When I have puck, I'm try shoot. It's simple game tonight for me."
GENO THE GREAT: "I thought he was really good, not just because he got on the scoresheet," said head coach Mike Sullivan. "Obviously, that's great for him, it's great for us. But I thought his overall game was really good. He played at both ends of the rink. When he plays that way, he's so hard to defend. It seems like the puck follows him around. I just thought he had one of his strongest games of the playoffs at an important time for us."
MAKE USE OF THE MAN ADVANTAGE: "Of course, it's simple: if you want win, you need use our power play," offered Malkin. "We not score first three games. But it's work tonight. Yeah, of course, it's easy when you score, feels so much better. It's just move puck, you know, and feel great."
RAISING THE BAR: The 29-year-old has 128 points in 122 post-season contests, including 36 points in 2009, when the Penguins won the Stanley Cup and Malkin was named Conn Smythe Trophy winner as the playoff MVP.
STELLAR START: Malkin scored a goal in each of his first six NHL games becoming the first player to do so in 89 years. The only other players to achieve the mark are Hall of Fame inductees Joe Malone, Newsy Lalonde and Cy Denneny.
TROPHY TIME: Malkin's impressive collection of hockey hardware includes the 2012 Ted Lindsay Award, the 2012 Hart Memorial Trophy, two Art Ross Trophies, the 2007 Calder Memorial Trophy, and two World Championship gold medals with Russia.
SHARING A DAY: Malkin shares a birthday (July 31) with author JK Rowling, NFL players DeMarcus Ware and AJ Green, entrepreneur and Dallas Mavericks owner Mark Cuban, and actor Wesley Snipes.
TAKING A CUE: When he's not putting up four-point nights, Malkin is an avid billiards and soccer player.
HONOURABLE MENTIONS: Matt Murray made 23 saves in the victory, while Phil Kessel chipped in with two assists. Nick Bonino was a plus-2 and blocked four shots. Melker Karlsson had the lone tally for the Sharks.