Couture & Sharks Bite Back
Logan Couture put up three points help the Sharks send the series back to San Jose.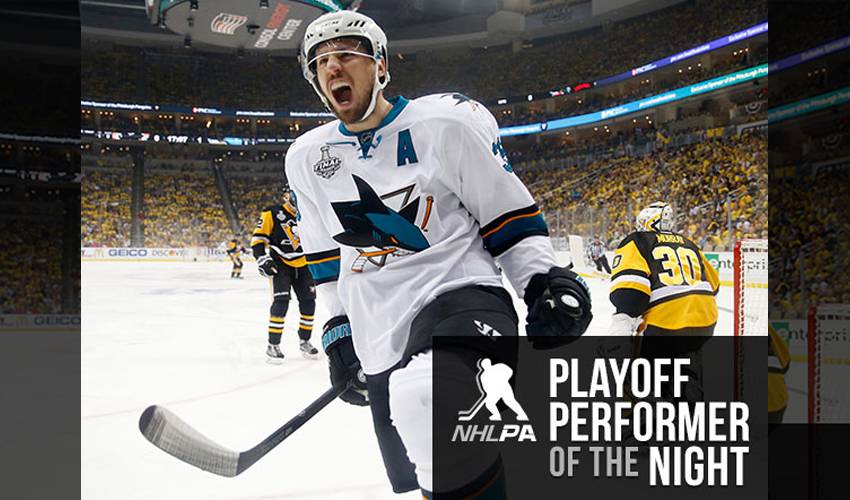 A three-point night delivers Logan Couture PPOTN honours as the San Jose Sharks beat Pittsburgh 4-2 in Game 5 of the Stanley Cup Final.
The centreman recorded one goal and had two assists for the Sharks, who sent the series back to San Jose, trailing three games to two.
STAT PACK: Couture had five shots on goal, was a plus-1, blocked one shot, recorded three hits, and took 29 shifts in 19:12 of ice time.
GROUP EFFORT: "The biggest thing with our group in this playoffs and this season compared to years past is the composure, the calmness that we feel," said Couture. "Obviously it's tough. You get a two-goal lead, it's gone in a matter of a minute, minute and a half. But be calm, get back out there, get another good shift. We were able to score again."
LEADER OF THE PACK: Couture leads all players with 9-20-29 during the 2016 Stanley Cup Playoffs (23 GP).
PUMPED FOR THE PLAYOFFS: Couture has 65 points in 79 career post-season games.
NINE IS FINE: Other notable ninth overall NHL draft picks include Rod Brind'Amour, James Patrick, Brian Leetch, Doug Bodger, Laurie Boschman, Cam Neely and Dion Phaneuf.
A LITTLE LUCK: "He was a really cool guy," said Couture, who met star NFL quarterback Andrew Luck. "When our PR guy said he was coming to the game, I definitely wanted the chance to say hello and hang out for a bit. He's a hockey fan and he's been to games before, so I was pretty excited to talk to him."
BIG TIME: "One thing that every athlete has in common is that shared desire to be at your best when the games mean the most," said Couture. "You want to be counted on when the big games are on the line. It's what we all strive for."
COVER TO COVER: "I love to read," offered Couture, who scored his first NHL goal on November 5, 2009. "Whether I'm at home, or on the road, I enjoy it. When we're on the plane, and if we don't get the deck of cards out, I'm reading."
SHARING A DAY: Couture has the same birthday (March 28) as pop singer Lady Gaga, actor Vince Vaughan, country singer Reba McEntire, tennis player Stan Wawrinka and football star Derek Carr.
HONOURABLE MENTIONS: Martin Jones made 44 saves and Melker Karlsson had one goal and an assist for San Jose. Evgeni Malkin and Carl Hagelin each scored for Pittsburgh.