Lecavalier Leaves A Legacy
A Stanley Cup, a scoring title, devoted charity & lasting friendships are what Vincent Lecavalier built over a 17 year career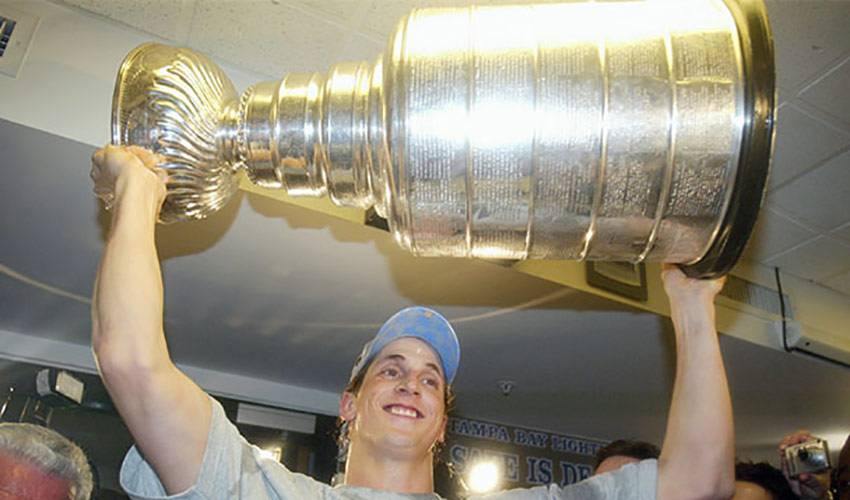 One day removed from having announced his retirement, Vincent Lecavalier is at the airport in Los Angeles with his wife and three kids, getting ready to head to Montreal, Starbucks coffee in hand and a shade over the time it takes to play a regular season overtime to talk about his career.
"It's a little bit crazy," laughs the 36-year-old forward and Stanley Cup winner. "We have a lot of luggage – a lot -- and other things we're bringing with us. But, it's all good."
It's precisely how Lecavalier, who hung up his skates on June 21, views the NHL career that yielded 949 points, 1,212 games and a League championship with the Tampa Bay Lightning in 2004.
"There are plenty of moments you can look back on and be very grateful for," he says. "The most satisfying would be that Cup win. I remember those seasons where we won 19 games and had some years in the 20's. To go from last place and build it up to win it all, that whole process and progress was something you just won't forget."
The first overall pick in the 1998 Entry Draft, Lecavalier played 14 of his 17 campaigns with the Lightning. He also skated in three seasons in Philadelphia before finishing his career with the Los Angeles Kings, who acquired Lecavalier along with defenceman Luke Schenn from the Flyers on January 6, 2016. He recorded 10 goals and 17 points in 42 regular season games for the Kings.
Lecavalier, who represented Tampa Bay at four NHL All-Star Games (2009, 2008, 2007 and 2003), was the Maurice "Rocket" Richard Trophy recipient for leading the league with 52 goals in 2006-07. He registered 20 or more goals in 13 seasons. He posted 26 goals and 56 points in 75 career playoff games.
"It was a tough time in Philly, but to get that chance in Los Angeles was great," he recalls. "I'll always remember that time and having a role with the Kings. It wasn't the same role I had when I was 25, but it was a very important one."
News of his retirement prompted an outpouring of reaction from players.
"I did get quite a few emails and texts from guys I played with and against," he says. "Mike Cammalleri sent an email – I played golf with him once – and that was nice of him to do that. You appreciate all those friendships you made over the years. It makes you feel good and you know you'll keep those friendships forever."
As for what he'll do next, Lecavalier isn't quite certain. For now, it's all about spending time with his family.
"I'm going to take a year away from the game and not jump into anything," he offers. "We'll see in a year what it brings and what I want to do. I want to devote my time to my wife and our children. When you are playing hockey, you are home for a week, then gone for a week – it's tough on everyone. Now, I can spend time with them. My son - he's four - he's into hockey. My four-year-old daughter is into golf. My three-year-old daughter, it could be gymnastics for her."
All of it suits Lecavalier just fine.
But, perhaps not surprisingly, he admits there will be an adjustment period now that he's called it a career. And not just for him.
"It will be tough for my mom, dad, brother and sister," says Lecavalier. "They would watch me all the time. I won't be playing and they won't be watching. It's a different life for all of us now."
But it's a good life, too.
"Pretty soon, we're going to all get together," says Lecavalier. "It's been a while since we've been able to that. So, we will have a chance to celebrate."
And maybe talk a little hockey as well.