Nielsen Revved Up About Playing In Motor City
A new team. A baby on the way. Winter Olympic qualifications. World Cup of Hockey. It's safe to say Frans Nielsen is a busy man these days.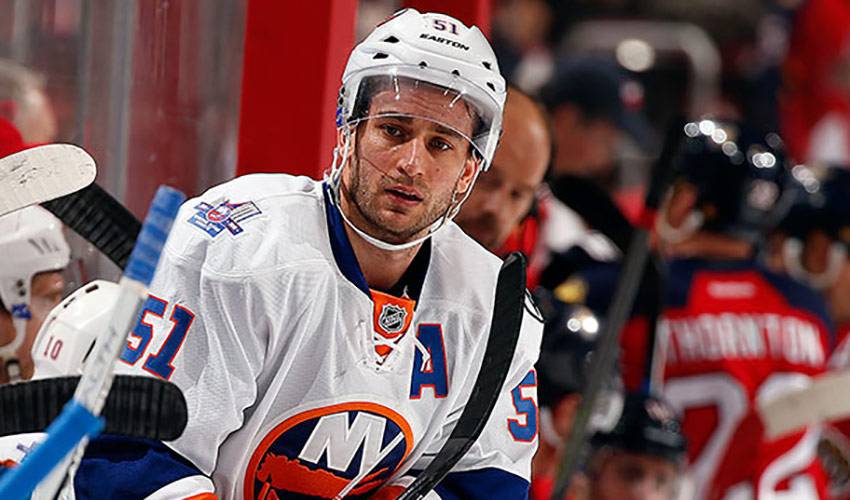 A new team. A baby on the way. Winter Olympic qualifications. World Cup of Hockey. It's safe to say Frans Nielsen is a busy man these days.
"I guess it is a little bit hectic," said the 32-year-old Nielsen, with a chuckle. "But, it's all good things going on."
Very good things, actually.
On July 1, the 10-season NHL veteran and unrestricted free agent signed a six-year contract with the Detroit Red Wings. In less than two months, Nielsen and his wife, Moa, will welcome their first child.
But there's more.
In September, he'll captain his native Denmark in qualifications for the 2018 Winter Olympics, and later that month, he'll don the jersey of Team Europe at the World Cup of Hockey.
"There's a lot of stuff going on, but I'm excited about it all," said Nielsen.
That list would include joining one of the NHL's Original Six teams.
"I'm looking forward to playing hockey in a new place," he offered. "I can't lie – it was a tough decision to leave New York. I have nothing bad to say about my time there. I will have those friends for life. But, this is the start of something new. In Europe, people would see playing with Detroit like a soccer player signing with Manchester United."
In Nielsen, the Red Wings get one of hockey's most versatile two-way performers, a forward often described as underrated.
It's a role the centreman cherishes.
"I take pride in the defensive side of the game," said Nielsen. "I enjoy those tough matchups against good players. If that's what they want me to do in Detroit, maybe that could be a No. 1 priority, I am happy with that challenge. When you look at the kind of players they have had over the years, guys like Kris Draper and Kirk Maltby, I would like to be that kind of player, too."
Nielsen's penchant for neutralizing offensive stalwarts started before his first NHL season in 2006-07.
"I was very fortunate to get to play for Denmark at a young age," he recalled. "When you are in international tournaments, you get to face the best NHL players. Being able to experience that was a real confidence boost, knowing you can compete against that type of talent. It's something that is key in your hockey development."
Nielsen, the first Danish citizen to skate in the NHL, knows just how meaningful a berth at the 2018 Winter Games would be for his country. In 2003, he was part of the national team that upset the United States 5-2 and tied Canada 2-2.
"It would really be big for all of Denmark and for our hockey program," he said. "It would be absolutely huge."
Until then, Nielsen, who leads all Danish NHL players with 349 career NHL points, won't have much time to kick back and relax.
"Not for a while," he said. "But, I can't complain at all. I'm looking forward to everything."