BRAD RICHARDS RETIRES FROM NHL AFTER 15 SEASONS
Brad Richards is announcing his retirement today from the National Hockey League (NHL), following a decorated career that spanned 15 seasons.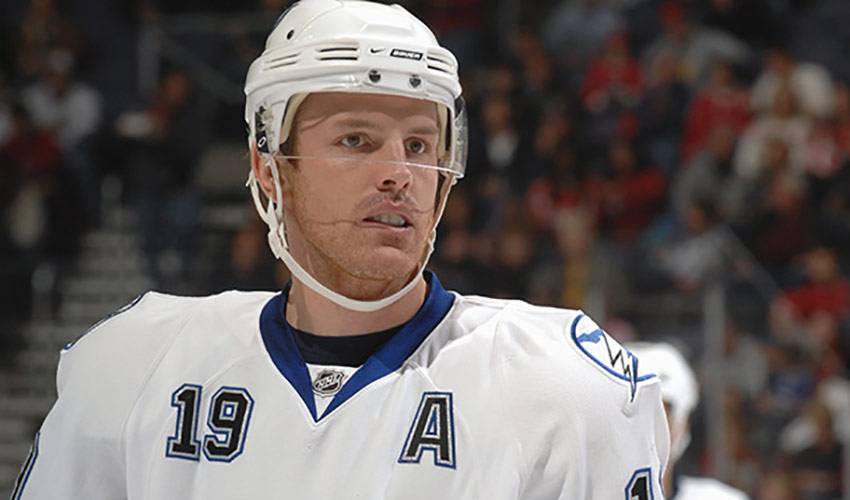 … Talented and classy forward captured Two Stanley Cups during stellar career
Brad Richards is announcing his retirement today from the National Hockey League (NHL), following a decorated career that spanned 15 seasons.
Richards played a total of 1,126 career NHL games with five different teams: Tampa Bay Lightning, Dallas Stars, New York Rangers, Chicago Blackhawks and Detroit Red Wings. The talented and highly skilled forward notched 298 goals and 634 assists for 932 points over the course of his career. He also eclipsed the 100-point plateau in career playoff scoring, registering 105 points in 146 postseason games.
"I want to thank the fans and the five organizations I have played for: Tampa Bay, Dallas, and the three original six teams — the New York Rangers, Chicago, and Detroit. During my time with those teams I met many great people. I also want to thank the staff and management in those organizations for all the help and support they gave me. I appreciate all the trainers who did tireless work to help me play and keep me healthy. I had many amazing teammates and made many great friendships along the way that I truly appreciate, and I will never forget the great times we had together. Thank you to all my coaches for pushing, teaching and giving me the opportunity to play this great game. Winning the Stanley Cups in Tampa Bay and Chicago was the best part of my career and I will never forget those moments. Nothing compares to enjoying that night with your team and knowing what you have accomplished together," said Brad Richards.
Born in Murray Harbour, P.E.I., on Canada's Maritime East Coast, Richards played his junior hockey as a member of the Rimouski Oceanic, of the Quebec Major Junior Hockey League (QMJHL). He was a star in Rimouski, where he began his junior career skating beside his good friend and future Tampa Bay teammate, Vincent Lecavalier. Richards helped the Oceanic to both the QMJHL and Memorial Cup titles in the 1999-00 season, a year that also saw him win nine CHL/QMJHL individual awards, including the CHL Player of the Year and the Stafford Smythe Memorial Trophy as MVP of the 2000 Memorial Cup tournament.
Richards was drafted in the 3rd round, 64th overall by the Lightning in the 1998 NHL Entry Draft. The 6-foot, 199-pound forward would make an immediate impact in Tampa Bay upon his NHL arrival in 2000-01, finishing as runner-up for the Calder Trophy as NHL rookie of the year. In his first six NHL seasons, he was a mainstay in the Lightning's lineup, missing only two regular season games and averaging 73 points during that span. In the 2004 playoffs, Richards helped lead the franchise to its only Stanley Cup championship. He was an offensive catalyst for the Lightning during that playoff run, setting a record for game-winning goals in a single playoff season with seven, leading the playoff scoring race with 26 points in 23 games and earning the Conn Smythe Trophy as MVP of the playoffs.
After seven seasons in Tampa Bay that established him as an elite player in the NHL, Richards was traded at the 2008 deadline to the Dallas Stars, in a blockbuster deal. He would skate in 220 regular season games over parts of four seasons with the Stars, registering 227 points over that period.
Richards became an unrestricted free agent in the summer of 2011 and signed a nine-year deal with the New York Rangers. He would ultimately spend three seasons with the Rangers in which he provided valuable leadership, durability and strong two way play, totaling 159 points – including two seasons of 20 or more goals – and playing in all but two regular season games over that time. Richards was instrumental in the New York Rangers reaching the 2014 Stanley Cup Final.
After coming close to capturing another championship with the Rangers, Richards found himself with another good opportunity for success after signing with the Chicago Blackhawks as a free agent in 2014. Richards added veteran experience, scoring and a winning presence to the team. He played in 76 games during the regular season, contributing 37 points, before playing in 23 playoff games and notching 14 points, including a crucial assist on Patrick Kane's series-clinching goal in Game 6 as the Blackhawks captured another Stanley Cup — Richards' second championship.
Following the successful Stanley Cup run in Chicago, Richards signed a one-year deal for the 2015-16 season with the Detroit Red Wings. The centre skated in 68 games with the Red Wings in the regular season and posted 28 points. Richards played in his last NHL game in the playoffs with the Wings. The classy Richards once again performed with grace and style as his career ended with less than 30 penalty minutes, a mark he set in 14 of his 15 seasons. He was an annual consideration for the Lady Byng Trophy, which he won in 2004.
"Most importantly, I want to thank my mom (Delite) and dad (Glen) and my sister (Paige) for being behind me since I was a young child. And of course, my wife, Rechelle and son, Luca, now for making this decision easier because I will be able to spend more time with them," Richards added.
He was always known to be very charitable during this NHL career. Richards played host to the Brad Richards PEI Celebrity Golf Classic for six seasons with proceeds supporting the Children's Wish Foundation and Autism Society of Prince Edward Island. He created Richy's Rascals in Tampa Bay to support children's pediatric cancer needs and continued that work in Dallas and New York for Children's Medical Oncology Departments. Notably, he donated $500,000 in 2010 to the PEI unit of the Queen Elizabeth Hospital in Charlottetown, P.E.I.
Richards was also successful on the world stage, winning Gold with Canada at the 2004 World Cup of Hockey and playing for Team Canada in the World Junior Championships and the 2006 Olympics.
-30-