Smashfest V, Five Times the Fun
Five years running. $500,000 dollars raised. Legendary fun.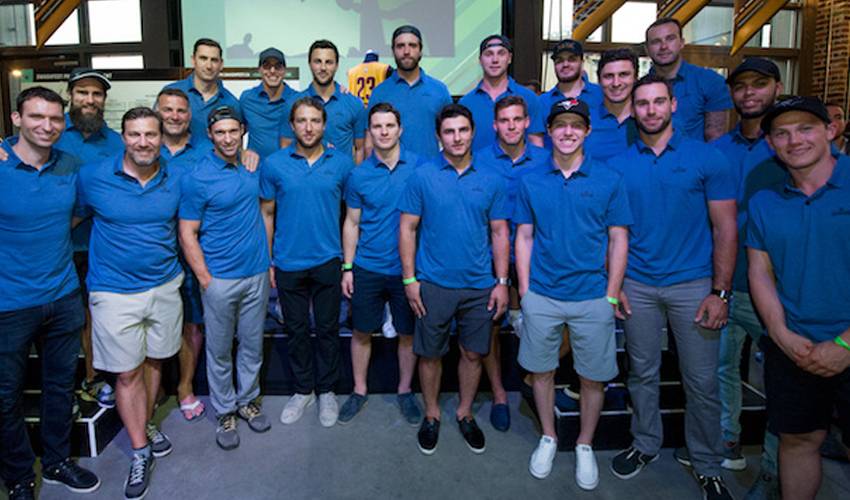 Five years running. $500,000 dollars raised. Legendary fun.
For the fifth year in a row, Dominic Moore – alongside the NHLPA – has leveraged NHL players' favourite locker room pastime to create the event of the summer: Smashfest, a charity ping-pong tournament that brings together NHL elite and hockey fans in downtown Toronto, ON to put their skills on the line for two great causes.
To date, Smashfest has raised half a million dollars — through ticket sales, sponsor support, individual contributions and exclusive live and silent auctions — for collaborative research into concussions and rare cancers. Currently, Smashfest helps fund a project on liver cancer between the University of California, San Francisco and Princess Margaret in Toronto, as well as a "Forced Exercise Study" at the University of Toronto's Concussion Clinic. While these causes are very different, they both face a similar obstacle of limited sharing across medical networks for the two complex and under-studied diseases.
More on the work Smashfest is facilitating and why it counts:
"I cannot express how thrilled and proud I am with the news that we have raised more than $500,000 over five years of holding Smashfest," said Dominic Moore, NHL player and Smashfest host. "Thanks to all involved for their contributions to a successful first five years. To see the way the event has grown is very rewarding and we look forward to continuing that trend and supporting collaborative research for concussions and rare cancers in the future."
This year, Dominic Moore brought along more than 20 of his current and former NHL player friends to square off against each other alongside approximately 600 guests in attendance at Steam Whistle Brewery:
Dominic Moore (Host), Sam Bennett, Joe Blandisi, Derick Brassard, Alex Burrows, Ben Chiarot, Patrick Eaves, Aaron Ekblad, Adam Graves, Mike Johnson, Chris Kreider, Nick Kypreos, Eric Lindros, Mitch Marner, Steve Moore, Darnell Nurse, Ryan O'Byrne, Zac Rinaldo, Antoine Roussel, Jeff Skinner and Cam Talbot.
Blue Jays catcher, Josh Thole, surprised guests in attendance by showing up at the event to take in all the ping-pong action.
In the Pro-Am tournament, defending champion Alex Burrows nearly held onto his title but was bested by defending Singles tournament champ, Patrick Eaves. It wound up being a massive night on the ping-pong table for Eaves, who successfully pulled out a second, back-to-back Singles tournament win to be crowned the Player Champion two years in a row.
Congrats @Patrick_Eaves on a great match. Well deserved champ. 🏆🏆Thanks @_Smashfest for another great event. 🏓🏓

— Alex Burrows (@aburr14) July 22, 2016
Thanks to @_Smashfest, @mooredom @Killerspin for another great night! I am still tired from @aburr14 pushing me to the brink. Well played 🏓🏓

— RealPatrickEaves (@Patrick_Eaves) July 22, 2016
The music, the ping-pong action, our loyal partners and donors, and the wonderful guests who supported the event made Smashfest V the biggest and best one yet. In case you missed our live coverage from the event, here are some highlights from the unforgettable night:
.@Rous_ant and his teammate killing it in the Pro-Am #SmashfestV pic.twitter.com/t3w8aA2Oy1

— Smashfest (@_Smashfest) July 22, 2016
Gang's all here! #SmashfestV pic.twitter.com/VzCeaMuiby

— Smashfest (@_Smashfest) July 22, 2016
Dominic Moore says about five guys have brought custom ping pong paddles tonight. @_Smashfest gettin' serious!

— Ryan Kennedy (@THNRyanKennedy) July 21, 2016
He did it again! Congrats to back-to-back champ @Patrick_Eaves! #SmashfestV pic.twitter.com/tq5M7Oqdjn

— NHLPA (@NHLPA) July 22, 2016
"Most Improved" is @JeffSkinner! #SmashfestV pic.twitter.com/coWPYby4G9

— NHLPA (@NHLPA) July 22, 2016
.@mooredom brought his A game #SmashfestV pic.twitter.com/gVCW8tqW7M

— NHLPA (@NHLPA) July 22, 2016