Sbisa looks to reach World Cup summit with Team Europe
After conquering Mt. Kilimanjaro this summer, the 26-year-old defenceman sets his sights on hockey gold.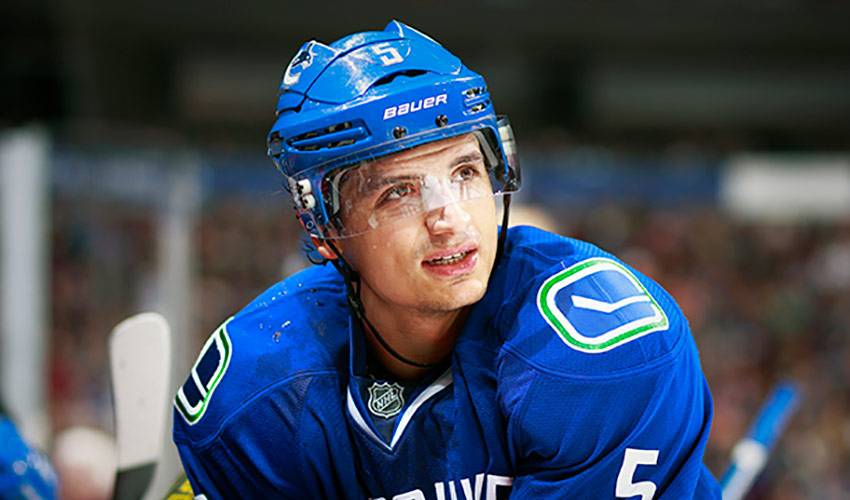 Whether it's conquering Mt. Kilimanjaro or reaching the summit of World Cup of Hockey success, Luca Sbisa is always up for a big challenge.
So, how's your summer been so far?
If getting married, climbing one of the world's most iconic mountains, and readying to suit up for Team Europe at the upcoming World of Hockey is on your list, the answer is hardly surprising.
"It's been a pretty hectic off-season," said the 26-year-old Sbisa. "I got married in Santa Ynez (California) on July 9 and right after that, Lauren and I went on our honeymoon in Tanzania. We went on a safari and then we climbed Mt. Kilimanjaro. It took us seven days, but we did it. I guess it's a good way to start off a marriage – with a big adventure."
Husband and wife for almost two months, the couple, along with Heidi, their Bernese Mountain Dog, were recently on the open road, heading back from California to Vancouver.
Not surprisingly, the 21-hour journey did include discussions about the upcoming World Cup of Hockey. Sbisa will suit up with Team Europe, featuring players from any European country not including Czech Republic, Finland, Russia and Sweden, who each have entries in the eight-team tournament.
The Italian-born, Swiss-raised Sbisa isn't daunted by Europe's underdog status.
"I really like the mix of younger guys and veteran players," said the defenceman who has represented Switzerland in several international competitions, including the 2010 Winter Olympics in Vancouver. "There's a lot of speed up front – it's a talented group."
With players representing so many different countries for Team Europe, perhaps the multilingual Sbisa can help with any communication issues.
"German is my native language," he noted. "I'm very comfortable with English. French? Not so much anymore. I'd have to take some classes. I understand Italian, but maybe give me a few weeks in Italy and I'd be at the top of my game."
He and his Team Europe teammates can count on one huge supporter in the stands when they kick-off the round robin portion of the tournament on September 17 against the U.S.
"I'm really excited that I'll have the opportunity to be there to see him play," said Lauren. "It's a huge accomplishment to be in this tournament and I know how happy Luca is to be part of it."
Sbisa's had the World Cup circled on his calendar for a while.
"I've talked to a few of the guys on the team and we all can't wait to get this going," he said. "It's such a unique opportunity. I know a lot of the Swiss guys and a few other players, too. We've talked about it over the summer. No one is going there just to participate. We are going there to win."
Yes, there will be mountains to climb to reach that goal. But you can bet Luca Sbisa will be up for the task.