Callahan Foundation helps families affected by pediatric cancer
When it comes to creating a solid foundation, Ryan and Kyla Callahan are more than happy to work overtime in achieving a shared goal.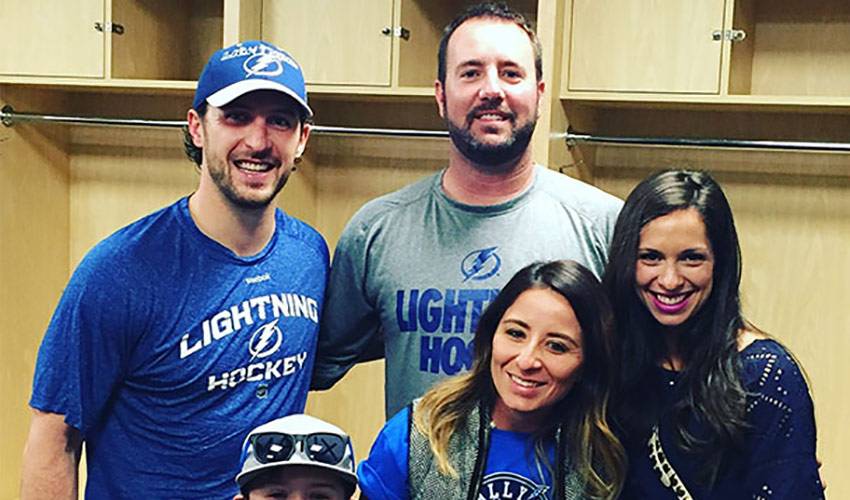 When it comes to creating a solid foundation, Ryan and Kyla Callahan are more than happy to work overtime in achieving a shared goal.
"It's been a long journey," starts the right-winger and alternate captain of the Tampa Bay Lightning. "But, the day is finally here and we couldn't be happier to be at this point."
The words are easy to come by for the NHL forward when he speaks of the recently unveiled Ryan Callahan Foundation, the non-profit organization established by himself, wife, Kyla, and his family, to make memorable experiences a reality for kids who are battling, or who have survived, cancer.
"My wife is the driving force behind this," said Callahan. "When I've been on the road, she's been to a lot of meetings, doing so much to make sure that everything goes smoothly and getting us to this point."
Kyla's family has been impacted by pediatric cancer – she lost a cousin to the disease – which was instrumental in the creation of the foundation.
"We come from a tight-knit family with a very close bond," said Kyla. "During the battle these families have fighting cancer, they can lose their sense of unity. With one parent staying at the hospital with a sick child, the other at home with the sibling, we have heard it's a constant rotation. We want the entire family to have a few hours, if not moments of togetherness, enjoying one night together while momentarily forgetting about battling this awful disease."
For the 31-year-old Callahan, who came to Tampa in a trade with the New York Rangers on March 5, 2014, the foundation is an opportunity to provide long-lasting memories for children and families who are coping with, or have survived, cancer.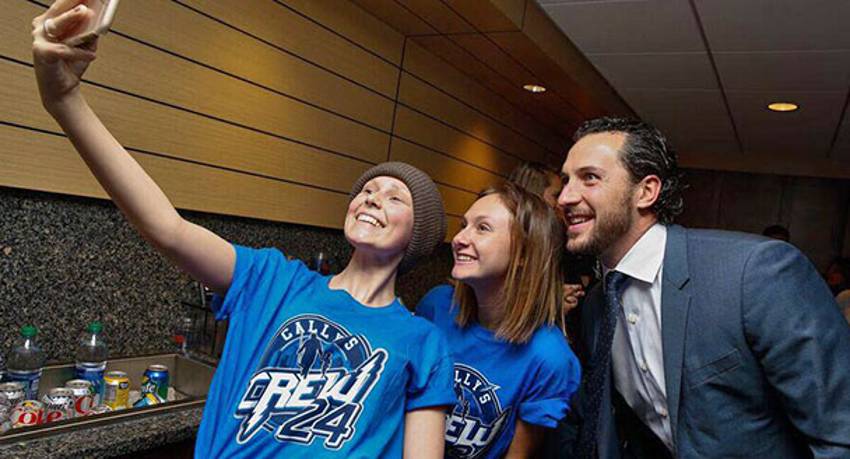 "It was our mission to create something that could provide meaningful experiences for people," said the father of two young daughters, Charlotte, age 4, and Evelyn, age 2. "This is something we have wanted to do for a while."
One of the cornerstones of the foundation will be experiences – crafted in the same spirit as Make-A-Wish Foundation offerings – which provide selected families the chance to enjoy a special trip or getaway.
The foundation will cover all costs and coordinate all planning for the "adventures."
"Whether it's a trip to Busch Gardens, a fishing adventure, or a big trip or cruise somewhere, we want to provide an opportunity for families to do something unforgettable," said Callahan. "We want to see families together, bonding, without having to deal with any of the financial burden."
The foundation is not Callahan's first charitable endeavour.
For the past two seasons, his "Cally's Crew" initiative has brought pediatric cancer patients and their families to Tampa Bay home games, where they watch Lightning games from his suite.
Kyla acts as host to the families attending.
"My heart lights up when I walk into that room to see new and returning families," she said. "The kids run up and give me big hugs. This suite has turned into a bit of a counseling session for the parents and in return for me. While the parents sit back and watch their child enjoying themselves cheering on the Lightning, some parents hold back in the suite and pour their hearts out to me. Sometimes we shed a tear together, sometimes it's just lending an ear, but I listen. I always leave the night with a piece of each family in my heart. These kids leave an everlasting mark on your soul in a way you would have never expected, putting your life into perspective.
"Remarkably enough, we have never heard any families members ask, 'Why me?'" continued Kyla. "Their strength is nothing but inspirational to us, and it's an honour to give back to our community."
"Cally's Crew" will continue on, even with the foundation now up and running.
Support for Callahan's newest charitable undertaking will come in many forms, including partnerships with national organizations, along with the efforts of numerous volunteers.
He doesn't have to look further than the Lightning dressing room for additional help.
"The guys have been amazing, which comes as no surprise," said Callahan. "To a man, everyone jumps in. If I ask them to come up and sign a few autographs or to spend a couple of minutes with a child and their families, they don't hesitate for a second. I know I can always count on them."
Which is precisely what people can expect from Ryan and Kyla Callahan.
"To see the smiles on the kids' faces, even if it's for just a little while, it really puts everything into perspective in a split-second," said Ryan. "Even after a loss, it snaps you out of a bad mood instantly. We're just a small part of a big picture, but it's something very important to the both of us."
For more, visit ryancallahanfoundation.org.