Ruslan Fedotenko retires after 12 NHL seasons
Ruslan Fedotenko has announced his retirement from the National Hockey League, following 12 NHL seasons and a professional hockey playing career that spanned two decades.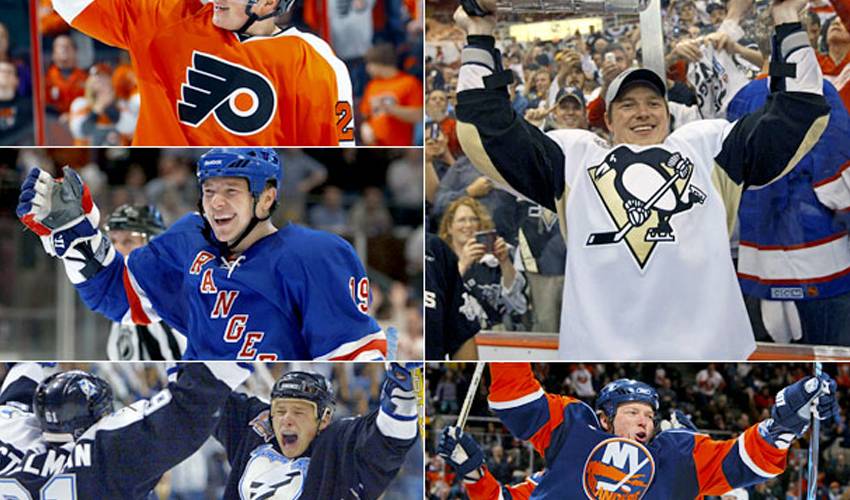 TORONTO (Oct. 11, 2016) – Ruslan Fedotenko has announced his retirement today from the National Hockey League (NHL), following 12 NHL seasons and a professional hockey playing career that spanned two decades.
Fedotenko, a two-time Stanley Cup Champion, played in a total of 863 career NHL games with five teams: the Philadelphia Flyers, Tampa Bay Lightning, New York Islanders, Pittsburgh Penguins, and New York Rangers. The six-foot-two, 195-pound forward scored 173 goals and registered 193 assists totaling 366 points.
Born in Kiev, Ukraine, Fedotenko moved to the United States in pursuit of his dream of playing in the NHL. After going undrafted, he was signed as a free agent by the Philadelphia Flyers on Aug. 3, 1999. In 2000-01, his first NHL season, he ranked fifth among NHL rookies with 36 points (16 goals and 20 assists) in 74 games.
After three seasons in the Flyers organization, Fedotenko was traded to the Tampa Bay Lightning during the summer of 2002. Upon his arrival in Tampa Bay, the left-winger helped the Lightning clinch their first playoff berth since the 1995-96 season. In his second season with the Lightning, he was a key player during the team's Stanley Cup run, scoring 12 playoff goals. In Game 7 of the 2004 Stanley Cup Final, he scored both goals — including the series-clinching goal — in the Lightning's 2-1 victory over the Calgary Flames.
In 2005-06, Fedotenko set a career-high in goals (26) and points (41), over 80 games. Following four seasons playing for the Lightning, he signed a one-year contract with the New York Islanders in July 2007. He recorded 33 points in 67 games with the Islanders.
After a single season in New York, Fedotenko signed again as a free agent, this time by the Pittsburgh Penguins in July 2008. It was in Pittsburgh where he won the Stanley Cup for a second time. He helped the Penguins during their quest for the 2009 Stanley Cup by tallying 14 points in 24 postseason games.
In October 2010, Fedotenko signed as a free agent with New York Rangers. He capped off a two-year stint with the team by helping them reach the Conference Finals for the first time since 1997, and winning the Atlantic Division — the Rangers' first division title since their 1993-94 championship season.
In July 2012, Fedotenko returned to Philadelphia as a free agent for his last season in the NHL, which ultimately saw him skate in 47 of 48 games during the 2012-13 NHL owners' lockout-shortened season.
Fedotenko was an active member of the NHLPA negotiating committee during the lockout, and he also played with HC Donbass of the Kontinental Hockey League (KHL). He was named the 2012 Ukrainian Player of the Year, as voted among coaches, referees, hockey experts, and journalists.
Upon completion of the lockout-shortened season, Fedotenko returned to HC Donbass where he signed a three-year deal in July 2013 out of a desire to build hockey in Ukraine. In 2013-14, he tallied 17 points in 46 KHL games. After Druzhba Arena was destroyed as part of the ongoing wave of violence in Ukraine, a suspension of team operations ensued. He played his final two seasons of professional hockey with the Iowa Wild of the American Hockey League.
Fedotenko now resides in Tampa Bay, Florida, with his wife Debbie and three step-children, Kyle, Derek, and Larkin.
STATEMENT FROM RUSLAN FEDOTENKO:
"As I reflect on my career, I realize how truly fortunate I have been to play the game I love at the highest level, to have won the Stanley Cup, not once, but twice, and to have made countless lifelong friendships along the way. I am retiring as a truly grateful man. I will be forever thankful to the Philadelphia Flyers for giving me my start in professional hockey, their belief in me gave me the confidence to reach a level I had only dreamt of. I also had the absolute honor and privilege to play for four other exceptional organizations; I am grateful for the time I spent with each, and for the remarkable teammates I had the pleasure to play alongside. Heartfelt appreciation goes out to Bill Barber, John Tortorella, and Craig Ramsey, men whose coaching skills shaped the player I became and to whom I feel a great sense of gratitude. I would also like to thank my agents, Allan Walsh and David Schatia, for their guidance and encouragement throughout my career, and to the fans, whose undying support has meant so much. Finally, the greatest words of gratitude go out to my wife, my children, and my parents, for without their love and sacrifice my career would have been impossible. Though I will miss playing the sport I love, I look forward to spending more time with my family as I approach the next phase of my life."