Lindros helps raise $330,000 for Easter Seals
Wearing an orange toque, orange hockey jersey, shorts and flip-flops, Lindros beams as he looks out on the ice as two of the teams taking part in the charity hockey event that bears his name battle for control of the puck off the opening face-off.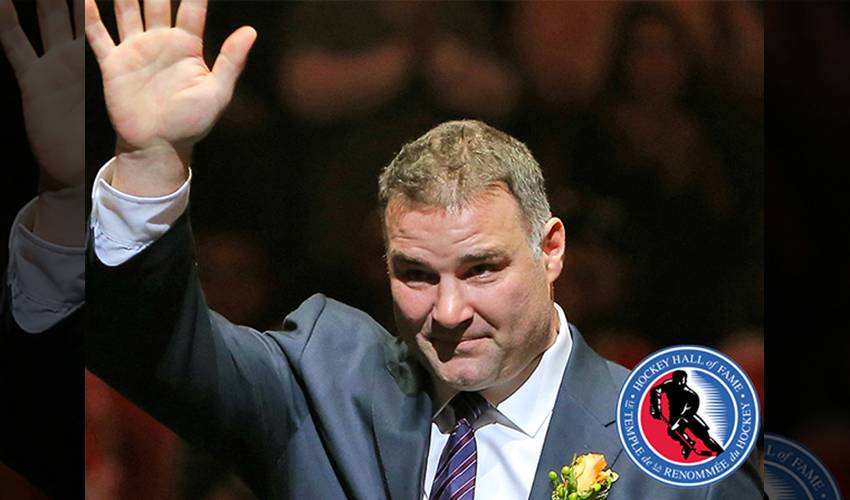 With his induction into the Hockey Hall of Fame drawing closer, it would be understandable if Eric Lindros wanted to start the conversation reminiscing about his time in the game. Not on this day, however.
Wearing an orange toque, orange hockey jersey, shorts and flip-flops, Lindros beams as he looks out on the ice as two of the teams taking part in the charity hockey event that bears his name battle for control of the puck off the opening face-off.
On November 14, the man known as the Big E, along with Sergei Makarov, Rogie Vachon and Pat Quinn, will be officially inducted into the Hockey Hall of Fame as the class of 2016.
That topic will eventually come up in conversation. But for the moment, Lindros wants to talk about something else, namely, the kids and families that will benefit from the funds and awareness raised by the sold-out event that features several recognizable NHL alumni, including Adam Graves, Dale Hawerchuk, Rick Vaive and Kris King, who take part in an all-day, 18-team hockey tournament.
Thanks to @DougGilmour93 @CraigMuni and all the guys for coming out in support of @EasterSealsON. Wouldn't be possible without you. https://t.co/D0ZIAm64d0

— Eric Lindros (@88EricLindros) November 5, 2016
Now in its fifth year, the 2016 edition of the Eric Lindros Celebrity Hockey Classic, held at Iroquois Park Sports Centre in Whitby, ON, on November 4, raised over $300,000 for Easter Seals.
Lindros is a passionate backer of Easter Seals, which provides programs and services to children and youth with physical disabilities across Ontario to help them achieve greater independence, accessibility and integration.
He gets emotional when he speaks of his association with the organization.
"I think it's important to help those who aren't fortunate to have the good health that many of us do," noted Lindros. "Most of us are very fortunate. Some aren't. So we should be reaching out and helping those people.
"It's a battle every day for these kids. It's a great a charity and I'm glad all the money we raise goes to Easter Seals. Every year, we want to get stronger. It's been sold out the last couple of years. The word is out that we are having fun and helping out a great cause."
Coralie Jacobs, Senior Development Officer at Easter Seals Ontario, has seen, first-hand, just how dedicated Lindros is in wanting to make a difference.
"Eric Lindros has done more than embrace the charity that we are supporting with Easter Seals," said Jacobs. "He's developed a relationship and a rapport with the kids, which is fantastic. He really believes in what we're doing. He visited one of the camps, which is fully accessible for the kids, and he got to see them experiencing what all kids should experience."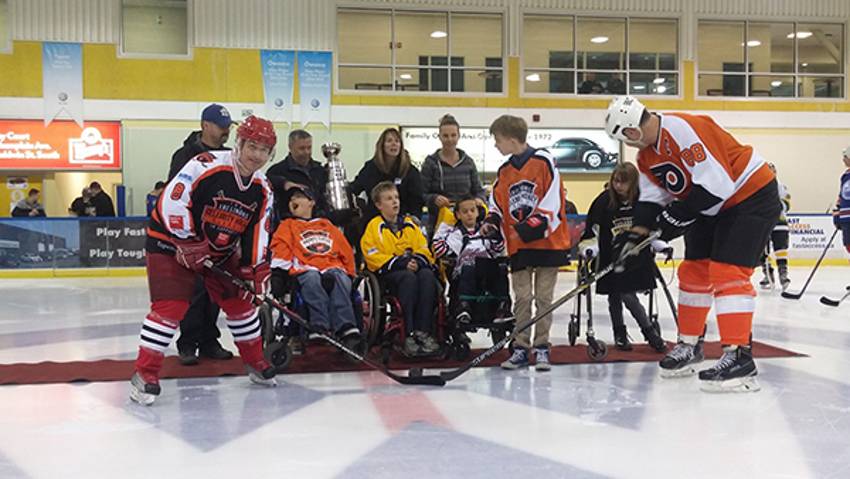 "Not only was he an excellent hockey player, but he's also a person who has stepped up for Easter Seals," she continued. "He helps us with sponsorship recruitment, participation, and he's there for the guys that came out for this event. He really cares and you can see it. He's doing it for all the right reasons."
Kris King, a former captain of the Winnipeg Jets, who also played with the Detroit Red Wings, New York Rangers, Phoenix Coyotes, Toronto Maple Leafs and Chicago Blackhawks, has plenty of familiarity with Lindros on and off the ice.
During King's time with the New York Rangers, he and his linemates, at the behest of head coach Roger Neilson, were often handed the unenviable task of neutralizing the 6'4", 240-pound centre.
On one occasion, in a spirited game between King's Rangers and Lindros' Flyers, the two exchanged more than a few pleasantries throughout the evening, ranging from trash talk to the odd whack of the stick across the other's ankles.
It was in the seconds leading up to a face-off when King presented Lindros with an invitation, not an offer to drop the gloves, but something that completely caught the latter off-guard.
"My job was to get under his skin the best I could," recalled King, who now works for the NHL as the senior vice president of hockey operations.
"I couldn't get the puck off him, so there might have been a few little slashes here and there. I remember lining up for that face-off – it was around the time I had started up the Ronald McDonald charity cruise – and he's looking at me kind of sideways. I say, 'Hey, Big E, I know you're in Muskoka in the summer, so would you come on the cruise?' He looks at me, sneers, and says, 'Are you kidding me?' I kind of figured I had my answer.
"That was early December," continued King. "In July, we show up at the dock, and there he is, the first guy to show up on the boat. I had never asked him after that day on the ice. He said to me, 'You asked me on the ice, so I was going to show up.' That's the type of guy he is. He came to every one after that. He's just a solid guy and his heart is in the right place. This is a guy who changed the game. Roger Neilson was a great coach and he said that Eric was the type of player you had the toughest time going up against. He was a special player."
A player whose list of accomplishments is undeniably impressive.
Lindros scored 372 goals along with 865 points in 760 games and won the Hart Trophy as the league's most valuable player in 1995. That same year, he also received the coveted Lester B. Pearson Award (now named the Ted Lindsay Award), selected by his peers as the most outstanding player in the NHL. He helped lead Philadelphia to the 1997 Stanley Cup Final, and averaged more than a point per game during the regular season and playoffs.
The NHL's first overall draft pick in 1991, Lindros suited up for Team Canada at three World Junior Championships, winning gold twice, in 1990 and 1991.
An NHL all-star on seven occasions, he recorded four 40-goal seasons with the Flyers.
Tease him that he's priming himself for an NHL comeback and Lindros lets out a huge laugh and then shakes his head.
"You clearly haven't watched very closely," he said. "Not good."
But life is.
Married with three small children, Lindros is enjoying everything that parenthood and family has to offer.
"Lucky," he smiled.
Which is how he sees his upcoming induction into the Hockey Hall of Fame.
When will the enormity of the honour sink in?
"I don't think it ever will," said Lindros. "I was recently going by the Hall of Fame and my youngest kid - he's 2 ½ - he looked up at the banners they have of the people that are going in this year. The two things he said when he saw my picture were 'hockey' and 'daddy.' That was the coolest thing to me. That was big."