Gardiner: Role model turned actual model
Paige Gardiner has always viewed her sibling, Jake, as an ideal role model. It turns out, he's also pretty adept at being an actual model, too.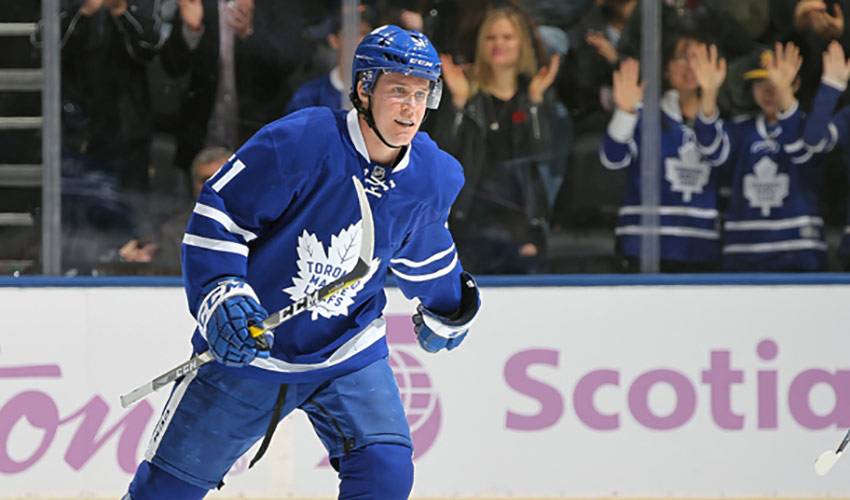 Paige Gardiner has always viewed her sibling, Jake, as an ideal role model.
It turns out, he's also pretty adept at being an actual model, too.
One of the first people Paige turned to after recently launching her Goodrich and Grand Jewelry Co., was her big brother, Jake, who has played nearly 350 career NHL games with the Toronto Maple Leafs.
"He's always been so supportive of me, even when we were little kids," said Paige, owner/designer of Goodrich and Grand. "I've always been proud of Jake, the same way he is of me. So, when I asked him if he'd model a few bracelets, he was happy to help. That's just the type of person he is."
Jake posted an Instagram photo of himself wearing two of his sister's creations, accompanied by the words, 'My sister officially has me wearing bracelets.'


As of November 16, it's received over 1,600 likes.
Was it modesty that presented the defenceman from showing his face in the picture?
"I think the important thing is for people to focus on the bracelets, not me," he said with a laugh. "It's one of those things where you want to emphasize what you're selling."
His sister, five years his junior, applauded his way of thinking.
"Well, he's always had a very good business sense, so I'm not surprised he'd see it that way," said Paige. "He'll offer insight and advice, which I always appreciate. He'll tell me to listen to what people have to say and understand what they want. He's always been there for me."
Growing up in Minnesota, along with their brother, Max, sports was a big part of the Gardiner kids' lives.
Hockey, however, wasn't No. 1 on Paige's list.
"We'd be out playing hockey a lot of the time, but it wasn't her thing," recalled Jake. "My dad would try and get her to come out there with us, but she never wanted to."
Lacrosse happened to be Paige's thing – and she's quite good at it.
An accomplished player, she was also head coach of Minnetonka Girls Lacrosse for over two years.
"She's really good at lacrosse," praised Jake. "She's really smart and a great passer – just an all around good player. I think she would have been good if she played hockey."
A student-athlete at University of St. Thomas (Minnesota), Paige is also the head basketball coach of Minnesota Special Olympics, a role she's held since January 2015.
It was Jake that acted as a source of inspiration for her to get involved with the program.
"During his time in high school, Jake worked with kids who were part of Special Olympics," recalled Paige. "I remember seeing the joy that it brought him, to work closely with these kids. It was something that motivated me."
The 26-year-old defenceman, who still lends his time and support to Special Olympics, isn't surprised to see his sister making a difference in the community.
"She has a big heart. She's always been like that."
Paige says the same of her big brother, who continues to help spread the word about her new jewelry company.
"He texted me and told me some of his teammates were interested in the bracelets after he showed them to the guys," she said.
It's just what any good role model/model/brother would do.
For more on Paige Gardiner's jewelry line, visit: www.goodrichgrand.com or @goodrichgrand on Instagram.