Chychrun Gets Competitive Edge From His Mom
Rookie Jakob Chychrun may be following in his father's NHL footsteps, but it's with his mother's competitiveness.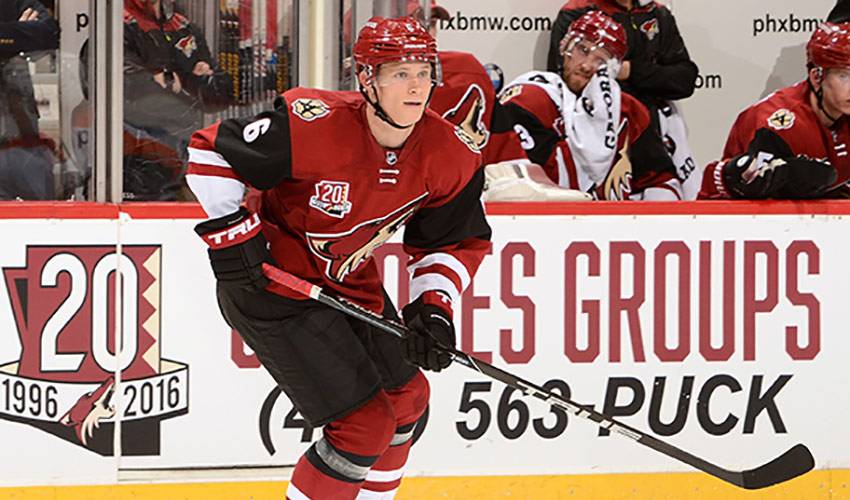 Who did Jakob Chychrun inherit his competitive ways from? Not surprisingly, some of it comes from his father, Jeff, who played eight NHL seasons.
But, the rookie's mom also deserves a big share of the credit.
Jeff Chychrun skated in 262 big-league games - 199 of them with the Philadelphia Flyers – patrolling the blue line with an equal measure of toughness and tenacity, racking up 744 penalty minutes along the way.
There is a hint of self-deprecation, countered by an unmistakable fatherly pride, when he talks about his son, Jakob – also a defenceman – currently in his rookie NHL campaign with the Arizona Coyotes.
"I'd like to say I am (mellowing)," said the Philadelphia Flyers 37th pick in the 1984 Entry Draft. "I'm actually disappointed, because I find myself getting more wound up than I thought I would. I'm not getting less competitive, but I do believe my son is more competitive than I was. I think he gets that from his mom (Nancy), too. I tend to be a little more laid-back, but I do get edgy when I'm in the stands watching him play. I guess that's the way it will always be. But, it's all good."
So, too, are the reviews on Jakob, selected 16th overall by the Coyotes in 2016.
Early indications point to a long career for the young blueliner, born and raised in Florida, who won the 2014 Jack Ferguson Award as the top draft pick in the Ontario Hockey League Priority Selection Draft.
His first NHL game came on October 15, a 4-3 Arizona OT win against Philadelphia. At 18 years, 198 days old, Jakob became the third-youngest player to appear in a game for the Coyotes/Winnipeg Jets franchise, behind Ryan Stewart in 1985-86 and Dale Hawerchuk in 1981-82.
For Jeff, who coached his son during the latter's minor hockey days, seeing Jakob perform on the game's biggest stage has been equal parts exciting and educational.
What has he learned about NHL hockey from his son?
"That's a great question," said Jeff. "As a dad, to be able to see the game through him, it's been a real eye-opening experience in a lot of ways. What I've seen is that Jakob is really quite a student of the game. To see how professional he's been working at his craft, especially the past three or four years, the training – it's very impressive.
"He sees the game differently than I did," he continued. "I can tell you he has the puck on his stick a lot more than I did. I've learned a lot from him, just in how he approaches everything. It's opened my eyes to a lot of things I wouldn't have noticed (about the game) before."
That list would also include the benefits of being a multi-sport athlete, something Jakob was known for when he attended American Heritage High School, where he played baseball.
The elder Chychrun believes being a well-rounded athlete has helped the rookie big-leaguer immensely.
"I always looked at it (playing multiple sports) just from the fun aspect," noted Jeff. "We'd be driving by a diamond in Florida and Jakob would turn to me and say, 'I really miss baseball.' It was about the memories that were made. He learned a lot of things from some of his baseball friends that have helped him hockey. He ended up getting this big bucket that he fills with rice that he sticks his hands in, kneads them, and it helps build up your forearms and shoulders. Who would have ever thought? It definitely helps with your shot and your strength."
It's also a perfect example, offered Jeff, of his son's unwavering commitment to hockey.
And although Jakob – less than 20 games into his NHL career – has shown a penchant for being unflappable on the ice, it's not quite as easy for his father to maintain the same demeanor watching from the seats.
There are always moments throughout the course of a game, however, when Jeff is reminded of the type of person he's watching.
"He's such a caring kid. He really likes to have a circle of friends around him. He's very good at surrounding himself with good people and he gives of his time. He's well-spoken and very sincere. When he speaks with someone, he looks them right in the eye and they have his attention.
"I think he gets a lot of qualities from his mom and that makes me very proud. I kid him that he's his mother's twin. He just has some very special qualities and I'm really proud of that."