Connor McDavid Visits Terminally Ill Super Fan
The Edmonton Oilers captain helped 10-year-old Rheanna Trepanier cross an item off her bucket list ahead of the holiday season.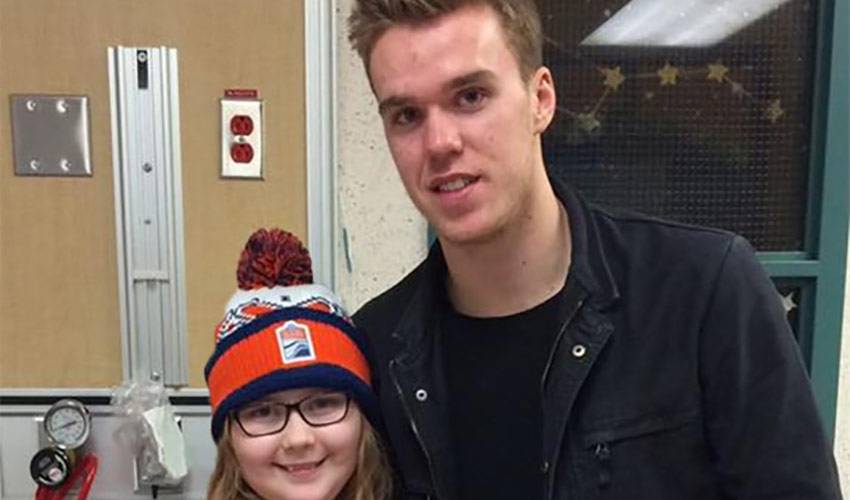 Ten-year-old Rheanna Trepanier is fighting terminal brain cancer. She was diagnosed with four tumors in her brain in early November and has had to endure multiple surgeries since then in a short period of time. Unfortunately, doctors have told her she only has months to live. To help get through the tough times ahead, Rheanna decided to make a bucket list of all the things she hopes to accomplish - and meeting the captain of her favourite NHL team was at the top of the list.
Rheanna said it would mean "everything" to her to meet Connor, explaining that McDavid is, "cute, good at hockey, and the captain."
It didn't take long for McDavid to get wind of the story and to organize a special visit with Rheanna ahead of her radiation treatments on Monday. With a signed jersey and lots of Oilers gifts in tow, McDavid visited with Rheanna to boost her spirits and help cross a wish off her list.
Chatting with @SarahNKraus next! She joins @charlesadler to talk about her story here https://t.co/HvYW3BPeTH

— CKNW (@CKNW) 30 November 2016
Big update on Rheanna Trepanier tonight in her fight against terminal brain cancer - bucket list items being checked off! @cmcdavid97 #yeg pic.twitter.com/pVnw6WtxxV

— Sarah Kraus Global (@SarahNKraus) 29 November 2016
Icing on the cake? @cmcdavid97 even brought Rheanna a signed jersey that says "Get well soon" #yeg pic.twitter.com/PfZY7rAUnz

— Sarah Kraus Global (@SarahNKraus) 29 November 2016
Full story at the Edmonton Journal