Chris Neil nears 1,000th NHL game
On December 10, Chris Neil will skate in his 1,000th NHL game on December 10 - all of them with the Ottawa Senators.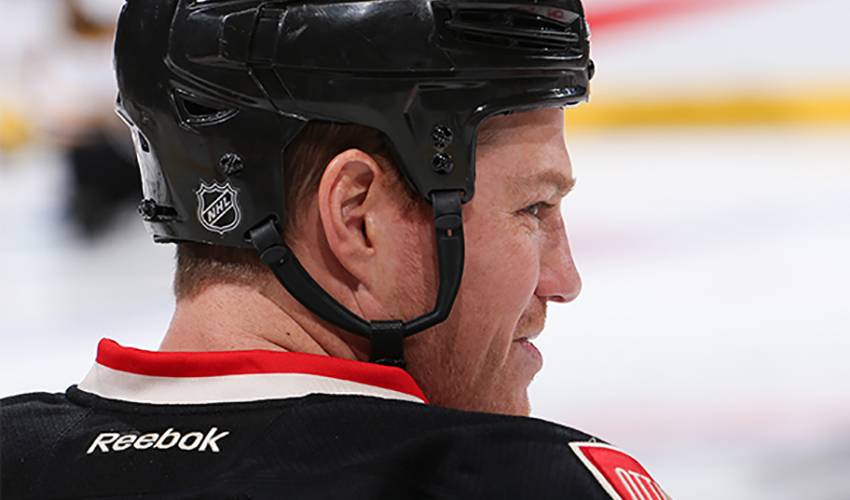 It began on October 3, 2001 with seven shifts, 4:20 of ice time and 5-4 win for the Ottawa Senators.
Fifteen years later, wearing the same uniform, Chris Neil has toughed it out to find himself on the cusp of a major milestone.
He didn't record a point, shot or penalty minute in the Senators' one-goal triumph over the Toronto Maple Leafs in what was his first league-contest, but a then 22-year-old kid that was selected in the sixth round of the 1998 Entry Draft wasn't complaining.
The very next night, Neil collected his first NHL point against the Montreal Canadiens. Just shy of a month later, he scored his first big-league goal.
By season's end, he recorded 10 goals and 17 points in 72 games, while earning a rightful reputation as a fearless competitor ready and willing to stand up for his teammates.
Now, one game away from joining the 1,000 NHL games played club, Neil has plenty of people looking forward to sharing in his accomplishment.
"Without his hard work and determination, Chris wouldn't be where his today," said Ottawa forward Mike Hoffman. "He's a leader on our hockey club and I'm honoured to be able to take part in celebrating this milestone with him."
Mike Fisher, who played with Neil in Ottawa before a trade to Nashville in 2011, is thrilled to see his close friend reach the coveted mark.
"Chris has played 1,000 games as hard as anyone," said the Predators captain, who skated in his 1,000th game on March 3. "He's an incredible player and as tough as they come. That being said, he's an even better person and I'm proud to call him a good friend."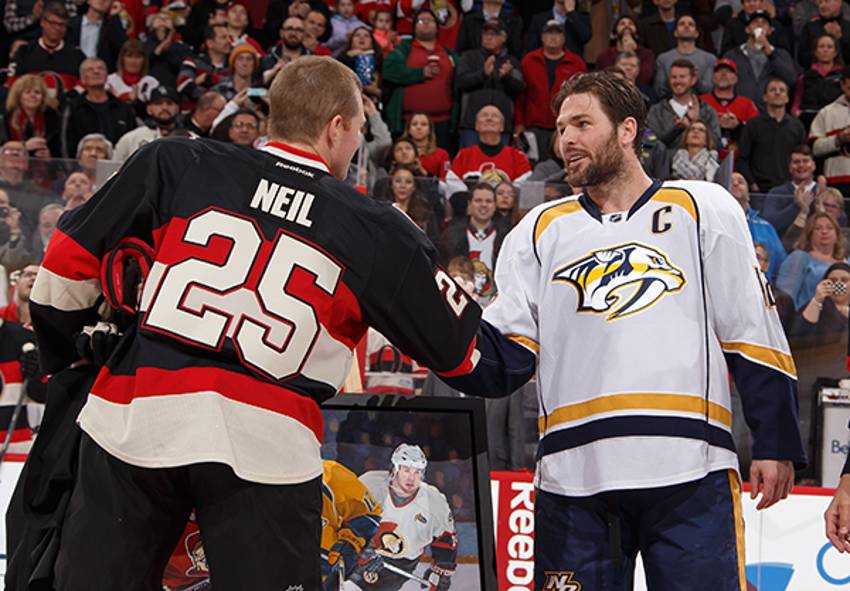 Chris Neil (left) and Mike Fisher (right) shake hands at Canadian Tire Centre as Fisher is celebrated by his former club, the Ottawa Senators, for having skated in his 1,000th NHL game.
Neil's moment will come on the road when the Senators take on the San Jose Sharks on December 10.
While it's toughness that's defined his NHL career, Neil has added some timely offensive punch along the way, including a memorable post-season marker in 2012.
In Game 2 of Ottawa's Eastern Conference quarterfinal series against the New York Rangers, it was Neil who gathered up the puck in front of the Blueshirts' net, and then snapped off a quick backhander winner just 1:17 into overtime.
He's netted 12 game-winning goals over 999 regular season NHL games. Three of his four tallies in 2012-13 were winners. He's reached the double-digit mark in goals on five occasions.
This February, Neil inked a one-year contract with the Senators.
"Chris has long been someone who exemplifies strong work ethic and character while striving to be a leader and a good example for our young players," said Ottawa general manager Bryan Murray at the time. "On the ice, he's played quality minutes for us this season and continues to play an important role on our team."
Soon enough, Neil will celebrate an important and cherished career achievement when he becomes the 308th NHL player to join the 1,000-games-played ranks.