Teammates weigh in on ageless Jagr
Keith Yandle, an ironman in his own right, marvels at his Florida Panthers teammate Jaromir Jagr's on-ice accomplishments, and meticulous preparations before each game.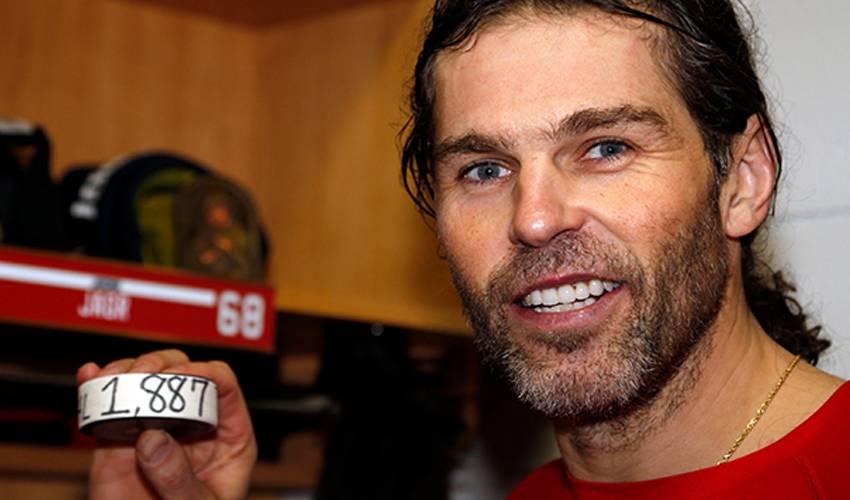 What's the best part of playing alongside the man who's now tied for second place on the NHL's career points list? For defenceman Keith Yandle, the answer is easy - it's the luxury of not having to play against No. 68.
For the ageless Jaromir Jagr, It was a night that was about as good as it gets. The future Hall of Famer recorded three assists and earned First Star honours in Florida's 4-3 home shootout win against Buffalo on November 20.
None of those feats, however, matched what his three helpers represented, as Jagr moved into a dead-heat with Mark Messier for second spot on the all-time scoring register with 1,887 points. They trail only Wayne Gretzky (2,857).
While the 44-year-old – who has no plans of retiring any time soon – downplayed his monumental accomplishment, his teammates were undeniably ecstatic to see Jagr net the milestone on Tuesday night.
Yandle, in his first season with the Panthers, was only too happy to speak about Jagr the following morning.
"Playing against him was always very hard with the way he used his body and his reach," said the veteran defenceman, who scored a second period power play marker against the Sabres, assisted by Jagr.
It's one of the many reasons why the veteran of 694 NHL games, including 584 consecutive contests, is grateful for the chance to wear the same jersey as the Czech superstar.
The former Phoenix/Arizona and New York Rangers blueliner marvels not only at what Jagr does on the ice, but also how the winger meticulously prepares himself for each game.
"Playing with him, you see how hard he works and loves being at the rink," said Yandle. "It's an amazing thing to see from a guy who has done as much as he has."
Closing in on 1,700 games, Jagr, a two-time Stanley Cup winner, also counts five Art Ross honours, three Ted Lindsay Awards, and one Hart Trophy amongst his hardware haul. He's also a member of the prestigious Triple Gold Club, having won Olympic gold, World Championship gold and a Stanley Cup.
"I have always said that Jagr loves hockey like parents love their children and that makes him special," said Florida alternate captain Jussi Jokinen.
With sole possession of second spot on the all-time scoring list just a goal or an assist away, Jagr is far from done when it comes to adding to his legend status.
For Yandle, it's a privilege to see it all play out without trying to prevent it from happening.
Very few, he will tell you, have the moves like Jagr.