David Legwand retires after 16 NHL seasons
David Legwand announced his retirement today from the NHL following 16 NHL seasons. The forward was selected second overall by the Nashville Predators, making him the first draft pick in franchise history.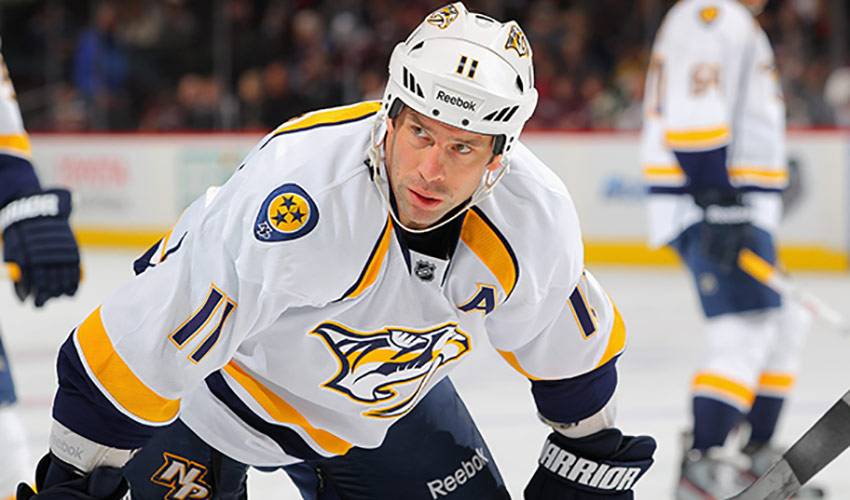 David Legwand announced his retirement today from the National Hockey League (NHL), following 16 NHL seasons.
Legwand played in a total of 1,136 career NHL games with four teams: the Nashville Predators, Detroit Red Wings, Ottawa Senators and Buffalo Sabres. He scored 228 goals and 390 assists, amassing 618 points over his career. The longtime Predators forward left his mark in Nashville with numerous records still intact to this day, as the franchise leader in goals (210), assists (356), points (566), game-winning goals (41) and games played (956).
"What a great ride this was, especially having the chance to play nearly 1,000 games for my drafting club in Nashville, and seeing the growth of the game there; to fulfilling a dream of playing for my hometown Red Wings; to experiencing the positive vibe of playing in Canada's capital of Ottawa; and to end with the talented players of the Buffalo Sabres in my final season," said David Legwand.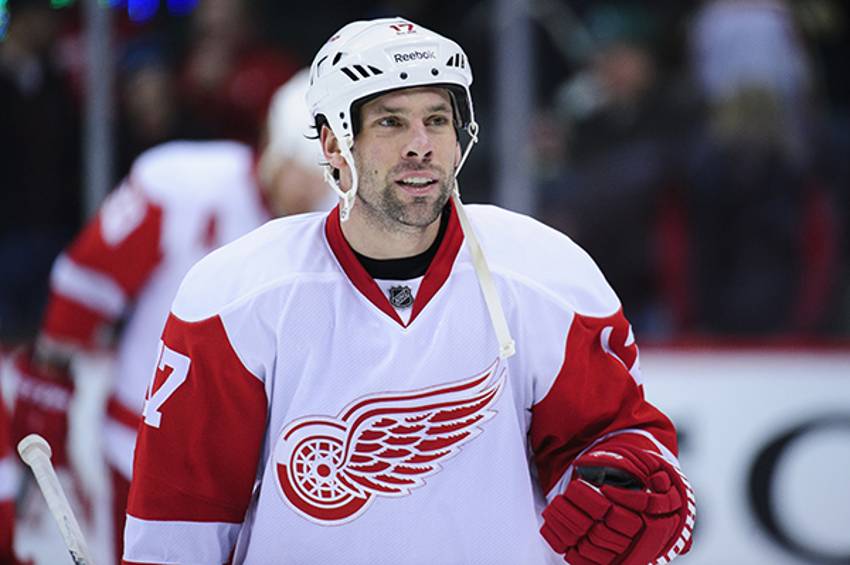 ---
"I have to give credit for the success in my career to others. I had great teammates who became friends; coaches and general managers who believed in me; trainers, doctors and therapists who kept me healthy; and I received sage advice and friendship from my longtime agent Pat Morris and his staff at Newport Sports. Finally, I would like to give a special thanks to my mom and dad, sister, and my wife Lindsey and our kids Ella and Ryder, who sacrificed so much for my opportunities."
Born in Detroit, Michigan, Legwand's junior career began in 1996-97 with the Compuware Ambassadors of the North American Hockey League. He played the following two seasons with the Plymouth Whalers of the Ontario Hockey League (OHL). For his exceptional first season in Plymouth, he received multiple accolades, which included him being named CHL Rookie of the Year and a member of the OHL First All-Star Team, while he also became the second American-born player to be named OHL MVP (Pat Peake, 1993).
At the 1998 NHL Entry Draft, Legwand was selected second overall by the Nashville Predators, making him the first draft pick in franchise history.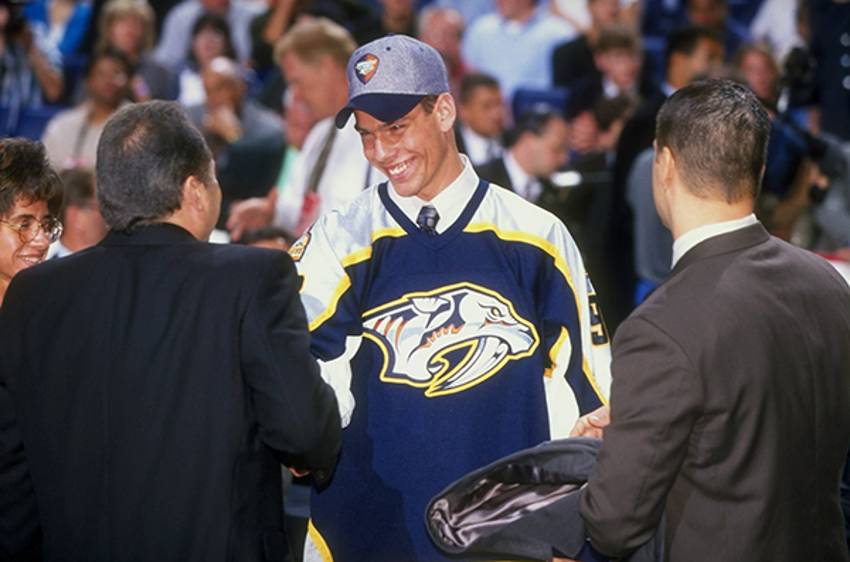 ---
On April 17, 1999, he played in his first career NHL game with the Predators versus the New Jersey Devils. He recorded his first career point, an assist, on Oct. 10 at the Chicago Blackhawks, and he scored his first NHL goal — the game-winner — one day later at the Toronto Maple Leafs. As an NHL rookie, Legwand scored 28 points in 71 games.
The six-foot-two, 207-pound centre played in 81 games and scored 41 points in his sophomore season. On Dec. 23, 2000, while visiting the New York Rangers, he made his way into the record books by scoring the first overtime penalty-shot goal in NHL history. In 2002-03, his fourth NHL season, Legwand scored 17 goals and 48 points. He helped the Predators earn their first playoff berth in 2003-04, after he played in all 82 regular season games and scored 47 points. During the owners' lockout in 2004-05, he helped EHC Basel (Swiss-2) win a championship by leading the league in playoff scoring (39 points). Legwand's best offensive season in the NHL came in 2006-07 when he set career highs in goals (27) and points (63).
During a nine-season stretch from 2004 to 2012, he was an important player for the Predators as they became a perennial playoff team, having qualified for the postseason in seven of those seasons, and reached the conference semifinals in 2011 and 2012.
---
After playing nearly 14 seasons in Nashville, Legwand was traded on the 2014 trade deadline to the Detroit Red Wings for Calle Jarnkrok, Patrick Eaves and a second round draft pick. In the 2013-14 season, which he split between the Predators and his hometown Red Wings, Legwand scored a combined 51 points in 83 games and he set a career-high in assists (37), while helping Detroit continue their playoff streak.
On July 4, 2014, Legwand was signed as a free agent by the Ottawa Senators. He scored 27 points in 80 games and the Senators reached the 2015 playoffs in his lone season in Ottawa. On Nov. 29, 2014, he played in his 1,000th career game, at the Tampa Bay Lightning. Legwand was traded on June 26, 2015 to the Buffalo Sabres along with Robin Lehner for a first round draft pick. He played in 79 games with the Sabres and scored 14 points in 2015-16 — his final season in the NHL.
Throughout his career, Legwand showed his durability by playing in at least 78 games in eight seasons, and he also played in all 48 games of the 2012-13 lockout-shortened season. He recorded 0.54 points per game, had a career 10.8 per cent shooting percentage, scored 153 career power-play points and 11 shorthanded goals, as well as 43 game-winning goals of which included nine in overtime. Legwand averaged 16:48 of ice-time in the regular season, which increased to 18:27 in the playoffs. He also scored 13 goals and 28 points in 55 career playoff games, while he helped his teams reach the postseason in nine of his 16 seasons.
Internationally, Legwand represented the United States twice at the World Junior Championships (1998, 1999) and four times at the World Championship (1999, 2000, 2001, and 2005).
He served as an NHLPA player representative, or alternate representative, for nearly eight seasons while he played in Nashville.
Legwand, 36, resides in Harrison Township, Michigan, with his wife Lindsey and their two children. He currently is a co-owner of the Sarnia Sting in the OHL, along with fellow former player Derian Hatcher.