Outdoor games remind Glendening why he plays
Playing hockey outdoors never gets old for Detroit Red Wings third-line forward Luke Glendening.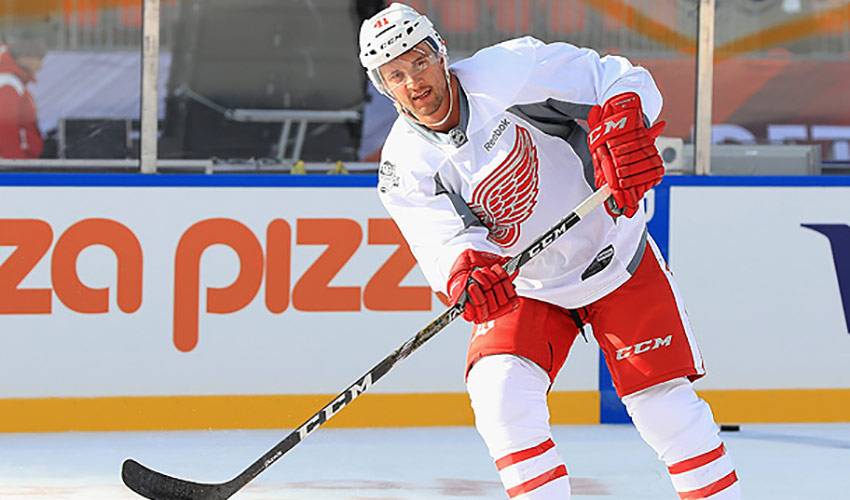 Playing hockey outdoors never gets old for Detroit Red Wings third-line forward Luke Glendening.
The 27-year-old from Grand Rapids, Michigan played in his seventh outdoor game on Sunday, when his Red Wings put forth a spirited comeback effort only to drop a 5-4 decision in overtime to the Toronto Maple in the Centennial Classic in Toronto.
Glendening has played in three outdoor games as a member of the University of Michigan Wolverines, one with the Grand Rapid Griffins of the American Hockey League and three more with the Red Wings.
"Each and every one has been a special event, whether it has been in college, the NHL or the American Hockey League, they have been great events," said Glendening in Detroit's dressing room at BMO Field.
"Obviously, we came out on the short end today, but Toronto and the NHL did a spectacular job for the entire weekend. It was awesome to be part of."
When Glendening suits up for an outdoor game he can't help but reminisce about his days as a youth in Grand Rapids. He was a three-sport athlete. Besides hockey, Glendening played shortstop in baseball as well as a fullback and cornerback in football.
Even though his father Tom was a fullback at Bowling Green University and married a cheerleader, Leslie. Even though older brother Joe was a star fullback at Hillsdale College (Division II), a big part of the family's winter was skating on the backyard rink his father built.
"My Dad always had a rink in the backyard when I was growing up," Glendening said. "That was my experience with playing outdoors. Playing in games like these, it brings back great memories being there with my family.
"We would be out there after school and when my Dad would get home after work, we'd be out there all night. When I think about playing outdoors I think of the real reason we all play – and that is because you love the game."
Glendening has experienced the thrill of victory and agony of defeat in his seven outdoor games. With the University of Michigan, he won two of three. In the AHL, Glendening scored twice but lost to the Toronto Marlies. In three NHL outdoor stadium games, the Red Wings have beaten the Colorado Avalanche and lost twice to Toronto.
"Sometimes when you're in the middle of a season, and you're grinding through, playing every other night, and you're not doing as well as you want to, it's hard to remember that this game is fun," Glendening said. "For me, these outdoor games always bring back that feeling.
"I really, honestly, loved them all."
The Red Wings loss has them seven points out of a playoff spot with 45 games remaining in the regular season. At stake is the longest current playoff streak in North American professional team sports at 25 in a row.
If the Red Wings need any inspiration to pull off a second-half surge, all they need to do is look across the dressing room at the 5-foot-11, 194-pound Glendening.
After starring in his three varsity sports at East Grand Rapids High School, which included a state championship in football, Glendening decided to attend a post-graduate year and continue his athletic endeavors in three sports at The Hotchkiss School in Lakeville, Connecticut.
Near the end of his hockey schedule, Wolverines assistant coach Billy Powers was on a recruiting trip and attended a Hotchkiss game against the rival Salisbury.
He was scouting future Wolverines Mac Bennett and Derek DeBlois, but also came away impressed by Glendening's spirit and work ethic. After University of Michigan freshman Max Pacioretty left school to sign an entry-level contract with the Montreal Canadiens, the Wolverines had an opening and offered a walk-on position to Glendening.
There were no guarantees for a roster spot for Glendening, just a chance. So he went to Ann Arbor in the fall of 2008, and for the first time, concentrated on only one sport – hockey.
"It was kind of weird for me to be playing only hockey, but at the same time I was happy with the decision," he said.
He made such a big impression in his first year at the University of Michigan his teammates voted him as an assistant captain in his sophomore season and team captain in his final two seasons.
The Red Wings also followed his progress and were impressed enough to offer him a minor-league contract. Glendening began his pro career with the Toledo Walleye of the East Coast Hockey League, but after scoring 14 times in 27 games he was promoted to the Griffins and helped them win the 2012-13 Calder Cup.
The next season, he split time with the Griffins and Red Wings. His 11th NHL game of the season arrived two days after he played for Grand Rapids in an outdoor game against the Toronto Marlies at Comerica Park, when he was summoned to play for the Red Wings in the 2014 Winter Classic at the Big House at the University of Michigan in front of 105,491 fans in a 3-2 shootout loss.
Now two more outdoor games later, Glendening keeps on ticking.