van Riemsdyks team up for Hockey Is For Everyone
This is one time, noted Trevor van Riemsdyk, when sibling rivalry has been put on ice. The van Riemsdyk brothers are both serving as team ambassadors of their respective clubs as part of Hockey Is For Everyone month.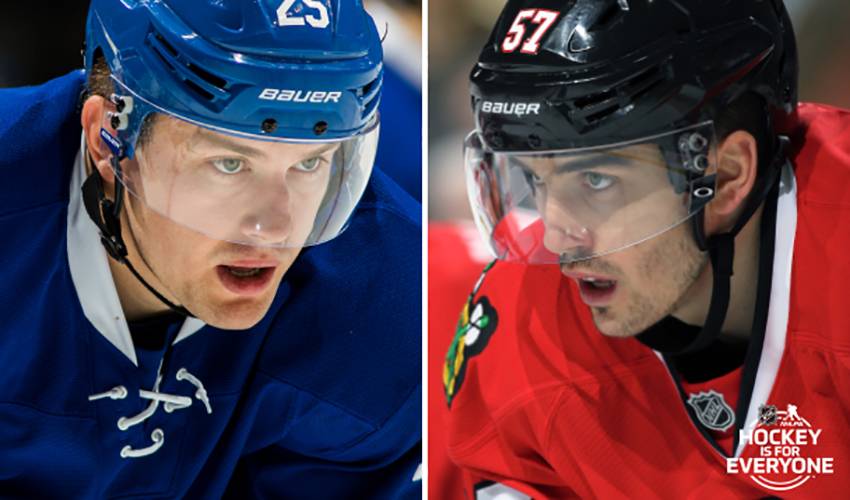 This is one time, noted Trevor van Riemsdyk, when sibling rivalry has been put on ice.
When the NHL announced the 30 ambassadors (one for each team) as part of Hockey Is For Everyone month (February) in partnership with the You Can Play Project – an organization that supports the LGBTQ community and combating homophobia in sports – the van Riemsdyk brothers, defenceman Trevor of the Chicago Blackhawks, and winger James of the Toronto Maple Leafs, were selected for the role for their respective Original Six club.
The two exchanged texts when the list was revealed.
"It's obviously a great thing to be a part of," said Trevor. "It was something I wanted to do. James has been involved with the You Can Play Project for a few years. It's an awesome initiative to be part of. I knew he'd be doing it. And when I had the chance to be our team's representative, I really wanted to do it. It's a great thing that's being done and it's important that everyone feels comfortable in the locker room."
Neither sibling has any designs on outdoing one another.
Those days, at least away from the rink, are long gone. But they aren't necessarily forgotten.
"It was pretty typical brother stuff growing up," said Trevor, who went undrafted in the NHL, but signed a two-year contract with Chicago on March 24, 2014. "We are both pretty competitive guys and that was certainly the case when we were younger. There were a lot of battles with the mini sticks in our basement and mom would have to break things up once in a while. We were pretty competitive growing up, but it was also a lot of fun. Now we're on different teams rooting for one another."
That won't be the case on March 18 when Chicago visits Toronto for a Saturday night matchup.
After the final horn sounds and the 'Hawks are ready to head out of town, the messaging will start up again and the brotherly love will resume.
"We text quite a bit," said Trevor, who at 25, is two years younger than James. "It's not always hockey. We catch up on life, seeing how everything is outside of the rink, checking in on the youngest one (their 21-year-old brother Brendan plays hockey at the University of New Hampshire). We're usually checking in on one another. I watch his games and he watches mine. It's a fun little dynamic to have. It's nice to have someone I can lean on, especially when I first started in the league, in knowing he'd already played for a few years."
Trevor has also found the ideal role model, on and off the ice.
"He's just constantly finding ways to improve himself off the ice," he said, of James. "He's also constantly finding ways to help other people away from the game, too. He's done a lot with Autism Speaks and other charities. He knows how lucky we are to play this great game and how important it is to give back."
It's something the van Riemsdyk brothers were reminded of when they were given the opportunity to be on the same team, so to speak, through the You Can Play Project.
This time, though, Allison van Riemsdyk won't have to worry about settling any mild skirmishes between her sons.
So, was it James that typically ran to mom first?
"Of course," said Trevor with a laugh. "Always."