Smashfest the perfect setting for budding Maple Leafs
In the minutes leading up to the start of Smashfest VI, 23-year old Connor Carrick couldn't help but take a playful poke at a pair of fellow Maple Leafs standing just a couple feet away.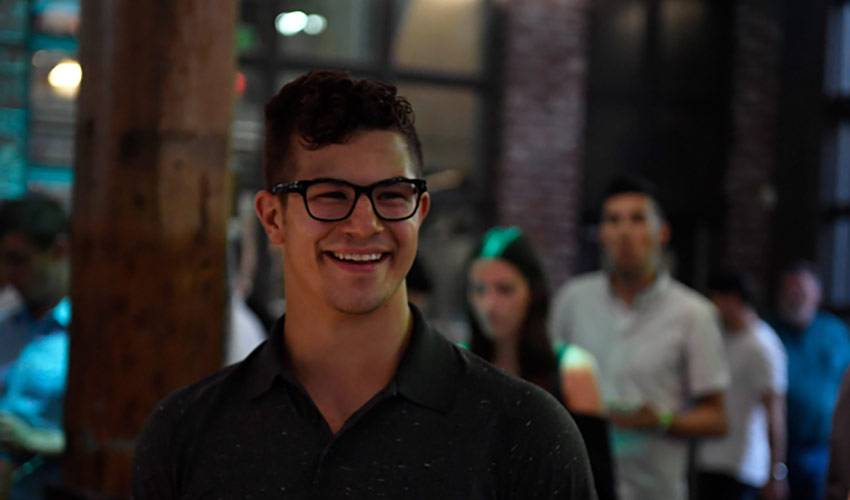 What's a little trash talk among friends? It's no big deal at all for Connor Carrick and his tight-knit Toronto Maple Leafs teammates.
In the minutes leading up to the start of Smashfest VI, the annual charity ping-pong event headed by veteran NHL forward Dominic Moore, the 23-year old Carrick couldn't help but take a playful poke at a pair of fellow Maple Leafs standing just a couple feet away.
"I think it goes without being said," offered Carrick, of trading a few barbs with Toronto teammates Connor Brown and Zach Hyman. "If we're going to bring it out into the light, trying to one-up another is absolutely part of the event."
Carrick was, however, far kinder to his new teammate Moore, who signed as a free agent with the Maple Leafs on July 1.
"Awesome," said the blueliner of the 36-year-old forward. "I know him as a player. He's a very good player. There's a lot of competition for the role that he plays and for him to be in this league for as long as he has, you would just love to know his secret. I know from playing against him who he was and what makes him so tough to play against. It's just great to have him on this team."
Carrick, who played in 67 regular season games with Toronto in 2016-17, is unabashedly effusive when talk turns to the upcoming NHL campaign.
Coming off a season in which the Maple Leafs surprised many by making the playoff cut, Carrick and his teammates are counting down the days until their first game on October 4 at Winnipeg.
"It's going to be super exciting this season," said the Illinois native, originally drafted 137th overall by Washington in 2012. "I can't even think of a season I've been more excited and more ready for. We want to get started and hit the ground running. It's a marathon year and the first little bit is going to be that sprint feeling."
The players aren't the only ones impatiently waiting for the games to begin.
It's something Carrick quickly discovered when he came to Toronto less than a couple of weeks ago.
"I've been here for just a little bit and I've been recognized a handful of times," he noted. "You get things like, 'Hey, Connor, best of luck this year. Big fan. Go Leafs Go.' That's cool. It's a special city and the love the fans have for their team is second to none."
So, too, is the hospitality that Carrick's received from one of his teammates.
"Connor Brown took me in this week," he said. "I was visiting, doing some skating, getting in touch with the equipment guys, things like that. I was sleeping on Brownie's coach. We watched movies the last few nights and hung out together."
Just the type of first-class treatment Carrick has come to expect playing in Toronto.
"It's really cool," said the defenceman who was dealt to the Maple Leafs on February 28, 2016. "It's an interesting dynamic in the NHL, in that last season, you had some guys that were in the core group, Maple Leafs for a long time, and there was an influx of younger players. Each side had to go out to dinner with the other and hang out. You don't get that everywhere. Everyone was so comfortable with one another in that room as the year went on. I can't think of a guy I couldn't go out to dinner with and talk to. It's a special group that way. We had a good year last year and that helps, too."
Showcasing some of the NHL's top young talents in Auston Matthews, Mitch Marner and William Nylander, complemented by a solid veteran presence, the Maple Leafs are eager to build on their post-season experience from 2016-17.
Carrick knows it won't be an easy task.
"It's a special city and I think it could be a special season," he said. "We're all super excited. The expectations have grown. There are a lot of teams that are getting better this year and we want to be one of them."