Gibson Gives Ducks Net Gains
As a kid, it was all about the march of the Penguins for goaltender John Gibson. These days, it's all about helping lead the Ducks.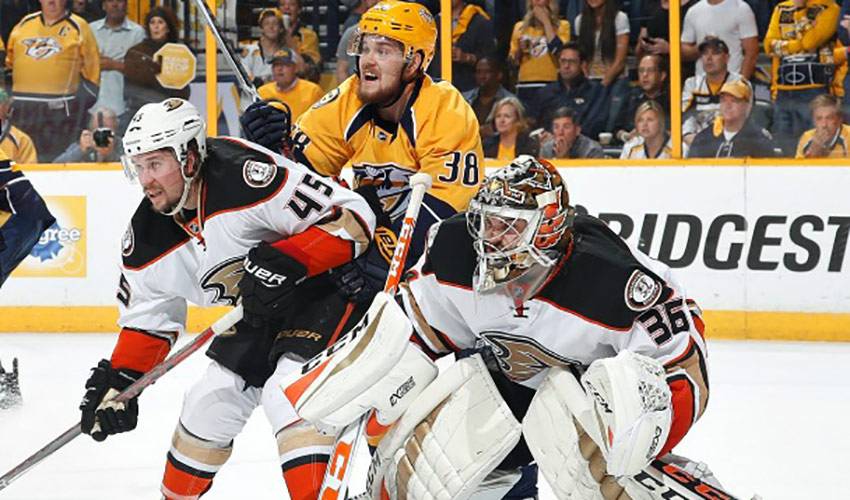 As a kid, it was all about the march of the Penguins for goaltender John Gibson. These days, it's all about helping lead the Ducks.
He can't quite recall the first NHL game he went to with his dad, but he does remember marvelling at the on-ice artistry of one of hockey's all-time greats.
"I was really young when I went to my first Penguins game," Gibson told NHLPA.com. "My dad was a big fan growing up, so I became one, too. Just like everyone else, I was a huge Mario Lemieux fan. He was the one guy I really liked to follow. Being there and watching him play was pretty cool."
So, too, was the opportunity to shake hands with the Hall of Fame legend.
"I met him when I was very young," said Gibson. "It was great. Any time you get to meet one of the best players ever, you don't forget it. In Pittsburgh, everyone looked to him as a hero. It was an awesome experience."
When he wasn't following Lemieux and the Penguins, Gibson was busy pursuing his own NHL dream, eagerly blocking every shot he could. It was a skill he developed outside of the crease in his early playing days.
After a short time playing defence, he traded in his shin pads for goalie pads.
"Very briefly," said Gibson, of his time on the blue line. "When I was really young, I liked (NHL backstoppers) Curtis Joseph and Eddie Belfour, I think more because I thought their masks were cool. Starting off, I liked the equipment and the thought of designing your own mask. The more I played, the more I fell in love the game and being a goalie."
The decision to change positions proved to be a wise move.
Listed as the top-ranked North American goaltender heading into the 2011 NHL Draft, the Ducks selected Gibson 39th overall.
The ability to simplify the game from the start of his NHL career helped Gibson get out of the gates in impressive fashion.
At just 20 years and 297 days old, he became the youngest goalie to record a shutout in his NHL debut since Daren Puppa of the Buffalo Sabres in 1985 when he stopped 18 shots in a 3-0 blanking of Vancouver on April 7, 2014.
After winning three consecutive games to launch his career, Gibson became just the second NHL goalie to post shutouts in both his regular season and Stanley Cup Playoff debuts. He stopped 28 shots in Anaheim's 2-0 win in Game 4 of their second-round set against state rival Los Angeles on May 10, 2014.
Tabbed as Anaheim's starting goalie in the 2014-15 season-opener in Pittsburgh, Gibson set a Ducks rookie record with a 38-save shutout over the Chicago Blackhawks on October 28, 2014.
Gibson and Frederik Andersen (now with the Toronto Maple Leafs) teamed to win the William M. Jennings Trophy for allowing the fewest goals allowed in 2015-16.
Last season, Gibson won 25 regular season games – while notching a career-best six shutouts – along with nine more playoff wins.
The man who helped the United States win bronze at the 2013 World Championship when he became the second-youngest goalie - behind Russian legend Vladislav Tretiak - to win a playoff game in the tournament, is focused on a deeper playoff run for the Ducks in 2017-18.
While he hopes to see Anaheim's fortunes (the Pacific Division club was ousted in the Western Conference Final by Nashville) change from last season, don't expect to see a different game plan from the 24-year-old when he's between the pipes.
"I'm just a very laid-back person," said Gibson, whose .955 save percentage at the 2013 World Junior Championship earned him MVP honours as well as recognition as that year's top goalie as the United States won gold. "I've always been that way since I was young. I think it's just the way I am – just be calm and laid-back. That's how I approach everything."
Including whenever Gibson casts a line.
He doesn't get impatient if the fish aren't biting. He doesn't fuss about the one that got away. If he goes home without a catch, he knows there's always next time.
It's the same approach when Gibson's in net. If the puck gets past him, he doesn't get rattled. He knows he'll get another opportunity to shut the door.
"Usually, it's not too high or too low," he said. "It's just about keeping that even-keel approach."