Merry Christmas, Ryan Callahan
Merry Christmas, Ryan Callahan. When it comes to getting a head start on holiday planning, you might want to take a cue from Tampa Bay's alternate captain and his wife, Kyla.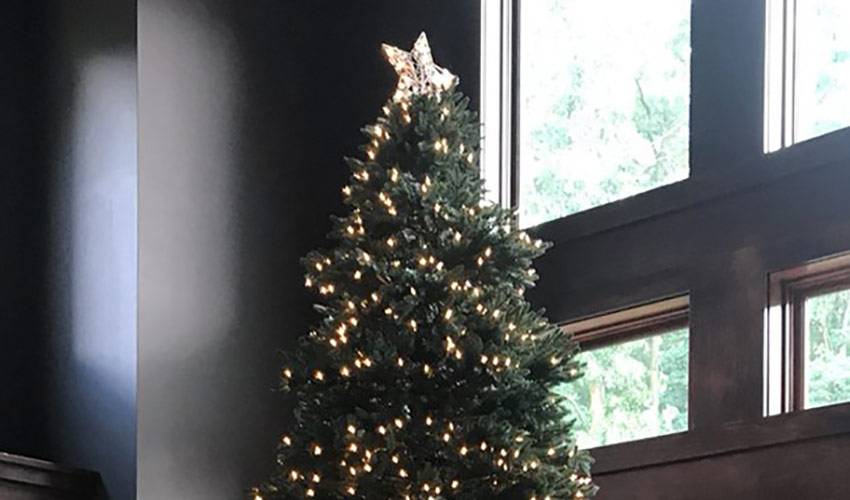 Merry Christmas, Ryan Callahan.
When it comes to getting a head start on holiday planning, you might want to take a cue from Tampa Bay's alternate captain and his wife, Kyla.
A recent festive-themed tweet accompanied by a Christmas tree photo posted by Callahan prompted some interesting inquiries from fans, friends and family, including the right winger's oldest daughter, Charlotte.
First time I have put the🌲 up in August. Kids are very confused right now 😂. pic.twitter.com/FI6E8LVbwB

— Ryan Callahan (@TheRealCally24) August 18, 2017
"Everybody was asking me on Twitter why I was putting up the tree so early," said Callahan, who followed up his original posting with another tweet to offer an explanation. "That tree is in our house back in Rochester (New York) where we spend our summers. Before I left for Tampa, I put it up because when we go home for Christmas – we try to go home every year – it will be there for the kids and family. We're only home for about 48 hours. That way I don't have to do it when we get back. It's ready to go."
As for whose idea it was, the 32-year-old forward deflected any credit.
"Obviously, it wasn't mine," said Callahan with a laugh. "It was my wife's idea. It's up and I'm happy it's done. It's all good."
The site of a decorated Christmas tree in August hardly went unnoticed in the house. It also led to a discussion or two.
"My older one – she's five – gets it a little more," offered Callahan. "She asked a lot of questions, wondering why the tree was up so early and if Santa was coming soon. She didn't quite understand it. But it is quite strange to see a Christmas tree up when it's 75 or 80 degrees outside. That's a little different. But when we get home – usually it's Christmas Eve – it will be there waiting for us."
While he has a few months before he starts making his own Christmas wish list, Callahan won't be asking for a certain present he often requested when he was growing up.
Not surprisingly, hockey-themed gifts were a big hit in the Callahan household.
"I remember always getting street hockey goalie pads," recalled Callahan. "I used to wear through them pretty quickly. My friends and I would play so much that we'd need new ones all the time. Every Christmas, I'd look forward to getting a new pair of those because they were pretty worn out by then."
Tampa's goaltenders need not worry about Callahan looking to recapture his glory days between the pipes.
"The goalies jobs are safe, that's for sure."
Although Christmas is still four months away, the spirit of giving remains a big part of Ryan and Kyla's life throughout the year.
In September 2016, the couple established the Ryan Callahan Foundation, a non-profit organization that's goal is to make memorable experiences a reality for children who are battling, or who have survived, cancer.
One of the cornerstones of the foundation are experiences – designed in the same spirit as Make-A-Wish Foundation offerings – that provide selected families an opportunity to enjoy a special trip or getaway.
The foundation covers all costs and coordinates the planning for the experiences.
"It's going really well," said Callahan. "From the launch and kickoff event, the outpouring of support from the Tampa community has been amazing. We were kind of overwhelmed by the support and generosity of everyone. That's helped propel us in our goal to provide families with special experiences. Our foundation is all about bringing families together and sharing those moments with one another away from treatments. We just want to help these kids and families through some tough times."
"Cally's Crew" is also back again for the 2017-18 NHL season. The initiative brings pediatric cancer patients and their families to Lightning home games, where they watch the action from Callahan's suite. Kyla hosts the families that attend.
"They get to watch the game and I get the chance to meet with them after the game," said Callahan. "There will be times when the other players come by as well. It's a nice chance to say hello and sign a few autographs."
Just don't expect Callahan to don a Santa suit around the holiday season. He already has a teammate in mind for that role.
"Maybe I'd pick Andrej Sustr," said Callahan. "He's a taller guy. I'd go with him."
For more on the Ryan Callahan Foundation, visit ryancallahanfoundation.org.