Gudbranson eager to open new chapter in Columbus with teammate Gaudreau
A new campaign, a new team, a new challenge, and a familiar face have Erik Gudbranson counting down the days until the start of the 2022-23 NHL regular season.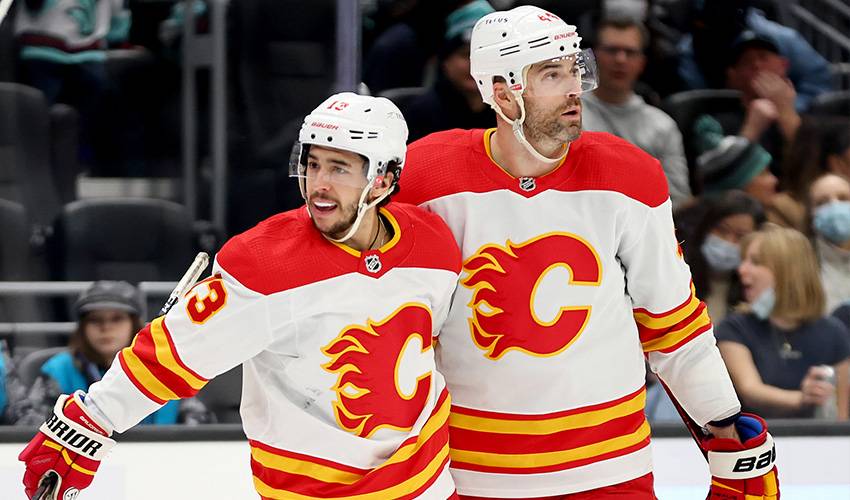 A new campaign, a new team, a new challenge, and a familiar face have Erik Gudbranson counting down the days until the start of the 2022-23 NHL regular season.
It has been just under a month since Gudbranson inked a four-year, $16-million contract with the Columbus Blue Jackets, marking the eighth stop on a big-league career that began in 2011.
Taken third overall by Florida in the 2010 NHL Draft, Gudbranson spent his first five NHL campaigns with the Panthers from 2011-12 through 2015-16. He then played in parts of three seasons in Vancouver before making stops in Pittsburgh, Anaheim, Ottawa and Nashville.
He is looking forward to the latest chapter in his hockey life.
"It's turned out to be a great scenario," said the Ottawa native. "I'm definitely excited to get things going."
Gudbranson, who played last season with the Calgary Flames, will have a familiar face in the Blue Jackets lineup, namely, superstar Johnny Gaudreau.
The slick-skating forward signed a seven-year unrestricted free agent contract with Columbus the same day Gudbranson inked his own deal.
"Especially with Johnny, he's one of those generational players who is that good," praised Gudbranson. "The level of his talent is through the roof. His hockey IQ is the same. He's a great guy in the room too. We became really good friends this past year, so it's nice to have that familiarity in coming to a new team. His wife is also a wonderful person."
Playing with Gaudreau, who has 210 career goals, 41 of them game-winners, is somewhat of a huge relief for Gudbranson.
"You just chase him around the ice, and you can't hit him. It's awesome."
A rugged, stay-at-home defenceman, Gudbranson resisted the urge to make a friendly wager as to which one would net the most points in the upcoming season.
That said, the veteran blueliner could be in line to top the career-high offensive numbers he put up in Calgary last year.
"You know what happened last year? He was actually the guy at the forefront of my teammates who would say, 'You're going to break your own record for most goals this year and I'm going to find you.'"
It turns out Gaudreau was true to his word.
The six-foot-five, 222-pound Gudbranson set personal bests in goals, assists, points, blocked shots, games played and plus-minus rating in 2021-22 as he recorded 6 goals and 11 assists for 17 points, with 92 blocked shots and finished +15, while averaging 18:08 ice time in 78 games with the Flames. He also helped Calgary capture the Pacific Division title.
Now, the 30-year-old, who has recorded 27 goals and 67 assists for 94 points with 708 career penalty minutes, 1,475 hits and 767 blocked shots in 641 career NHL regular-season games, will look to eclipse those successes in Ohio.
Gudbranson is a welcome addition to a club looking to make it back into the playoffs after two straight seasons of missing out on the postseason.
"Adding experience, size and toughness to our blueline was a priority for us this summer and Erik Gudbranson fits that bill perfectly," said Columbus GM Jarmo Kekalainen. "He also has tremendous character and will be a great addition to our leadership group. We couldn't be more excited to welcome Erik, his wife, Sarah, and son, Bennett, to the Blue Jackets family."
Later this month, the Gudbranson family will become four.
"We have another child on the way, August 25, so it's a very busy time. We're heading to Columbus on August 14 and getting settled there. Having another kid, it's going to be fun for all of us."
Hockey-wise, it should be an exciting time as well.
Expect Gudbranson and Gaudreau to push themselves and one another to build off what they accomplished last season with Calgary.
"I think we're going to have a mutual thing this year where we try and break the numbers I put up and the numbers he put up. It's going to be a lot of fun. I've talked with a few of the guys so far, and they've been very welcoming. It's always tough when you switch teams. Texting, it's just words to an extent, so it will be nice to meet them in person, shake their hands, and then get down to business."
The Blue Jackets' first game of the upcoming regular season, on October 12, can't come soon enough for Gudbranson.
In just over a week, he'll be heading with his family to their new hockey home in the Buckeye State.
"We had to move fast and find a house there and we did. It's been a busy offseason for sure, but a pretty exciting one. I get to be a second-time dad and I get to lace up the skates with my new team. I can't wait."