Edmundson's resilience pays off in return
It's been a winding road back to NHL ice for Joel Edmundson, who draws inspiration from his teammates and each time he dons his jersey.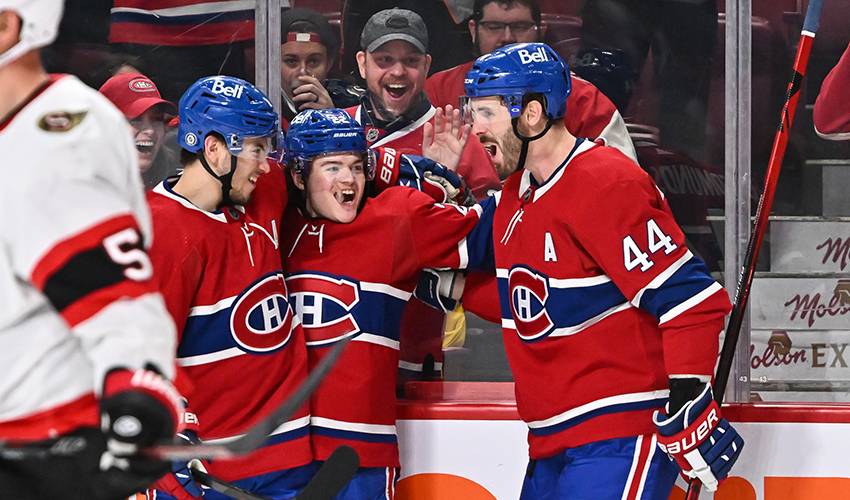 Feature photo: Getty Images
---
Joel Edmundson couldn't control everything on his road to recovery, but there was one important thing that he could.
To say the last six-plus months have been tumultuous for the 28-year-old Montreal Canadiens defenceman would be a massive understatement.
Set to build off a strong 2020-21 campaign, Edmundson suffered a back injury on the first day of training camp, sending him to the sidelines for an indeterminate period of time.
After working his way back to full strength, he encountered what was to be the first of several setbacks, and then took time away to be with his father, Bob, who was battling lung cancer.
In the toughest of times, including the death of his father on January 7, Edmundson fought through the pain and hardship armed with a positive outlook.
The 6-foot-5, 224-pounder never considered throwing in the towel, even as the Canadiens, coming off a season in which they made it to the Stanley Cup Final, struggled right out of the gate this season.
"There were some tough days, especially when the team wasn't doing well," recalled Edmundson. "I wanted to be out there, working with the guys to get a win. But beating yourself up isn't going to help anything or help the recovery process go quicker. I was just doing my best to stay positive and be one of those guys at the rink everyone wants to be around. That's the type of person I am, to always take the positive side. That's just my mindset."
Not that it was always easy.
Inside and outside of the arena, Edmundson faced far more question marks than answers.
He missed being around his teammates, the camaraderie of the locker room, and the challenge of shutting down the opposition's top players.
"We have a tight-knit group and I love being around them and I hope they love being around me. Being around them has made this year easier. It's been a tough year for my family, and with the injury, but being around them made a world of difference. It was tough in so many ways, especially when the team is on a long road trip and you are back in the city by yourself. Thankfully, I have my girlfriend here. There are some days when you just want to be around the guys. I love going to the rink and seeing the guys, so when they are on the road, those are tough days. This year, unfortunately, we had a lot of injuries, so we had more than a few guys who would stay back, and we'd hang out and keep each other company."
Edmundson's girlfriend played a pivotal role in his recovery.
"I was in a lot of pain, so she was taking care of me. I was like a dog. … she was always taking me out for a walk every day. She kept me busy. If she wouldn't have done that, I probably would have just been laying around. She's done everything."
Through his own efforts and the encouragement of many, the veteran of over 400 NHL regular-season games did everything he could to get back on the ice.
Eventually, Edmundson found reason to be optimistic about a return to action.
"There were a bunch of ups and downs. There were times when I was skating with the team and then had a setback. There were lots of different things going through my head. 'Will I need to have surgery? Will I ever get to play again this season?' I just stuck with it. Our trainers did a great job and they got me in touch with a back specialist in Montreal, and that really helped. As soon as I saw that therapist, I could see the light at the end of the tunnel."
March 12, he walked out of the tunnel and onto the ice, in a home against the Seattle Kraken.
Edmundson played 16:38, doled out six hits and had two shots on goal. He scored his first goal of the season March 29.
"The first game back was awesome. A little faster and more contact than in practice, but I definitely missed throwing out those bodychecks."
During pre-game warmups, he thought of the man who continues to have a huge influence on his hockey career and life outside of the game. Someone who had been a lifelong Habs fan.
"Every time I put the jersey on before I go out for warmups, I think about my dad. I know how proud he is up there."
And Bob Edmundson is no doubt proud of his son, who battled throughout a tumultuous six-month stretch with a never-give-up attitude.