Cam Atkinson playing second fiddle to Grandma Marge in Philly
Cam Atkinson is already feeling embraced by his new club ahead of his first season in Philadelphia – though maybe not as much as his Grandma Marge!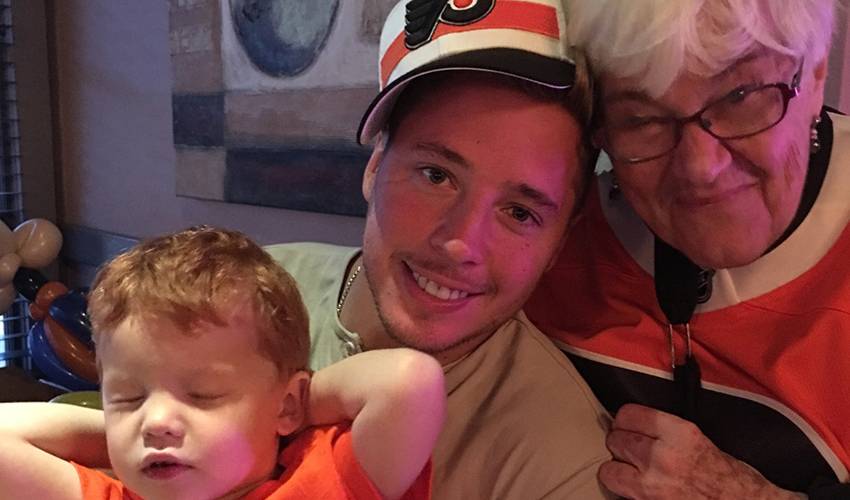 Cam Atkinson could have some serious competition, popularity-wise, in Philadelphia this season.
The 32-year-old, who played his first 10 campaigns with the Columbus Blue Jackets, has generated some serious buzz in his new NHL city.
Someone else in his family has too.
Marge Robben, better known as Grandma Marge in hockey and internet circles, became a social media sensation at 87 when she posted a selfie of herself donning an orange Flyers jersey with her grandson's name on it, worn backwards.
The post was made not long after the July 24 trade that sent Atkinson from the Blue Jackets to the Flyers. The forward is set to skate in his 11th NHL campaign in the 2021-22 season as one of several new faces in the Flyers lineup.
Grandma Marge, who resides in Stamford, Connecticut, inspired a line of t-shirts which will be available at Wells Fargo Center for Philadelphia's season opener on October 15 against Vancouver. The now famous Grandma will also take part in a ceremony with the team's equally famous mascot – Gritty.
"My grandma, who feels like an absolute rockstar in the social media world, this kind of rejuvenates her life," said Atkinson. "She's so happy."
Atkinson will have plenty of representation in the stands that night, including his wife, Natalie, and their two young sons, Declan and Caden.
"My family is super excited. My dad works at 53rd and Madison in New York City, so it's an hour-and-ten-minute train ride to the rink. One of my brothers, he lives in Jersey City with his fiancée, so that's an even closer train ride. It's really exciting for my family."
And just as much so for the player himself.
A veteran of 627 regular-season NHL games, Atkinson has been counting down the days until the Flyers' first game of the season.
"Obviously, I love Columbus. I think it was time for me, just from a playing perspective, to change it up. To come to an organization like the Flyers – the facilities are amazing and everything you need as a player, they have. This is my 11th year in the league and getting to know the guys and seeing what it takes to have success, it's something that really gets you excited. My energy, I'm so excited to go to the rink every day and compete and get better."
His affinity for the city of Columbus, however, remains as strong as ever.
Atkinson's numerous charitable initiatives and contributions to the community have made him one of the city's most beloved sports figures.
His fundraising farewell skate quickly sold out. Battery Hockey Academy, which he helped establish in 2018, remains a popular destination for athletes to train. His Force Network Fund assists several charitable programs for family members of the military and first responders, including the Ohio Warrior sled hockey program.
The Atkinsons did find time to get in a family vacation in the midst of a busy offseason, with one leg of the adventure taking them to the Sunshine State.
"My wife is from West Palm Beach, Florida, so we rented a house for a week that was close to my in-laws. We were there with the kiddos and then Natalie and I left the kids with my in-laws and we went to Turks & Caicos, to have some time together and celebrate my birthday. Other than that, it was training in Columbus, and the academy is very busy, so I was there almost every day, helping grow that brand."
These days, Atkinson, who will return to Nationwide Arena on April 7 for the first time as an opposing player, is getting familiar with his new teammates, a new system, and a new city.
He likes what he sees.
"I know half the guys on the team. It's a veteran team and the locker room is already super tight. Adding the guys they have – guys who have played a good amount of games in this league, guys who know their role and what it takes to win – it gets me excited for sure. The guys that they brought into the fold, they want to win now. Everyone has reached out within the first couple of days and made me feel really good, letting me know they were happy to have me part of this team."
The feeling is mutual.
Perhaps the biggest hurdle for Atkinson this season, or at least at certain points of it, will be playing second fiddle to Grandma Marge.
"We'll see how the first game goes with everyone in the stands, including my grandma. I'm sure she'll get recognized a lot. Everyone that's tweeting at me is like, 'Who's Cam Atkinson? I'm more interested in Grandma Marge.'"